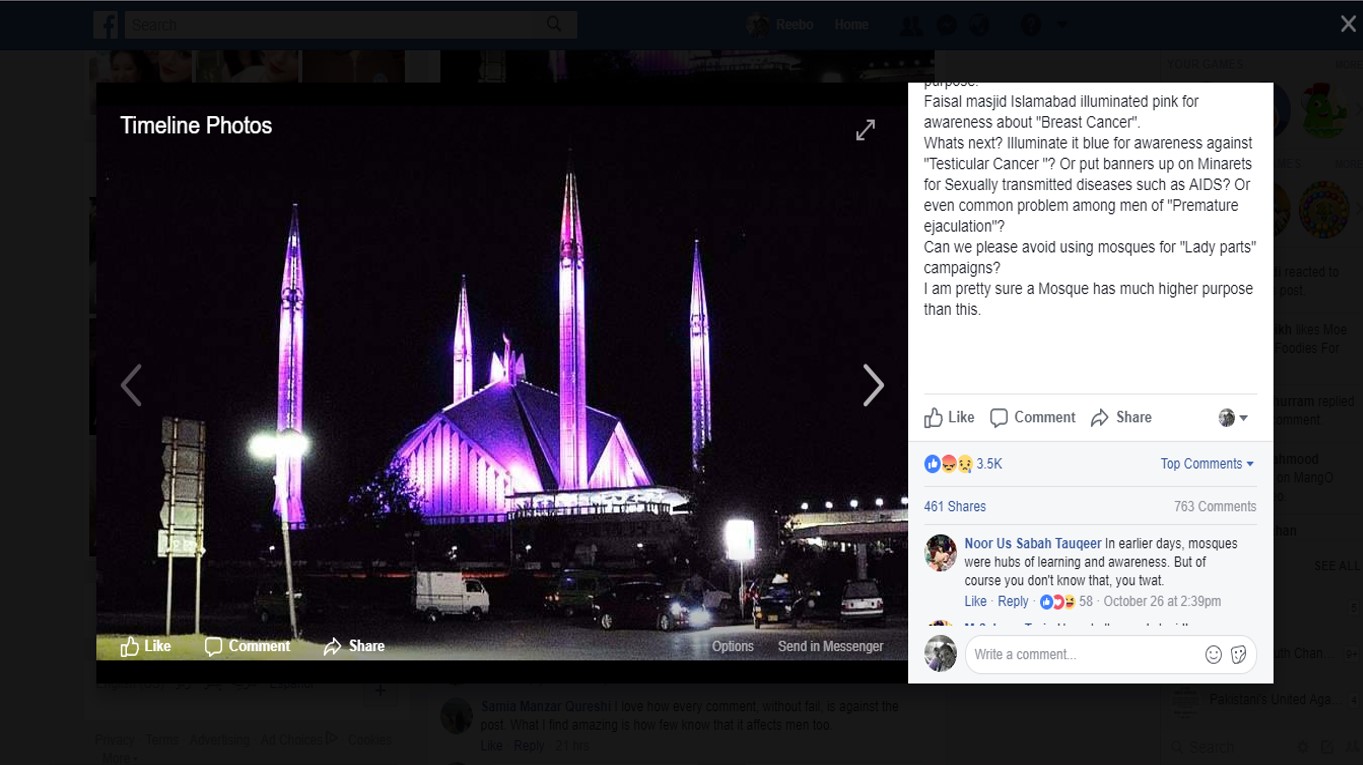 So we've all heard about and celebrated how the beloved Faisal Mosque illuminated pink this week to raise awareness about breast cancer.
For those of you who might not know, breast cancer is a very serious concern for Pakistanis and the most common form of cancer in the country.
Also Read: Early Detection of Breast Cancer Can Save Lives
1 in 9 Pakistani women stands the risk of developing this cancer at some point in her life.
Pakistan also has the highest rate of breast cancer in all of Asia.
Given this rather scary scenario it was about time that people from all walks of life joined hands to spread awareness about this killer disease.
You see, knowing about the symptoms can lead to early detection of breast cancer, which in turn can help save hundreds of precious lives.
Also Read: 4 Struggles of a Woman Who Smokes in Pakistan
Now, while most Pakistanis were pleasantly surprised to see Faisal Mosque turning pink to support breast cancer awareness in the country, there were some who were needlessly offended.
Exhibit A is the page admin of a Facebook Group, Pakistan Affairs.
This guy not only "protested" the use of a mosque for making people aware about the dangers of breast cancer but also ridiculed this grave illness by comparing it with – he said and we quote – "…pre-mature ejaculation!"
My first thought after reading this post was, "How gross and insanely narrow minded can someone be?!"
I mean seriously, dude, if you had the slightest understanding of Islam you would know that mosques have always been used as centers for spreading awareness and promoting the welfare of the community. And what possible better way to promote the welfare of any community than to help save potential lives?
This guy apparently had a problem with the word "breast" leading to his absolutely unnecessary moral outrage. He clearly had no understanding of either Islam or the gravity of Pakistan's breast cancer emergency – that affects both women and men.
Thankfully, I was not the only one who felt the need to protest this guy's protest. In fact a whole host of Pakistanis came forward to tell him how progressive Islam is as a religion and how it is people like him who keep bringing a bad name to it.
More power to a sensible Pakistan!
Here's the post in question and the wonderful responses that came out in favour of Faisal Mosque's administration to illuminate the masjid pink.
https://www.facebook.com/pakistanPKaffairs/photos/a.292029334242591.63714.276691342443057/1359614117484102/?type=3&theater