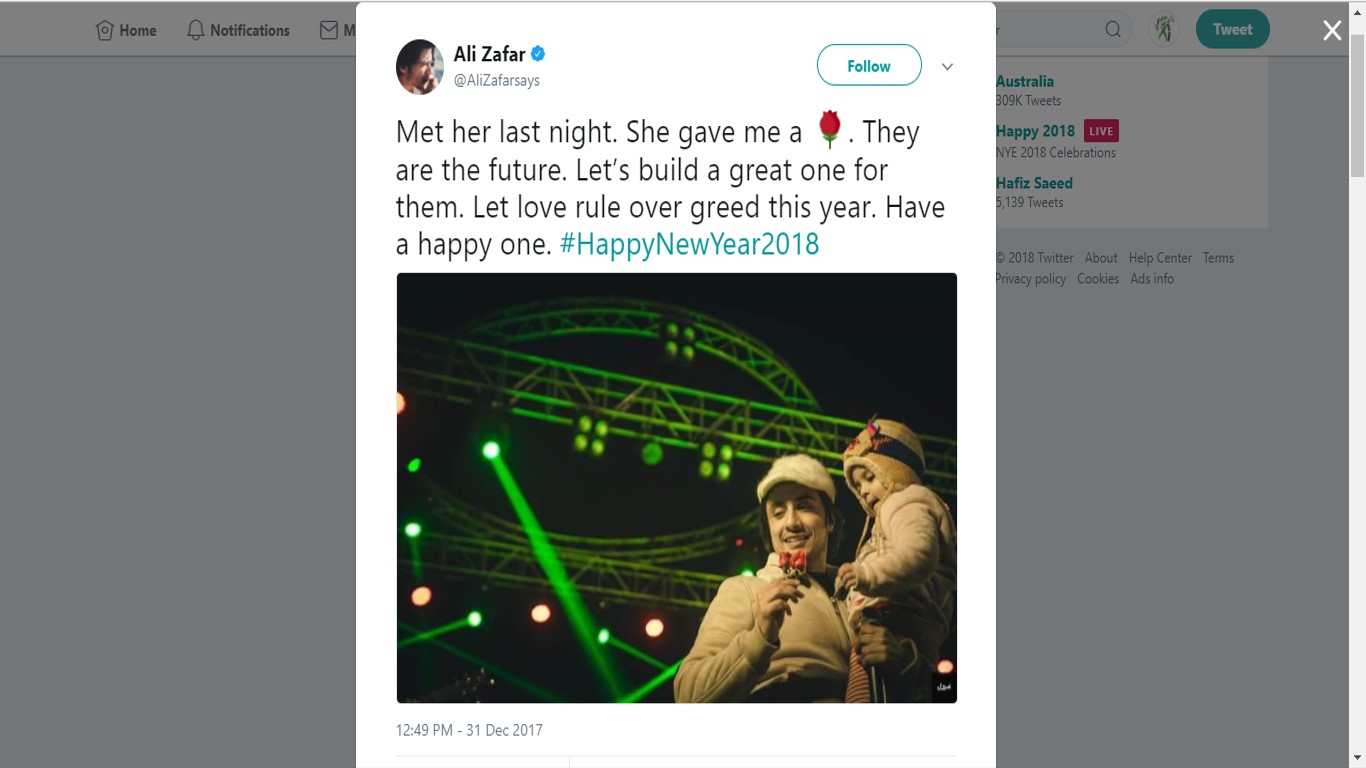 It's the first day of 2018 and even the fact that it's a Monday cannot dampen our enthusiasm! People across the country are still sending out messages and embracing the New Year with a fervor we haven't seen in years.
Also Read: Karachi Welcomed The New Year Like No Other City In Pakistan!
When the whole country is in such a festive mood, how can our beloved celebrities not join in?! Since last night the most prolific names in Pakistan have been taking to social media to wish their fans and loved ones a Happy New Year.
Also Watch: Candidly Yours | Episode 4 | Malala Yousafzai
This is how our favourite names in showbiz, sports and politics wished their fans a prosperous New Year.
Wishing you all a happy and prosperous new year. May all your wishes and desires come true in 2018! Sending lots of love pic.twitter.com/5akI09wmKF

— Humayun Saeed (@iamhumayunsaeed) December 31, 2017
Also Read: Wrap-up 2017: 17 Moments That Brought Immense Pride To Pakistan
Ali Zafar posted this adorable picture with a message that warmed our hearts!
Met her last night. She gave me a 🌹. They are the future. Let's build a great one for them. Let love rule over greed this year. Have a happy one. #HappyNewYear2018 pic.twitter.com/eLFkLLr6nY

— Ali Zafar (@AliZafarsays) December 31, 2017
Fahad Mustafa wished everyone a Happy New Year by posting a picture of his infectious smile.
#HappyNewYear2018 pic.twitter.com/tsqNBMmwD8

— Fahad Mustafa (@fahadmustafa26) December 31, 2017
Celebrity sisters, Urwa and Mawra Hocane were in the mood to party and their tweets are a proof.
New Year Vibe! 🔥 🔥 🔥 🎉✨ #2018 🙋🏻 pic.twitter.com/sp68DZfi8J

— URWA HOCANE (@VJURWA) January 1, 2018
HAPPPYYYY NEWWW YEARRRR!!!! ✨✨✨🥂💥❤️❤️❤️❤️ #Happy2018 May 2018 be Lit af! 🙏🏻💋 pic.twitter.com/drwQSQV79z

— MAWRA HOCANE (Hussain) (@MawraHocane) December 31, 2017
Also Read: Wrap-Up 2017: Pakistani Music Had A Good Year
Singer, Jawad Ahmad sent out love our way.
Happy new year to all my friends. May we all live a prosperous, healthy, contented and happy long life. https://t.co/hIa53Cim5I

— Jawad Ahmad (@jawadahmadone) December 31, 2017
Former cricketer, Waqar Younis went all thumbs-up on us!
Happy new year everyone!!! Hope you all have a great year ahead 👍. All the best…

— Waqar Younis (@waqyounis99) December 31, 2017
Ramiz Raja posted a video that made us chuckle
Happy New Year!!!! pic.twitter.com/UiNTYWUo8P

— Ramiz Raja (@iramizraja) December 31, 2017
Chief Minister Punjab, Mian Shehbaz Sharif had this to say:
We thank Allah for the good things that happened over the past 12 months & seek His forgiveness for our failings. Let us be the source of comfort to the less privileged. Will IA continue to serve my people with my soul & heart for nothing is nobler than this mission. Happy 2018!

— Shehbaz Sharif (@CMShehbaz) December 31, 2017
Member National Assembly, Asad Umar tweeted, "Naya saal mubarak."
تمام اہل وطن کو نیا سال مبارک۔ دعا کریں کہ اس سال " خدا کرے کہ میرے ارض پاک پر اترے وہ فصل گل جسے اندیشہء ذوال نہ ہو" انشاللہ

— Asad Umar (@Asad_Umar) January 1, 2018
Chairperson Pakistan peoples Party posted this tweet today.
#HappyNewYear . May this be the year we correct course, march forward towards a peaceful, prosperous and progressive #Pakistan. #2018

— BilawalBhuttoZardari (@BBhuttoZardari) December 31, 2017
The Mayor of Karachi, Wasim Akhtar posted a bitter-sweet message for Karachiites.
Also Read: Wrap-up 2017: 7 Powerful Political Moments In Pakistan
#HappyNewYear to all my friends#Karachiites#Karachi#BestOfLuck for #2018👍 pic.twitter.com/4vFSpkzd5y

— Wasim Akhtar (@wasimakhtar1955) December 31, 2017
Here's to a peaceful and prosperous 2018 for Pakistan and the rest of the world. Happy New Year peeps!
Also Read: Wrap-up 2017: Powerful Images That Defined Pakistan