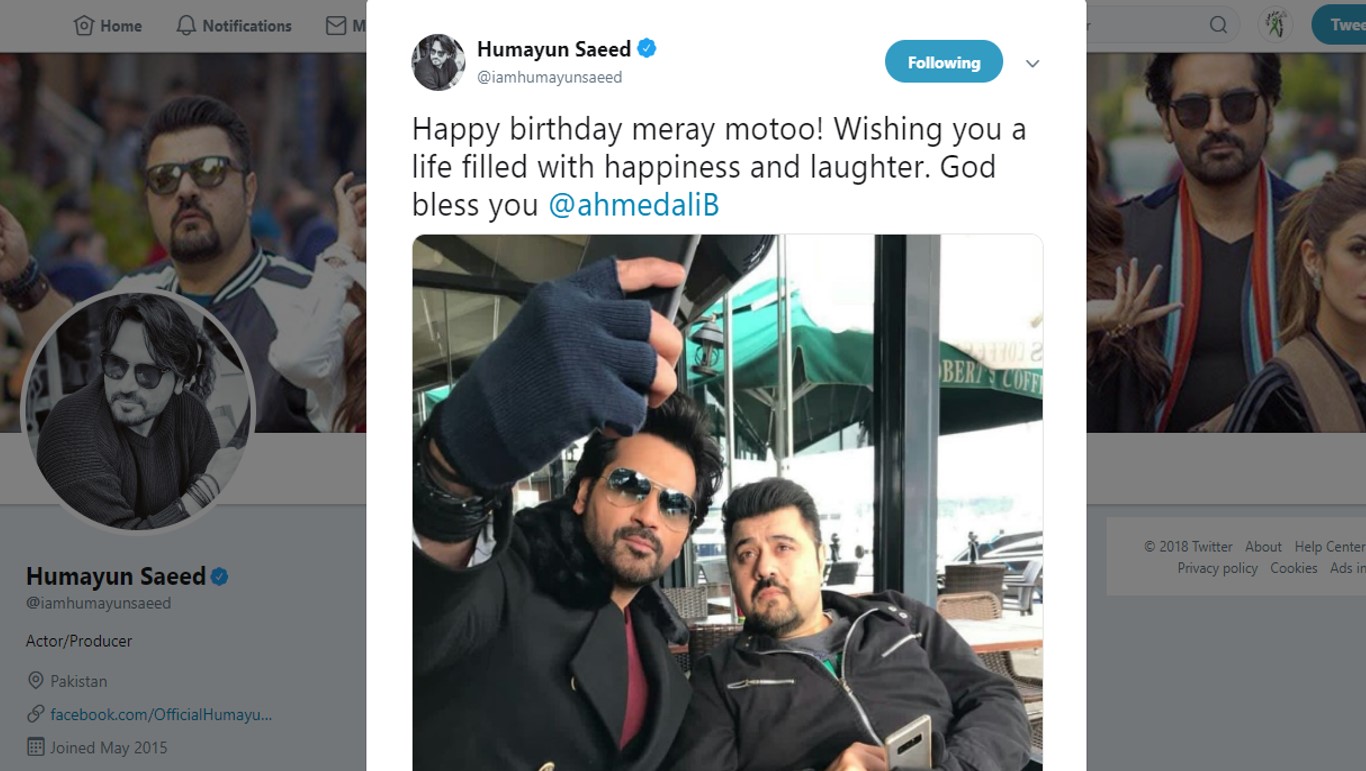 We're back with our weekly compilation of celebrity tweets that you must not miss!
After he received insanely negative feedback on his singing debut a.k.a Ko Ko Korina, Ahad Raza Mir thanked his fans for their love. Bhai, which parallel universe do you live in?!
Thank you to everyone, esspecially my fans for the tremendous amount of love and appreciation for my song in Coke Studio. Can't begin to tell you how much it meant to me and for what an honor it was to perform in this years season. Love you guys!

— Ahad Raza Mir (@ahadrazamir) October 20, 2018
Read: Ahad Raza Mir Is Being Savagely Trolled For Ruining Ko Ko Korina & We Stand With The Trolls
Muniba Mazari tweeted the most inspirational image on the internet and as always, we're in awe of her resilience!
So… Never give up! pic.twitter.com/j2zNTjSXHS

— Muniba Mazari (@muniba_mazari) October 18, 2018
Fahad Mustafa and Faisal Qureshi engaged in some serious bromance!
Love you meri jaan https://t.co/F8mBwoF2gZ

— Faysal Quraishi (@faysalquraishi) October 19, 2018
Mawra Hocane is all love for her mom!
18.10.2018✨🎂Happy Birthday to the most beautiful, strongest & the most resilient person I know. Thankyou for teaching me the strength in Grace, to be polite & to be compassionate! I love you my Mama. May you live a 100 more years, all smiling & loving us. ❤️❤️❤️❤️❤️❤️❤️❤️🤗 pic.twitter.com/FRBdhPFwnz

— MAWRA HOCANE (Hussain) (@MawraHocane) October 17, 2018
Nadeem Farooq Paracha went against the tide to defend the debacle that was Ko Ko Korina. 
I think folks are overreacting over Coke Studio's remake of Koko Korina. It's not that bad. I believe reaction is more due to the fact that concept of CS now seems worn-out. It hasn't evolved. It needs to add context to the remakes through relevant imagery to go with the sound.

— Nadeem Farooq Paracha (@NadeemfParacha) October 20, 2018
Despite being close to Imran Khan, Wasim Akram rooted for the animated blockbuster Donkey Raja even though PTI is crying foul!
The Donkey King hits it out of the park! It's got reverse swing, calculated pace and it teaches us that even a donkey can be his own man of the match! #thedonkeyking

— Wasim Akram (@wasimakramlive) October 20, 2018
Talat Hussain posted a clip from Nadeem Malik's interview of Humayun Akhtar Khan and you have to watch it to know why it's on the list! 
Humayun Akhtar explains in clear, crisp and honest way one reason for the by-election fiasco. pic.twitter.com/E5Udw634GQ

— Syed Talat Hussain (@TalatHussain12) October 15, 2018
Osama Khalid Butt and Meera bonded over their boomerang from the sets of Baji.
The #Queen has spoken.
Thank you for the kind words, Meera ji. Though I was the one who learned a lot from you, both in front of and behind the camera. https://t.co/dsCvvg1k1I

— Osman Khalid Butt (@aClockworkObi) October 18, 2018
Humayun Saeed wished his Jawani Phir Nahi Ani co-star Ahmed Ali Butt on his birthday with this adorable tweet!
Happy birthday meray motoo! Wishing you a life filled with happiness and laughter. God bless you @ahmedaliB pic.twitter.com/ozXy2F3n1B

— Humayun Saeed (@iamhumayunsaeed) October 20, 2018
Mahira Khan clapped back at a troll and made him delete his pathetic tweet.
It's because of people like you women don't even bother saying the word 'breast' let alone go for an examination. Why don't you take the quiz, to be more aware for the women in your family and yourself (men can also get breast cancer) ✌🏼 https://t.co/sMfu2vNCzD

— Mahira Khan (@TheMahiraKhan) October 17, 2018