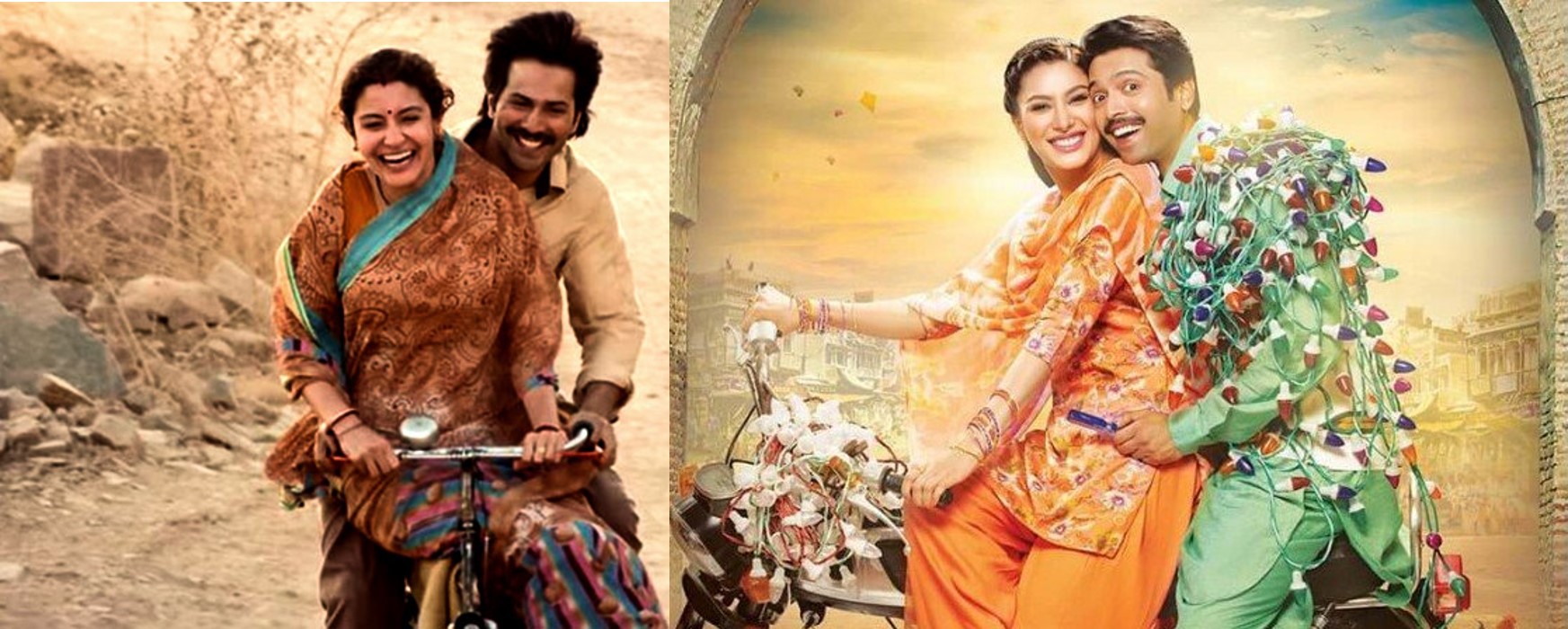 Being a resident of UAE, I have a sizable circle of friends who hail from India. Very often, when venturing out to see a movie on the big screen, my Indian friends and I go to the theater together. And since we're all movie buffs, our outings inevitably lead to drawing parallels between the films that we watch.
Sui Dhaaga vs. Load Wedding
Last week, we  saw the much hyped Yash Raj release, Sui Dhaaga. Directed by Sharat Katariya, the film boasts the unusual pairing of two Bollywood A-listers, i.e. Anushka Sharma and Varun Dhawan.
From the word go, Sui Dhaaga was a beautiful watch. A romantic, family drama set in rural India, the film highlighted various issues related to economic and social empowerment of the rural masses against the exploitative capitalistic system in most third world countries that takes advantage of the helpless and uneducated poor.
After the film was over, we, i.e. some of my Indian friends and I – who had also watched the Pakistani film, Load Wedding only a couple of weeks ago – could not help but compare the two films. The comparison was inevitable since Load Wedding, produced by Fizza Ali Meerza and directed by Nabeel Qureshi, is also a family oriented romantic comedy set in the backdrop of rural Pakistan.
Our unanimous verdict went in favour of the Pakistani offering.
Despite the fact that Sui Dhaaga was a lovely watch, Pakistan's Load Wedding was, in every sense of the word, a superior product. From the easily relatable story, the attentively drafted script and the crisp dialogues to the compact editing, the flawless direction and the powerhouse performances, Load Wedding was the undisputed winner.
Read: Film Review: Load Wedding Hits All The Right Notes!
The social reform messages built seamlessly into its script had a lasting impact on the audience, making one wish that more South Asian filmmakers would follow in Qureshi's footsteps. What goes to the director's credit is the fact that he discussed an array of issues (e.g. eradication of polio, re-marriage of widows, dowry system, the impact of reality TV and game shows on the innocent and gullible rural audience and the exploitative practices of media houses) without, for a moment losing sight of the one element that pulls people to the cinema: entertainment.
If Pakistani Cinema is Producing Better Products, Why Does the World Not Know About Them?
A month prior to its release, we were literally bombarded with the trailer of Sui Dhaaga in UAE. The film was also heavily promoted  in print media and on various radio stations. The promotional posters and standees were also plastered across the cinemas well in advance. Once released, the film was playing across all major cinemas in the UAE at convenient times.
On the contrary, Load Wedding did not receive even a fraction of Sui Dhaaga's pre-release hype or its massive distribution. It goes without saying that a limited marketing budget adversely impacted the film's visibility and in turn its ability to draw huge crowds to the theater.
How Do We Solve This Problem?
International distributors are perhaps the key to this dilemma. There is a need to convince them to treat a superior film, irrespective of its affiliation with a bigger or smaller film industry,  in a fair manner. They must realize that given an appropriate number of screens and convenient time slots, Pakistani films can perhaps outperform their Indian counterparts.
Read: Film Review: Parwaaz Hai Junoon Falls Short Of Expectations
Similarly, there is also a need to convince investors – both domestic and international – to spend a significant amount of money on marketing and advertising rather than hoping for the film to do well despite limited visibility. True, that local filmmakers work with a tight budget and I'm sure that they allocate as much for marketing as their pockets permit, however, there is an urgent need to bring in more investors to allow for a more flexible marketing budget than most Pakistani films currently have.
A film is a piece of art that takes a lot of time, effort, creative energy and of course, money to make. All that effort deserves a great return on the investment that producers and professionals engaged in the film's production should benefit from and it is that all important return on investment that will make our film industry grow.
Read: Pakistan Film Industry Earns Almost Rs. 100 Crore In One Month Alone!
Accordingly, if our otherwise brilliant cinematic offerings continue to be constrained by a low marketing budget and limited distribution, we are unlikely to capture our own true potential, experience rapid growth and command international influence any time soon.