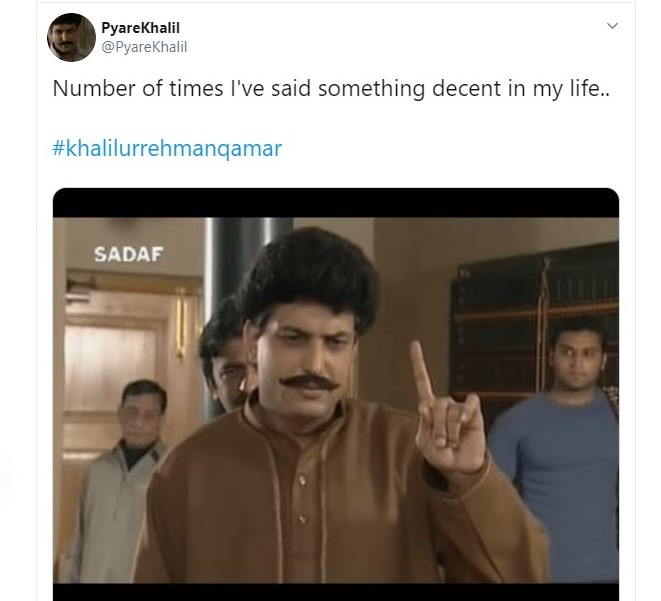 Khalil-ur-Rehman Qamar has lately been in the news a lot thanks to his controversial statements on "feminism." His recent interview in which he asked women to "gang rape men if they wanted equality," kept Pakistan enraged for almost an entire week.
Read: Khalil-ur-Rehman Qamar Attributed Equality To Women Raping Men & This Has Pakistanis Infuriated
It was then a matter of time before someone set-up a parody account aping the playwright. The inevitable has now happened. A Twitter handle, "Pyare Khalil," – named after Qamar's hit drama serial, "Pyare Afzal" – has been flooding the internet with memes dedicated to the writer and his controversial stance on women's rights.
Here's our selection of the funniest Khalil-ur-Rehman Qamar memes that this Twitter handle has posted so far.
Let's start with the meme that makes a reference to the infamous Mehwish-Hayat-gets-slapped scene in Punjab Nahi Jaaungi…
Khalil's viral dialogue from Mere Paas Tum Ho is turned on him.
We can only imagine Qamar's wrath while watching enlightened content…
Read: Humayun Saeed & Adnan Siddiqui Watched Episode 12 Of Mere Paas Tum Ho Together & We Have A Picture To Prove It!
How can someone even say such a thing?!
We're raking our brains to recall which drama is Pyare Khalil is talking about! Can you help us, please?
With so many problematic views attributed to Khalil-ur-Rehman Qamar, it was quite a shocker when he declared himself to be the "biggest feminist" in town.
Pyare Khalil was quick to point out the irony.
Read: Private Videos & Photos Of Rabi Pirzada Have Been Leaked Online & It's NOT Okay!
But memes were not just reserved for Khail-ur-Rehman Qamar the misogynist. The parody account also took a savage dig at Qamar's failed career as an actor.
Read: "Editing Out Parts Of Jami's Tweets Was Ill-Advised," Zarrar Khuhro Breaks His Silence On Jami
What's your take on these Khalil-ur-Rehman Qamar memes? Share your views in the comments below.