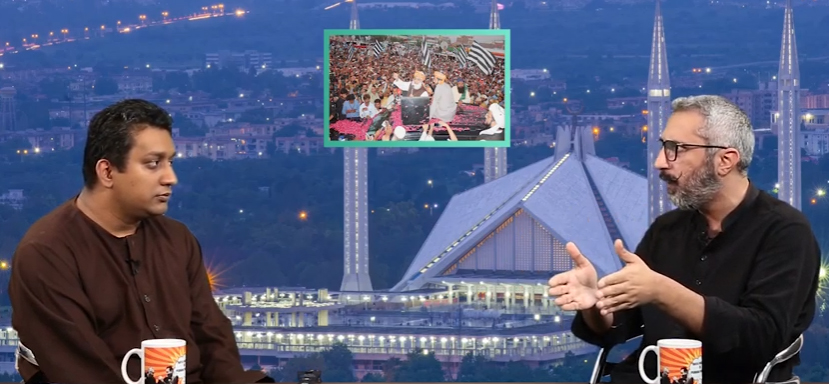 The latest episode of Naya Pakistan vs Purana Pakistan revolved around the developments of the Azadi March and the participation of other opposition parties.
Peaceful protest?
Ammar and Haris Mian were quite satisfied with the peaceful way the protestors behaved which was diametrically different from Tehreek-e-Labaik's protestors who had descended upon the roads around the same time last year.
Read: Haris & Ammar Discuss The Possibility Of Violence During Maulana Fazlur Rehman's Azadi March
PTI's 2014 dharna also turned somewhat violent despite Imran Khan's insistence on peaceful protesting.
Madrassa students brought forcefully?
The involvement of underage madrassa students was a point of concern, especially since some parents alleged that their sons were brought without their permission.
Azadi March; entertainment for Asfandyar Wali Khan and Shehbaz Sharif?
Being the diehard PTI supporter that he is, Haris Mian felt that PML-N was completely confused regarding its political future and was experimenting with different options. He felt that the only reason Shehbaz Sharif participated at all was to take credit in case the dharna was able to achieve some level of success.
On the other hand, Ammar Zafarullah, who does not like mincing words when expressing his love for Mian Nawaz Sharif felt that Asfandyar Wali of Awami National Party (ANP) participated for the entertainment value that the dharna had to offer and was not committed to offering unconditional support to the on-going protest.
The hosts also felt that Bilawal Bhutto Zardari's participation was rather half-hearted from the word go and the same reflected in his speech at the rally.
Women participation and JUIF's dharna
A heated argument between the hosts could be seen regarding the women participation in the protest.
The female workers of JUIF were barred from participating in the march. Maulana Fazlur Rehman said that they were fasting and praying for the success of the march.
Citing Shiffa Youafzai's Twitter thread, Haris Mian pointed out that even female journalists were not not allowed to cover the protest.
However, Ammar said that other journalists like Asma Shirazi and Amber Shamsi were allowed to cover the dharna so he could not say what exactly happened in Shiffa's case.
Go watch the latest episode of Naya Pakistan vs Purana Pakistan to find out where will Azadi March go from here.