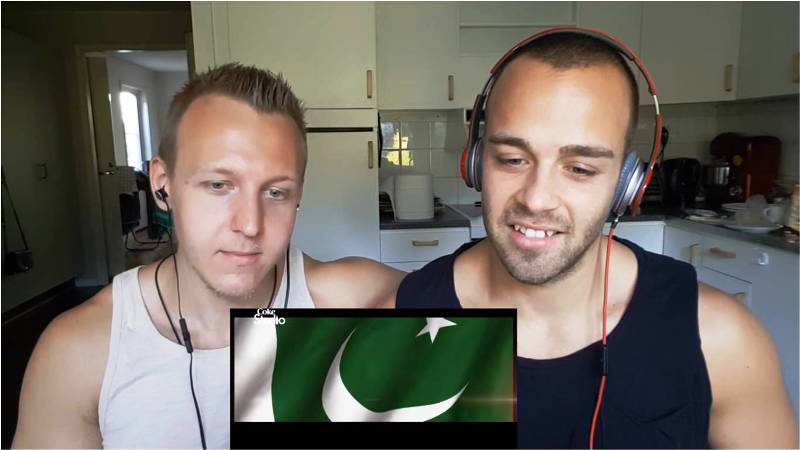 Today Pakistan becomes 70 years old and the excitement among Pakistanis is evident from the fireworks and patakhay, the loud sound of national songs, the Pakistani flag atop every roof and of course the celebratory dancing on the streets.
However, it is not just the Pakistanis who are happily wishing each other a "Happy Independence Day" but a lot of non-locals are also joining in on the festivities with their social media messages and gestures.
Also Read: 14 Brilliant Pakistanis from the World of Sports
Youtubers Robin & Jesper
The first video that we saw this morning was that of Youtubers Robin & Jesper who greeted their Pakistani fans a happy "National Day" and as a gesture of their love they reacted to Coke Studio's version of our beloved National Anthem.
It was great to start the day with words of appreciation from Robin and Jesper for the powerful lyrics of "Pak sar zameen shad baad" (even though the Coke Studio rendition of the national anthem is not the best that we know of).
Thank you guys! You most certainly made our day!
For those of you who still haven't seen this video click below to watch! More than 7000 views and counting!
Love From India
If there's one thing that's common between Pakistan and India it's the intense love and hate relationship that we share. Every now and then however, there are gestures from both sides that make us forget our mutual distrust of each other and find ourselves embracing and appreciating the undiluted essence of pure love.
Also Read: Dr. Ruth Pfau's Inspirational Journey in Pictures
Most of you must have already heard about the Indian Acapella group, Voxchord that sang the Pakistani national anthem as a gift to the country on its 70th Independence Day. We absolutely loved this rendition! A lot of love from team Bolo Jawan right back at you wonderful neighbours! For those of you who might have missed this love-filled video, here it is!
https://www.youtube.com/watch?v=5r0xp3JMH3E
Topping our pick of tweets is (surprisingly) Rishi Kapoor. We say this because all through 2017 Rishi Kapoor received a lot of flake  from Pakistani twitterati for his hate tweets. Upon India's loss in the final against Pakistan in ICC Champions Trophy 2017, Rishi did congratulate the winning side but the rejoicing fans were in an unforgiving mood. However, at midnight today, Kapoor redeemed himself by wishing Pakistan a Happy Independence Day. With 1,400 retweets this message has certainly been well received.
Wishing all my friends from Pakistan a Happy "Youm -e- Azaadi" ka din. Happy Independence Day! Let Peace, brotherhood and Love prevail! pic.twitter.com/Fi3dAZxDIG

— Rishi Kapoor (@chintskap) August 13, 2017
Famous former Indian police officer, Sanjiv Bhatt sent out this message of love and friendship.
Independence Day greetings to friends in Pakistan.<3
May we build a robust friendship on the commonality of our culture, values and history.

— Sanjiv Bhatt (IPS) (@sanjivbhatt) August 14, 2017
Numerous messages are still pouring in to wish Pakistan on its 70th birthday. Here are a few more from around the world.
Also Read: Meet Pakistan's Record Breakers in GCE Examinations
Michael Kugelman, Deputy Director of the Asia Program at the Wilson Center also wished Pakistan with this wonderful tweet.
Happy Independence Day, #Pakistan. May it be rife with patriotism, happiness, and (of course) the inimitable & anthemic "Dil Dil Pakistan."

— Michael Kugelman (@MichaelKugelman) August 14, 2017
The U.S Ambassador to Pakistan, David Hale had this video felicitation.
🎥 🇺🇸 Ambassador David Hale wishes the people of 🇵🇰 Pakistan a Happy 70th Independence Day! #USPak70 #70SaalMubarak #PakistanZindabad pic.twitter.com/OY2mqR4gsV

— U.S. Embassy Islamabad (@usembislamabad) August 13, 2017
14 de agosto: Un día como hoy hace 70 años India y Pakistán se independizaron del Reino Unido https://t.co/cIZAhQtv6F

— Carlos Losada (@Carlos_Losada) August 14, 2017
Thank you for all the love! Pakistan zindabad!