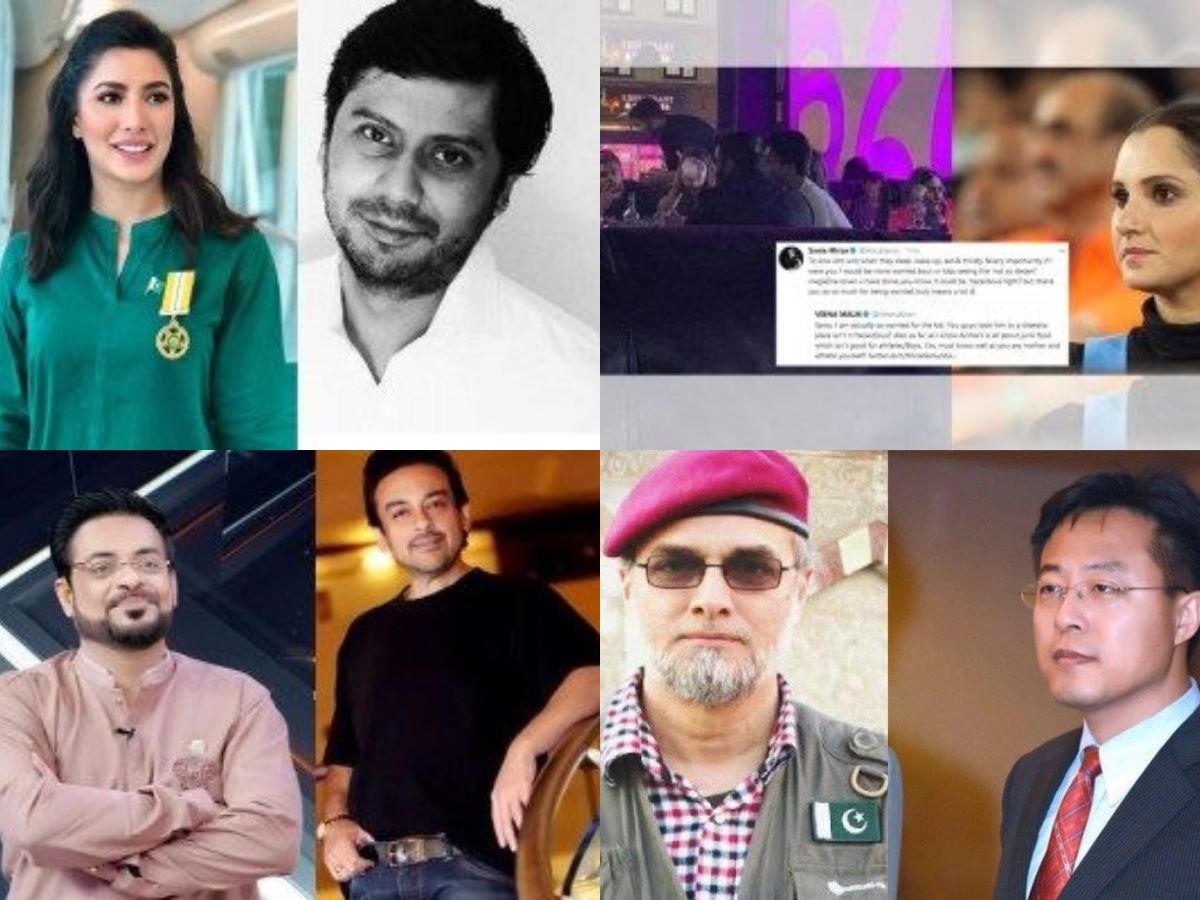 Twitter has remained a prime source of contentious news for Pakistanis in 2019. As more and more news surfaced on Twitter, we witnessed many fights between celebrities. Let's have a look at all the viral Twitter spats between celebrities in 2019!
1. Sania Mirza and Veena Malik having a savage spat about the leaked video of Shoaib Malik and other Pakistani players eating out before Pak vs India match.
2. Clash between boxer Amir Khan and Federal Minister Syed Ali Haider Zaidi as both gentlemen claimed to have paid for Riffat Khan's treatment.
3. When Cynthia Ritchie then took a dig at Gulalai Ismail terming her tweet as anti-Pakistan.
4. In a strongly worded tweet, Jawad Ahmad calling out Hamid Mir for not having the courtesy to give mileage to his party prior to the general elections.

5. Aamir Liaquat and Gul Bukhari fighting on a fake document related to Jamiat Ulema-e-Islam's (JUI-F) protest.
6. The spat between Fawad Chaudhry and Sami Ibrahim when Ibrahim alleged on his show that Chaudhry had accumulated a lot of wealth and that most of it remained undeclared.
7. Exchange of tweets between Shahid Afridi and Gautam Gambhir after Afridi asked Pakistanis to support Imran Khan's call to observe Kashmir Hour every Friday.
8. Cyril Almeida trolling Mehwish Hayat after Musharraf verdict and her indirect response making it sufficiently clear that she did not appreciate being mocked.
9. The unpleasant Twitter exchange between Special Assistant to the Prime Minister, Naeem-ul-Haq and senior analyst, Arif Hameed Bhatti.
10. Aamir Liaquat Husain and Adnan Sami Khan's exchange of cringe-worthy tweets.
11. Zaid Hamid and Chinese diplomat having a spat over Chinese government allegedly oppressing its Muslim population.
Read: Zaid Hamid And A Chinese Diplomat Have A Twitter Spat Over Alleged Persecution Of Muslims
12. Aamir Liaquat's spiraling thread of tweets, mongering hate after Imaan Zainab responded to Liaquat's video with a savage one-liner.
13. American filmmaker Cynthia Ritchie hurling abuse at Pakistani journalist Raza Rumi.
14. Shaniera Akram throwing a major shade at Mohsin Abbas Haider for his "Men's Right NGO" statement.
15. Sham Idrees' wife, Froggy, getting punched at her Karachi meetup after a series of Sham-Ducky squabble on YouTube.