The first ashra of Ramazan is almost over and most of us have settled into the fasting routine by now. This means that we can now muster the energy to start exploring the mouth-watering sehri deals being offered by virtually every eatery in town.
While most restaurants have introduced separate sehri menus, not all of them offer value for your hard earned money.
Read: Wild Wings: Where Food Meets Sports
So, to make life easier for you, we did some snooping and found these 10 restaurants to be offering the best sehri deals in Islamabad.
Khiva Restaurant
Khiva is offering desi favourites like nihari, paaye, haleem, BBQ items and karahi along with Chinese cuisine, omelets and desserts for just Rs. 699+tax.
Read: These Iconic Restaurants In Islamabad Are Literally Landmarks!
An added attraction is of course the rooftop where you can have your sehri while enjoying the view of Islamabad at dawn.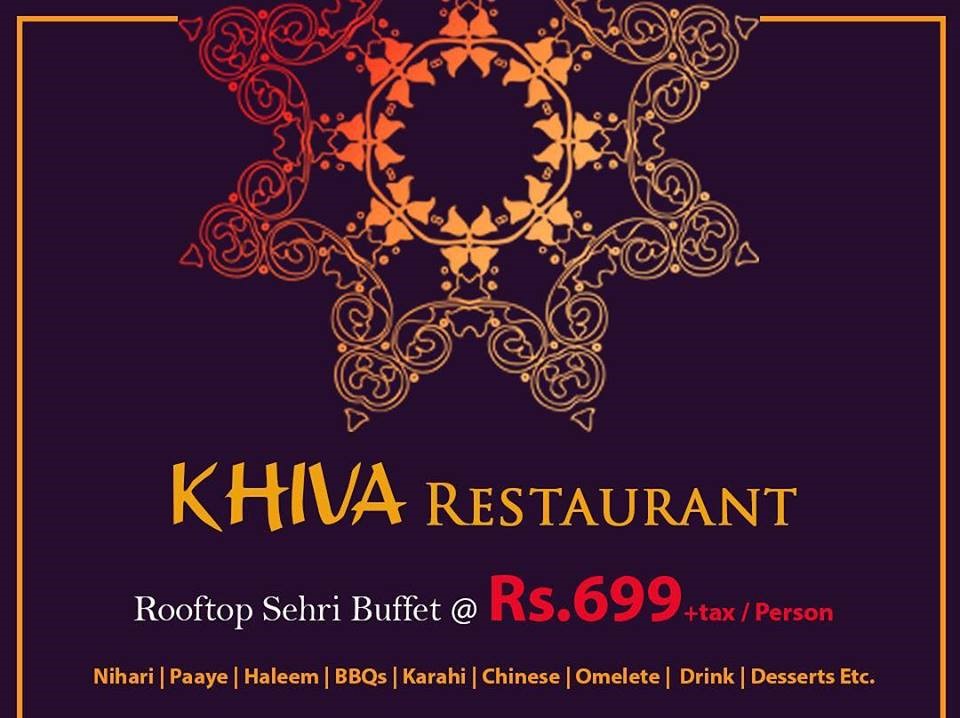 Salt 'n' Pepper
At just Rs. 599+tax, Salt 'n' Pepper is offering a huge list of buffet items for a scrumptious sehri. You name a desi dish and we can bet it's own their menu!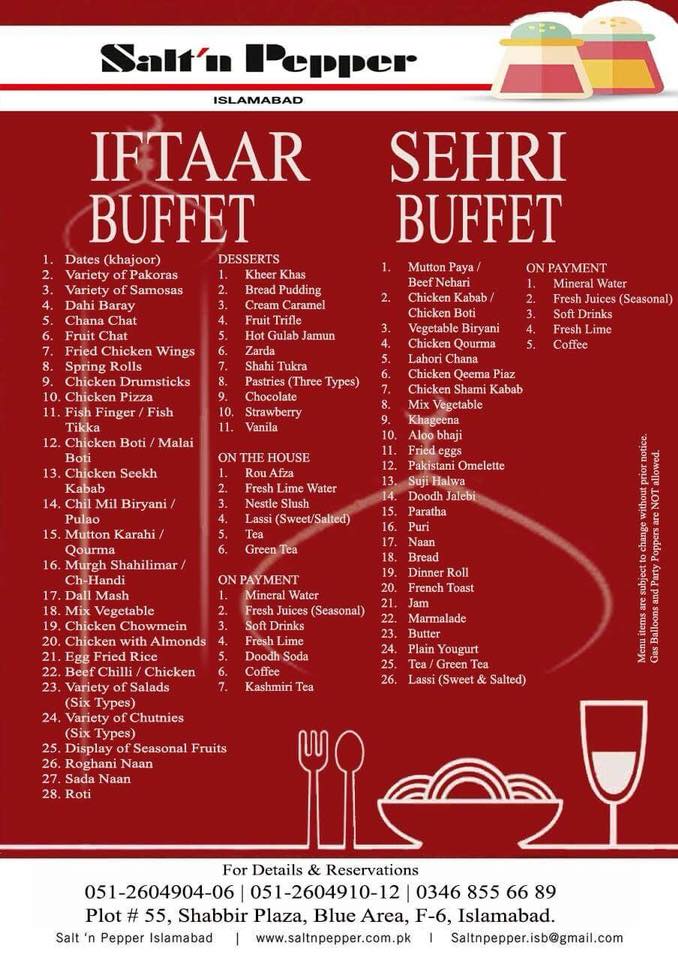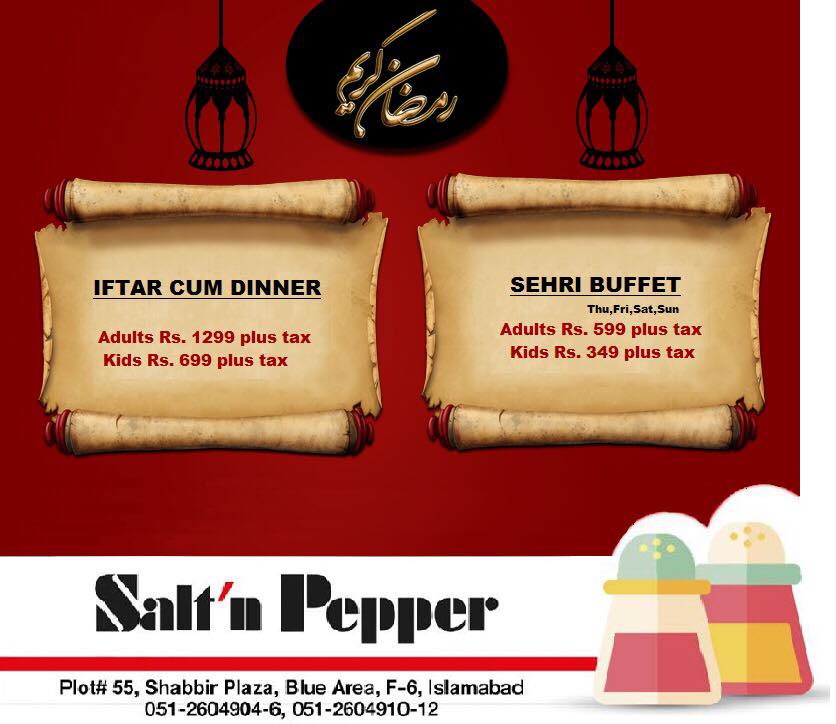 Bar B.Q Tonight
Compared to the other restaurants on this list, Bar BQ Tonight might seem slightly more expensive at Rs. 905 but since this is inclusive of tax, it's actually offering almost the same price as all the others.
Plus, their 20-item buffet menu justifies the cost. The sehri items not only have an assortment of desi offerings but also desserts and drinks that are part and parcel of the per head cost.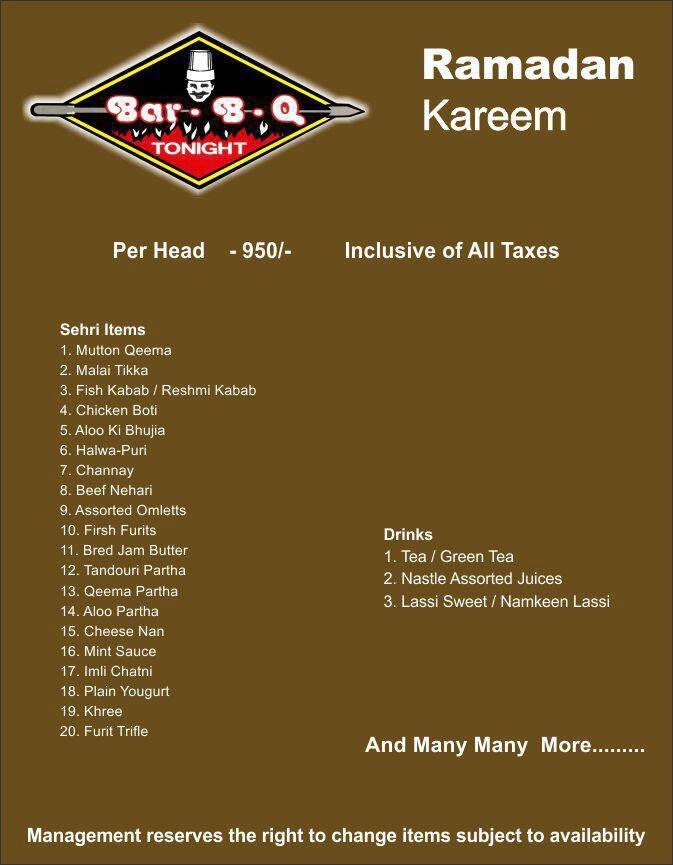 Chattha's
One of Islamabad's go-to desi restaurants, Chattha's is offering all the sehri favourites such as beef nihari, Lahori channay and achari alu bhujia, along with a live puri station.
You can enjoy your sehri at Chattha's for Rs. 745+tax.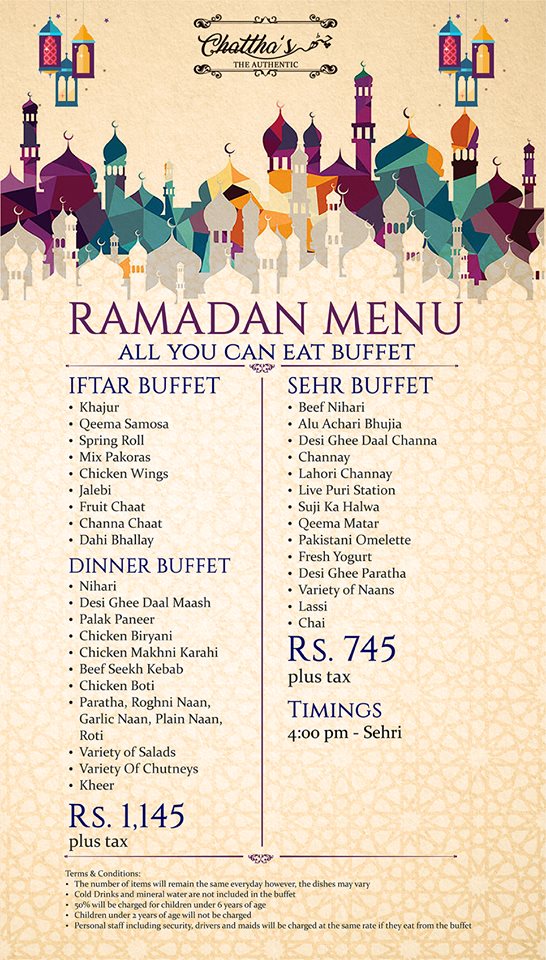 Pappasallis
One of the oldest and most beloved Italian restaurants in Islamabad, sehri at Pappasallis will include a combination of desi and Italian dishes along with delicious desserts.
Read: Review: Lorenzo Restaurant, Islamabad
Sehri at Pappasallis will cost you Rs. 645+tax per head.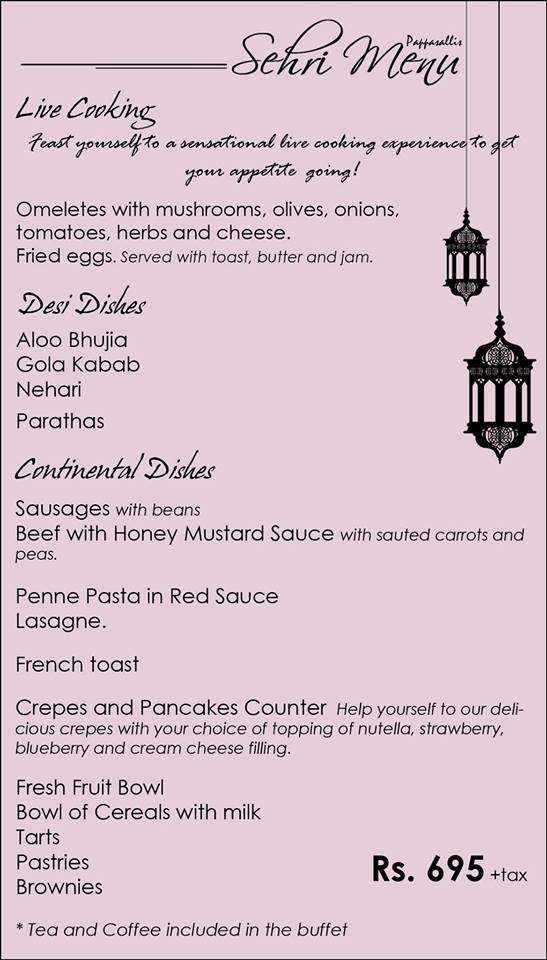 Pablo's 
The most cost effective deals in Islamabad this Ramazan are certainly coming from Pablo's. For just Rs. 375+tax you can choose between Pablo's desi or English platter. Each platter has sufficient items to ensure a fulfilling sehri for you.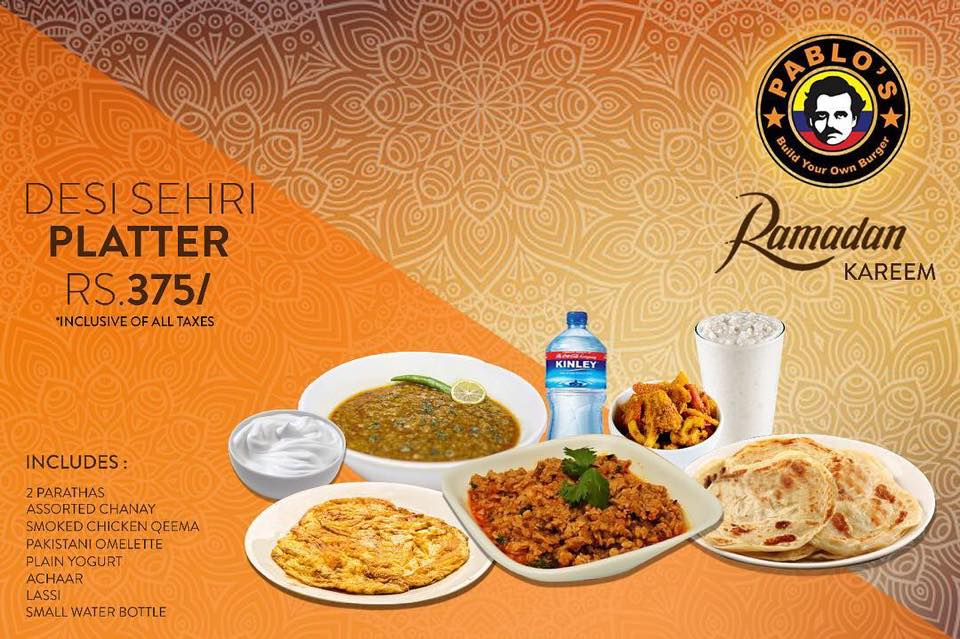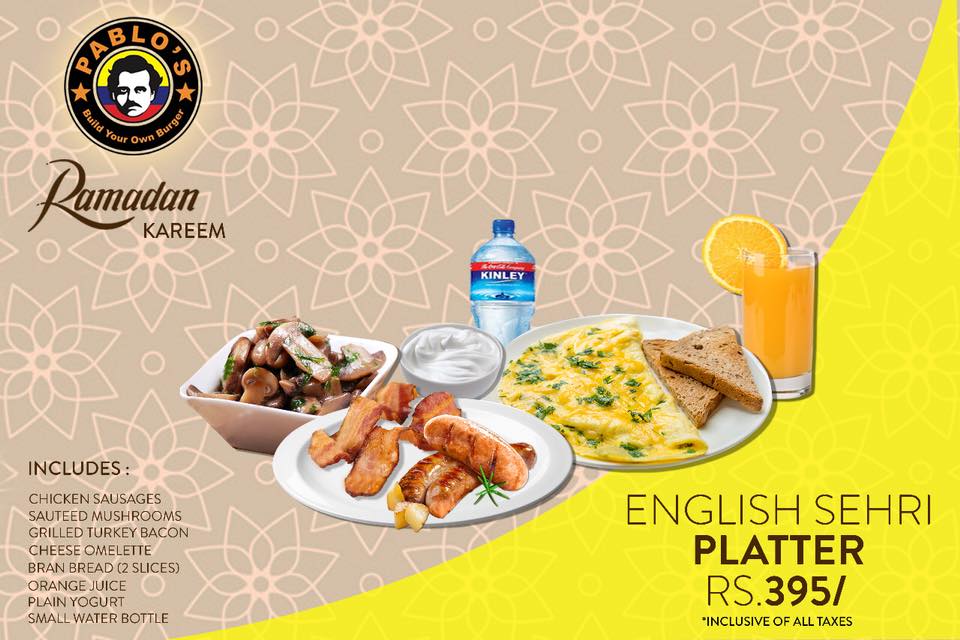 La Terrazza
Otherwise a high end, expensive restaurant, La Terrazza's sehri deal is quite cost effective. For only Rs. 549+tax the rooftop restaurant at Centauras Mall has everything from nihari to halwa puri on their menu.
Also, if you buy 4 sehris, the fifth will be free!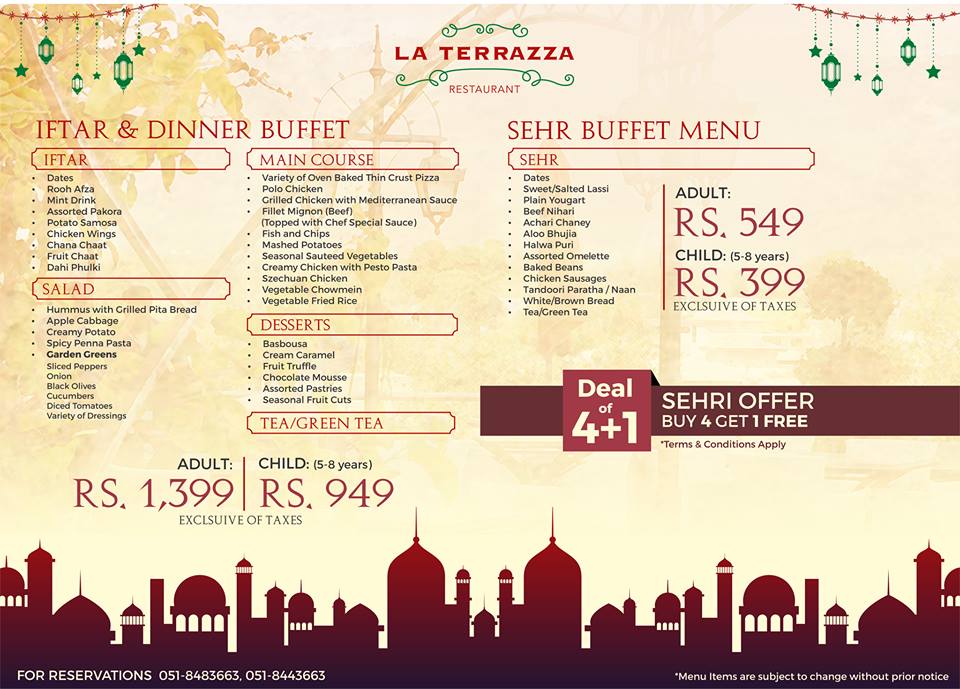 Baramda
A small eatery with a large menu, Baramda's sehri deal boasts of both desi and English items to ensure that there's something for everyone. Sehri at Baramda will cost you Rs. 650 per head.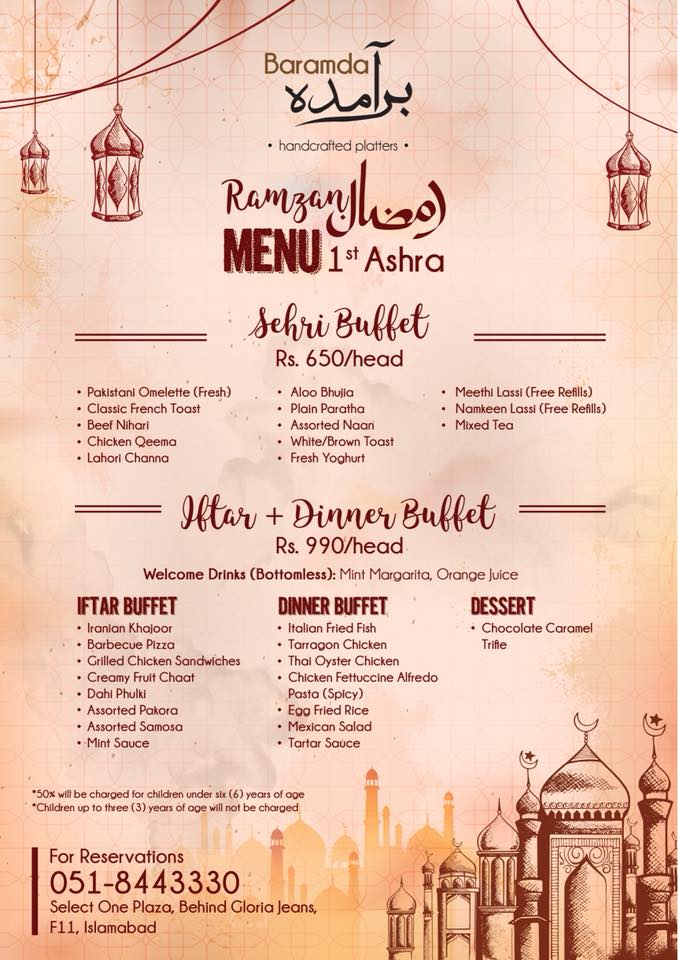 La Montana
Another high end restaurant perched at the top of Margalla Hills, La Montana's sehri deal is surprisingly not very expensive.
Read: Paramount Restaurant – A Heaven of Middle Eastern Cuisine
At just Rs. 545+tax you can have a scrumptious sehri with the picturesque bird's eye view of the entire city of Islamabad.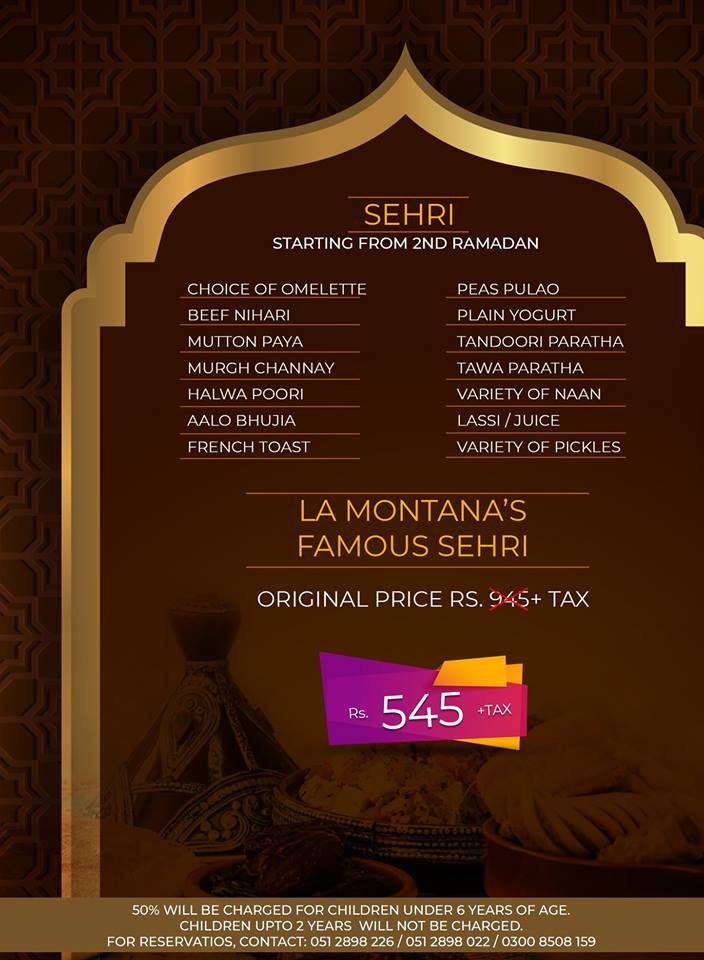 YOLO Restaurant
Although relatively new on Islamabad's food scene, YOLO has quickly made a name for itself when it comes to desi fusion food.
Their sehri deal stands at Rs. 699+tax and has everything enough items to keep you stuffed until iftar!