In a very disturbing turn of events, intimate videos and pictures of Pakistani singer, Rabi Pirzada were leaked online. Within a few hours the visuals had spread all across the internet like ill-fated wild fire.
Four days have passed since this travesty but people – read vile creatures – are still sharing her videos and photos online. Those who could not get them are asking without any ounce of shame.
Spreading explicit images or videos of an individual is a crime under Prevention of Electronic Crimes Act, 2016.
All those people, under the Cyber Crime Act, are liable for criminal proceedings who intentionally and publicly exhibit or display or transmits any information which:
Superimposes a photograph of the face of a natural person over any sexually explicit image or video
Includes a photograph or a video of a natural person in sexually explicit conduct
Intimidates a natural person with any sexual act, or any sexually explicit image or video of a natural person
Cultivates, entices or induces a natural person to engage in a sexually explicit act,
Under the Act, this is especially true where such data is transmitted through an information system to harm a natural person or his reputation or to take revenge, or to create hatred or to blackmail.
A person violating the Cyber Crime Act can be punished with imprisonment for a term which may extend to five years or with fine which may extend to five million rupees or with both.
Given the blatant violation of the Cyber Crime Act that we have witnessed over the weekend, here are 10 Twitter accounts that every decent Pakistani should report for passing on intimate visuals of Rabi Pirzada.
1.This Twitter account is sharing the YouTube link of Rabi Pirzada's videos.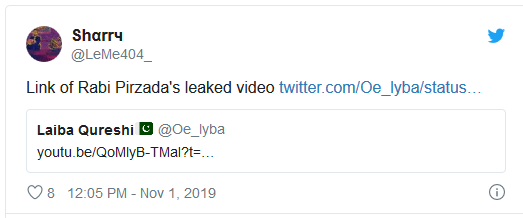 2. Report this account @_NasAJ for asking for photos and videos of Rabi Pirzada

3. Report @YasirAawanPTI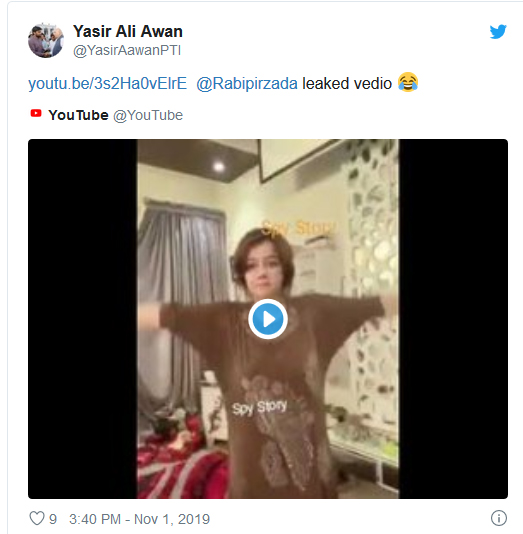 Read: Private Videos & Photos Of Rabi Pirzada Have Been Leaked Online & It's NOT Okay!
4. This person Khadim Hussain is asking for the uncensored version of Rabi's pictures.

5. Report @everypolitics_ for sharing the leaked videos of Rabi Pirzada.

6. Twitter account @Bablimans is shamelessly asking people to inbox him/her for the leaked pictures and videos of Rabi Pirzada.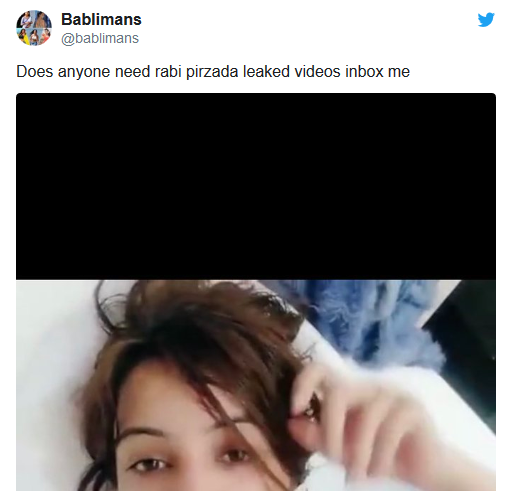 7. This person is also doing the same. Report him!

Read: With Intimate Videos Of Shaheen Afridi & Rabi Pirzada Leaked In One Day, Sane Pakistanis Want To Know WTF Is Going On?!
8. Report @SaidAlamShah13 for asking people to watch it.

9. YouTube has blocked most of the videos but these men continue to share it. Report these accounts so that this heinous activity is discontinued.

10. Report Shirazi!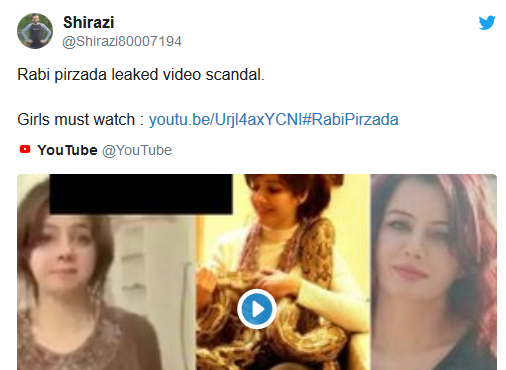 While many Pakistanis are already reporting these accounts to Twitter, it is ultimately the government's responsibility to book all those individuals who are very publicly breaking the law and causing serious psychological damage to the singer. Unless serious punishments are awarded to these men, it is unlikely that data protection as well as the Cyber Crime Act will be taken seriously.