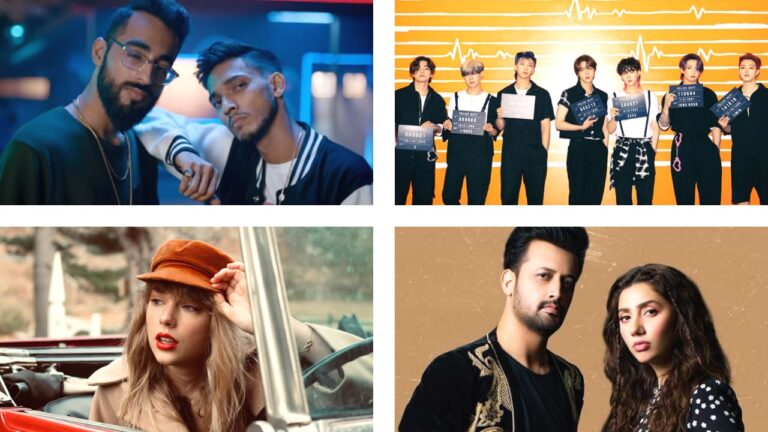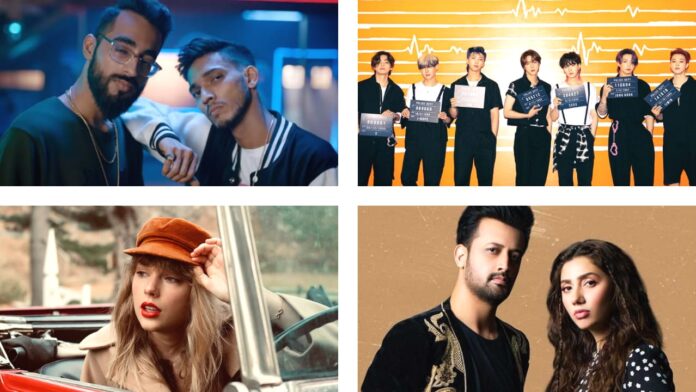 Here's, our round-up of the songs that Pakistan listened to the most during 2021!
Ajnabi (Atif Aslam)
Ajnabi is, so far, the artist at his most experimental. The song's lyrics and mellow vibe are easy on the ears and its grows on te listener with every fresh listening. But then again, if you are Atif Aslam, any song you create will be well-loved by the average Pakistani.
Butter
2021 was officially about BTS telling everyone they own the music world.
Butter is a song where the group flexes its hard-earned confidence and swag. The dance moves are definitely a huge plus!
This song dominated Pakistan's summer so much that it is number one on FM100 to this day. Guess every desi just wanted to feel hotter and smoother like butter while driving to work!
Read: BTS Calls Out James Corden Over His Insensitive Remarks to ARMY
All Too Well
All Too Well is a juicy, rich, detailed story about Taylor Swift's relationship with ex Jake Gyllenhaal. Despite it being 10 minutes long, it never feels overdrawn. Swifties in Pakistan were pretending that they had been through heartache without having an actual relationship. It just shows how Pakistan loves a good breakup song.
Easy on Me
Adele's song is a reminder of how awful a heartbreak can be but reassures about the good that is yet to come. At one point this fall, it seemed that Adele's Easy on Me had captured every English-speaking Pakistani woman's imagination!
Mohabbat
Pakistan is now discovering this song thanks to the artist Arooj Aftab's Grammy nomination. But it deserves to be on this list as it is that good to listen to. Aftab's voice is at once haunting and soulful, singing about love and longing. It's tune is so soft and lush – reminiscent of Pakistani Monsoons – that it makes one immediately wistful about the past.
Read: Who Is Arooj Aftab And Why Must Pakistan Laud Her Musical Achievements
Save Your Tears (The Weeknd & Ariana Grande)
The most unlikely pairing, The Weeknd and Ariana Grande make this song a must in your playlist. Grande's vocals are powerful and mature while The Weeknd shows everyone that his successful streak is going strong! And the best part: this song is amazing on live television, too!
Good 4 U
Olivia Rodrigo made a splash with her first single, Driver's License. But it's Good 4 U that introduced the world to her talents. Her debut album was number 1 everywhere, thanks to this punk-rock single. Loud and unashamed, Good For U had many falling for an artist who has just begun her journey as a singer-songwriter.
Leave the door open
2021 was the birth of Silk Sonic. Artists Anderson Paak and Bruno Mars bring 70's era funk and soul this year with their first single. It's a song that makes one feel that good times have arrived. Both artists combine their talents into a song that had everyone wanting to go back in the past.
Faasla
Shamoon Ismail and Hassan Raheem create a duet that is so angsty and painful it almost breaks one down. But the song is so addictive to listen to that breaking down becomes a nonissue. But aside from that, this song shows that these newcomers have their game on. Hassan Raheem, in particular, is showing Pakistan that he not only has arrived but intends to stay with Faasla.
Why Not Meri Jaan
Pakistani rap generally gets a bad rep for either sounding too scratchy or nonsensical. But the rap duo Young Stunners shows that rap can be good, too. This song might seem like an ordinary jingle for a soft drink ad, but its energy and vibe make one want to get up and tap those feet! And so what if it has Pepsi in it? Why not? As long as duos like Young Stunners are active, there's hope for Pakistani rap after all.