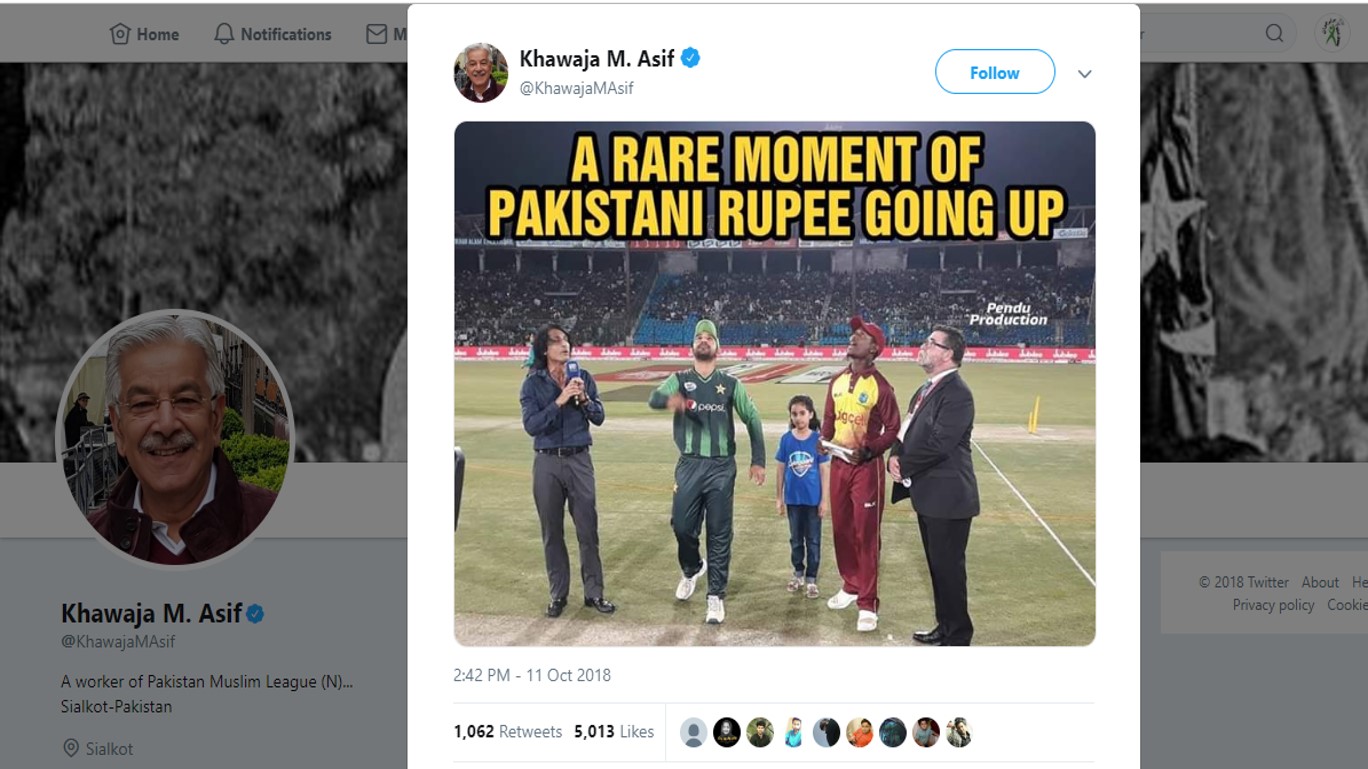 Farhan Saeed came to Prime Minister Imran Khan's support after rising economic uncertainty during the week.
To all the Pakistanis ghabrana nahin hai! @ImranKhanPTI Was and is the right choice and we all will be thankful to him, datey reho!

— Farhan Saeed (@farhan_saeed) October 10, 2018
Khawaja Asif's satirical take on the devaluation of the Pak rupee was the only hilarious aspect about the on-going economic turmoil!
— Khawaja M. Asif (@KhawajaMAsif) October 11, 2018
Mahira Khan put her support behind No Time To Sleep on World Day Against the Death Penalty and we're  going "Wow!"
#NoTimeToSleep @KhoosatSarmad ❤️ pic.twitter.com/XXscYTPz6D

— Mahira Khan (@TheMahiraKhan) October 9, 2018
Human Rights Minister Shireen Mazari cautioned lawyer Sarah Belal on rallying against death penalty.
While we shd question the efficacy of the death penalty perhaps Sarah you shd also spare a thought for the victims of terrorism and their families and what they went thru are still going through – like the APS terror attack. The debate on Capital punishment is complicated. https://t.co/vgl1SsGbxg

— Shireen Mazari (@ShireenMazari1) October 10, 2018
Misbah-ul-Haq announced setting up a hospital for children with heart disease and we're clapping the loudest! 👏
بچوں کے دل کا ہسپتال، میری سیکنڈ اننگز-#Misbah4PCHF #Misbah4ChildrenHeartHospital #Misbah4CHHRI@CHDHospital @farhanahmadpk pic.twitter.com/MsoPfESsu6

— Misbah Ul Haq (@captainmisbahpk) October 7, 2018
Vasay Chaudhary cracked us up with this reaction of the new Minister for Culture and Information's reaction after watching Jawani Phir Nahi Ani 2. 👇
On behalf of Team JPNA i invited Mr.Fiaz Chohan,the new Minister for Culture & Information ( Punjab ) to watch JPNA 2.He seemed entertained & laughed Alot and then just when 20% of the film was left he very innocently & doubtfully asked me "yeh Saari app nay likhi hai ?🤦‍♂️😂 pic.twitter.com/BzVhJxW4IU

— vasay chaudhry (@vasaych) October 9, 2018
Junaid Akram threatened legal action after #MeToo testimonies against him became public and people are not having it!
In relation to this, I have already met my legal team, and the wheels have already been set in motion to bring to book those who are trying to hurt me and people associated with me. God bless.

— Puffin Man (@junaidakram83) October 11, 2018
Meesha Shafi offered to donate to feminist author Mona Eltahawy's library of jpgs and we can't stop laughing!
I want to make a large donation to this library you keep 😂

— MEESHA SHAFI (@itsmeeshashafi) September 29, 2018
Akshay Kumar's tweet on the #MeToo cases against Sajid Khan had the director sacked!
— Akshay Kumar (@akshaykumar) October 12, 2018
Malala Yousafzai's Twitter exchange with Shah Rukh Khan was the talk of the town so you probably didn't miss this one! 😉
Most certainly would love to do it & meeting u will be a privilege. Will put my team to schedule it sooner than soon https://t.co/hX9b0ghJxL

— Shah Rukh Khan (@iamsrk) October 7, 2018
Do you want to add any celebrity tweets that we missed? Share in your comments!