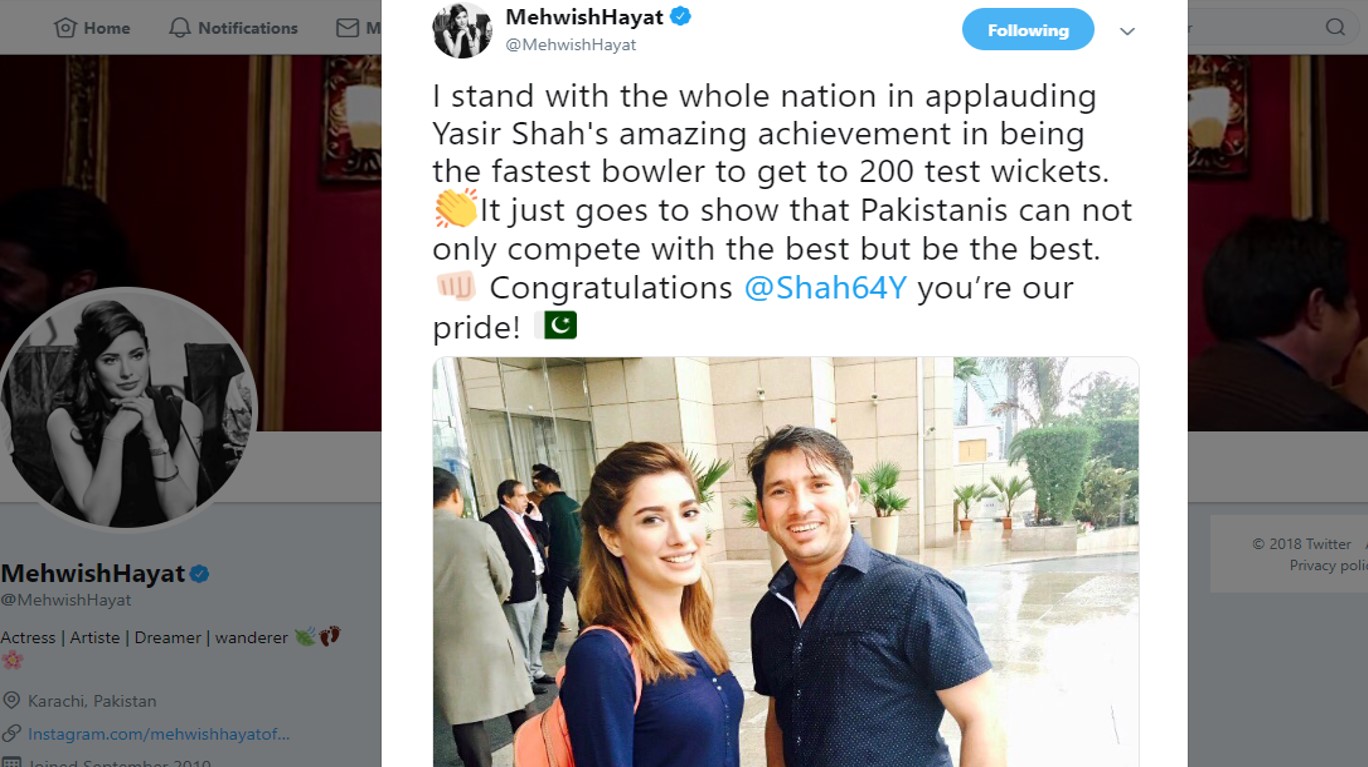 Reham Khan congratulated Armeena Khan for making it to the list of sexiest women 2018 and the her response was simply WOW!
Thank you Ms. Khan, that is very sweet. Although, What is sexiness? PK public life is blessed with beautiful intelligent women inc. yourself, Pak girls could fill that 50 list v. easy. Imagine a female fortitude & reslience list. We must keep fighting the good fight. #PKwomenrock https://t.co/dk0FZYDAyJ

— Armeena ✨ (@ArmeenaRK) December 6, 2018
Dr. Nauman Niaz announced his return to PTV after a year-long bout with cancer and Pakistanis can possibly not be happier!
I will soon be back on PTV Sports. I underwent a successful re-BMT in London. There were complications; With the blessings of Allah, I have been restored to full health. I thank all my followers, friends & colleagues for their prayers. God is the most merciful & beneficient. 🙏

— Dr. Nauman Niaz (@DrNaumanNiaz) December 6, 2018
Osama Khalid Butt's criticism of Orya Maqbool Jan was all things savage!
Can someone recommend a good skin treatment cream to get rid of the pockmark that is Orya Maqbool Jan?

— Osman Khalid Butt (@aClockworkObi) December 8, 2018
Nusrat Javeed sent out a series of paranoid tweets accusing Prime Minister Imran Khan of trying to kill him and seriously, no one really knows what to say anymore…
https://twitter.com/javeednusrat/status/1071137044297146368
https://twitter.com/javeednusrat/status/1071137906750877696
Hareem Farooq got nostalgic as Main Khayal Hoon Kisi Aur Ka neared its end.
Oh dania i will miss you! 😢
Last episode of #mainkhayalhoonkisiaurka goes on air tomorrow! I say this on behalf of the whole team, we are grateful to each and everyone of you for all the… https://t.co/RL2exNOhq7

— Hareem Farooq (@FarooqHareem) December 4, 2018
Humaima Malick announced the impending arrival of The Legend of Maula Jatt.
Finally my film's title has been announced ! Can't wait for you guys to see it in theatres on Eid ul Fitr 2019 #MaulaJatt pic.twitter.com/AtrEC2302g

— HUMAIMA MALICK (@HumaimaMalick) December 7, 2018
Mahira Khan continued with the good fight, this time creating awareness about Polycystic Ovaries.
Test your PCOS knowledge now! https://t.co/df0LK8nbB1

— Mahira Khan (@TheMahiraKhan) December 5, 2018
Mahira was not the only celebrity raising awareness for a cause this week. Haroon campaigned for a greener Pakistan!
https://twitter.com/TheRealHaroon/status/1071359487733313537
Mehwish Hayat's congratulatory tweet to Yasir Shah had everyone talking!
I stand with the whole nation in applauding Yasir Shah's amazing achievement in being the fastest bowler to get to 200 test wickets. 👏It just goes to show that Pakistanis can not only compete with the best but be the best. 👊🏻 Congratulations @Shah64Y you're our pride! 🇵🇰 pic.twitter.com/lxDiT1tbPf

— Mehwish Hayat TI (@MehwishHayat) December 7, 2018
Khawaja Asif left a terrible after taste with this incredibly insensitive tweet about religious minorities…
یا اینوں چپ کراو یا چیک کراو ! #کرتارپور_بارڈر اوپننگ پر#عمران کی تقریر

ہمارا کلچر ایک جیسا ہےہمیں بارڈر ختم کرکے یورپین یونین کیطرح ایک یونین بنانی چاہیے

آبادی کنٹرول تقریب میں تقریر

قائداعظم نےٹھیک کہا تھاہم #ہندووں کے ساتھ اکٹھےنہیں رہ سکتے

— Khawaja M. Asif (@KhawajaMAsif) December 8, 2018
Have anymore celebrity tweets to add to the list? Comment below!