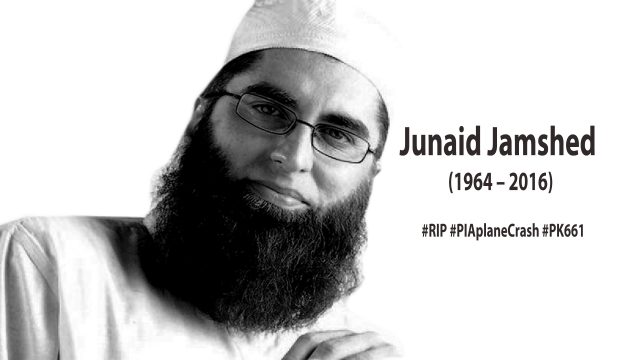 The PIA plane crash near Havelian yesterday resulted in depriving Pakistan of one its most celebrated icons – Junaid Jamshed.
Read: To Junaid Jamshed With Love
Many grief-stricken Pakistani celebrities took to social media to express their sorrow and remember the legacy that has been left behind by Junaid Jamshed.
Read: How Junaid Jamshed Would Want Us to Remember Him
Fakhr-e-Alam was among the first to break the news via his Twitter handle.
It is confirmed that my friend & neighbour Junaid Jamshed was indeed on the unfortunate flight. Allah have mercy. #PIA

— Fakhr-e-Alam (@falamb3) December 7, 2016
har Dil DIl Pakistan aaj udaas hogaya….hamara aik dost hum sey juda hogaya…Junaid Jamshaid a Pakistani icon forever.

— Fakhr-e-Alam (@falamb3) December 7, 2016
The news soon spread like fire in the woods, leaving everyone in a state of shock and sadness. Tributes for the former singer continue to pour in as this piece is filed.
The list of celebrities who mourned Junaid Jamshed was not restricted to any one walk of life. Actors, singers, sports personalities and politicians all seemed one in their sorrow. This just goes to show the love and respect that Junaid Jamshed commanded in his lifetime and how his sudden departure is as much a loss for his friends and colleagues as it is for his family.
Heart is bleeding for the lives lost, condolences to the family. We lose another icon.. this is just so so sad. #PK661 #JunaidJamshed

— Mahira Khan (@TheMahiraKhan) December 7, 2016
PIA plane crash in Pakistan. My friend @JunaidJamshedPK was on the flight also, My heart goes out to all families who lost their loved 1's

— Amir Khan (@amirkingkhan) December 7, 2016
My love and prayers go out to Junaids family,friends & devoted fans. We will miss you buddy but your memory will live on #DilDilPakistan

— Wasim Akram (@wasimakramlive) December 8, 2016
Devastated! @JunaidJamshedPK 💔Prayers for all affected families Inna lillah wa inna eleyhe Rajioon #PIAcrash #JunaidJamshed Ya Allah Rehem🙏🏻

— MAWRA HOCANE (@MawraHocane) December 7, 2016
The Last meeting and the last interview …💔,RIP Junaid bhai . Your voice will remain with us forever .Dil Dil Pakistan . pic.twitter.com/iLzW8uP5CB

— vasay chaudhry (@vasaych) December 7, 2016
Saddened beyond words! Rest in peace #JunaidJamshed & all the people who were on board! Inna Lillahi Wa Inna Ilaihi Rajiun!

— URWA HOCANE (@VJURWA) December 7, 2016
Loss of words. Shocking. Condolences to the families of all the passengers. Junaid bhaee 🙁 #PIAcrash

— Ali Zafar (@AliZafarsays) December 7, 2016
It's a dreadful tragedy & we pray for all the departed souls but Junaid Bhai was loved by so many that it's natural to talk about him more

— Reham Khan (@RehamKhan1) December 7, 2016
My heart is drowning in sadness to learn about the air crash of Pia.. news feared my friends Junaid Jamshed and alay Akram was in it 2..

— Shoaib Akhtar (@shoaib100mph) December 7, 2016
Junaid Jamshed – the man who voiced a nation's anthem that stood on the shoulders of Pak Sarzameen

— Fasi Zaka (@fasi_zaka) December 7, 2016
why did you leave me without saying goodbye @JunaidJamshedPK To God we belong & to Him shall we return…#JaanJaanPakistan

— salman ahmad (@sufisal) December 7, 2016
Deeply saddened to hear about the plane crash. Prayers for the deceased. Rest in peace Junaid Jamshed, a great human being

— Humayun Saeed (@iamhumayunsaeed) December 7, 2016
Thoughts & prayers go out for Junaid Jamshed's family & loved ones. His voice and good deeds will resonate with us for ever! RIP my friend.

— Ramiz Raja (@iramizraja) December 7, 2016
My heart goes out to the families whose loved ones were lost. May Allah make it easy. Let's say Fatiha for all & sp Junaid Jamshed bhai RIP

— Shoaib Malik (@realshoaibmalik) December 7, 2016
Junaid Jamshed has left us in the most devastating way. Shocked and heartbroken. #PIAcrash

— Quratulain Balouch (@Quratulainb) December 7, 2016
"Dil Dil Pakistan, Jaan Jaan Pakistan", this unofficial national anthem of Pakistan will always keep Junaid Jamshed alive in our memories.

— Faizan Lakhani (@faizanlakhani) December 7, 2016
The masses in general were also left heartbroken and depressed.
Junaid Jamshed's journey was so quintessentially Pakistani. Conflicted, passionate, devoted, ubersmart, and so, so talented. Tragic loss.

— Mosharraf Zaidi (@mosharrafzaidi) December 7, 2016
Another chapter of our childhood closed. RIP Junaid Jamshed.

— Fareeha Khan (@khan_fareeha) December 8, 2016
Those who grew up in Pakistan during the 90s lost an integral figure of their cultural experience today. Rest in peace, Junaid Jamshed.

— Umair Javed (@umairjav) December 7, 2016
For the love of God please let people mourn! Whatever disillusionment we felt with JJ does not stop the heart from feeling sad! Let us be!!

— AreebahShahid (@AreebahShahid) December 8, 2016
Celebrities from the neighboring country also paid their condolences to the family and friend of Junaid Jamshed.
RIP. My Condolences to the bereaved families of the PIA Flight crash. We lost an artist in Junaid Jamshed. May God Bless all! Ameen pic.twitter.com/1KkZgujiyk

— Rishi Kapoor (@chintskap) December 7, 2016
I met Junaid Jamshed in June this year with @wasimakramlive . He was extremely courteous and hospitable. And he sang that evening!

— Harsha Bhogle (@bhogleharsha) December 7, 2016