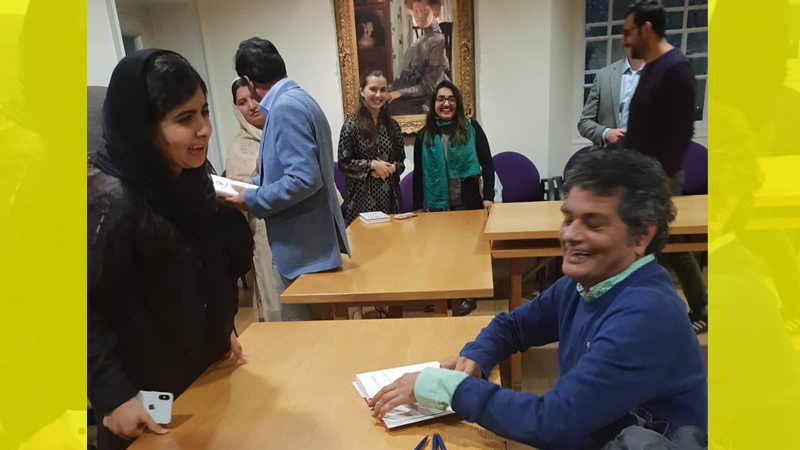 We all know Malala Yousafzai, we all know Muhammed Hanif and we all know that Malala knows Muhammed Hanif and Muhammed Hanif knows Malala.
*Clapping* 👏👏👏 
On the launch event of Muhammed Hanif's latest book, Malala went to the end of the queue to get her copy signed and the Pakistani writer's response made everyone chuckle and go "Awww!"
— Faiza S Khan (@BhopalHouse) October 15, 2018
Aaaaaaaaw!!!! 😂😂😂 😍😍😍
Bloomsbury, the publishers, soon retweeted the photo with this comment! 😉
.@Malala asks for @mohammedhanif to sign her copy of his book RED BIRDS. He asks what her name is while chuckling to himself. You've got to back your own jokes, y'know? https://t.co/7jvqnBnxh4

— Bloomsbury UK (@BloomsburyBooks) October 16, 2018
This is not the first-time Malala had a witty exchange of words with other celebs.
Hello from the other side 😳 @elonmusk https://t.co/pRTnyptZ1N

— Malala (@Malala) May 31, 2018
Malala surely knows how to poke fun and brighten up people's day.
Here's what Malala had to say about the book!
"Red Birds reminds you of things we've taken for granted." – Malala Yousafzai pic.twitter.com/exjiBbvItg

— Faiza S Khan (@BhopalHouse) October 14, 2018
Read: This Twitter Exchange Between Malala Yousafzai And Shah Rukh Khan Proves That She's "The Chosen One"
Kamila Shamsie was also present at the event and the trio's pictures were really interesting, to say the least. Take a look!
It was wonderful – even though all of us seem intent in looking in different directions in https://t.co/fJ64RhNWAV

— Kamila Shamsie (@kamilashamsie) October 14, 2018
Seems like everyone present at the event had a lit evening!
https://twitter.com/nomanchaudhry10/status/1051943333797482498
People just keep coming! The room is actually bursting at the seams. I'm sitting on a table and people are sitting on window ledges! @mohammedhanif on #RedBirds @BloomsburyBooks pic.twitter.com/Zl38n8XrMx

— Philippa Cotton (@PhilippaCotton) October 14, 2018
Thank you for making our day guys! We really needed this dose of humor to shake off the worldly worries a little!
Keep giving us awwwwww-worthy moments! 😍😍😍😍😍
Read: Jahangir Tareen Memes Are The Funniest Things Happening On Pakistani Twitter Right Now!
What do you think about Malala & Muhammed Hanif's priceless conversation?