It all started when Mahira Khan shared how she did on a breast cancer quiz by Mashion in order to create awareness about the chronical disease that has taken countless lives and in most cases due to ignorance.
Read: "What Is Your Name?", Asked Pakistani Writer Muhammed Hanif From Malala & Chuckles Filled The Room
I got 11/15 and I thought I knew all I could about breast cancer! https://t.co/zMQypttDP9

— Mahira Khan (@TheMahiraKhan) October 16, 2018
Many responded to the tweet by sharing their quiz score!
https://twitter.com/zabiabas202/status/1052404420078649344
https://twitter.com/ayeshaal07/status/1052316481013334023
I got 9 😥😥😥

— IHSAN ALI (@BabyBleedGreen) October 16, 2018
However, there is one guy who tried to steer the important discussion in a direction no one wanted.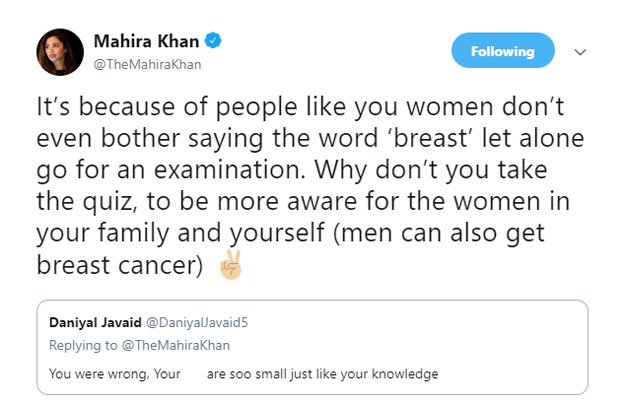 While usually Mahira doesn't pay heed to trolls and goes about her business without giving a damn, this time she felt the need to take the moment to highlight how women are shamed for talking about breast cancer and how the norm has led to the prevalence of unawareness about the disease.
Read: This Twitter Exchange Between Malala Yousafzai And Shah Rukh Khan Proves That She's "The Chosen One"
This is what our queen had to say!
It's because of people like you women don't even bother saying the word 'breast' let alone go for an examination. Why don't you take the quiz, to be more aware for the women in your family and yourself (men can also get breast cancer) ✌🏼 https://t.co/sMfu2vNCzD

— Mahira Khan (@TheMahiraKhan) October 17, 2018
It was only a matter of time before Daniyal realized he messed with the wrong woman and deleted his tweet! 😂 😂 😂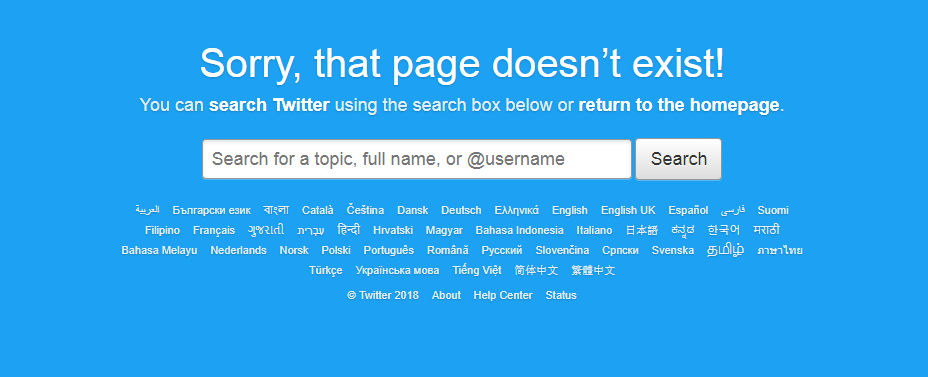 According to a seasoned cancer specialist, Dr. Quratulain, Pakistan lost 40,000 women to breast cancer last year and every 8th to 9th woman in Pakistan is at the risk of falling prey to this illness.
Keeping in view that breast cancer can be cured if detected at an earlier stage, there's a dire need to promote the practice of regular medical examination, especially among women.
However, the stigma attached to the word BREASTS in a South Asian society is sickening to the core and hinders women from adopting any medical regime that has to do with this part of the human body!
Given such dynamics, people like Daniyal only add to the taboo and thus, must be schooled the way Mahira did.
Way to go M!!! Way to go! ✌️
Read: 10 Nasty Comments Women Have To Hear When They Share Their #MeToo Story!