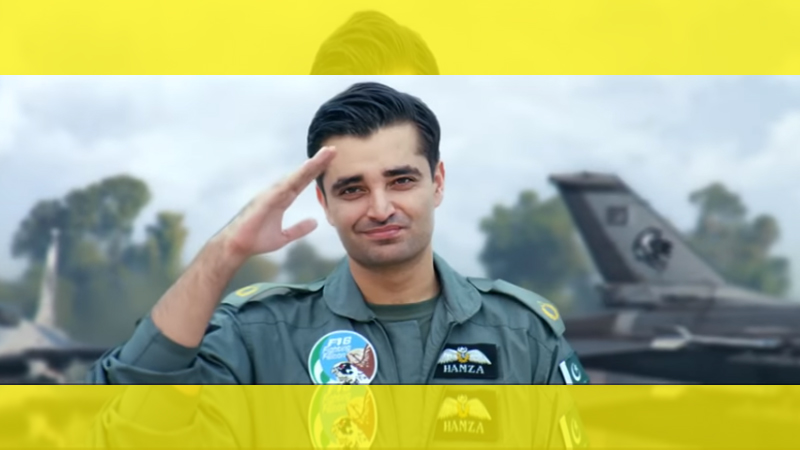 Teaser of Parwaaz Hai Junoon hit our screens yesterday and my oh my we are thrilled! Since the curtain raiser event of Parwaaz Hai Junoon which was held in September 2016, we've been waiting to get a glimpse of this tribute to Pakistan Airforce eagerly. On-the-set pictures appearing on social media further added to our excitement and how on earth can we stop thinking about any thing which has Hamza Ali Abbasi, Ahad Mirza, Shaz Khan, Kubra Khan and Hania Amir in it (calls for sudden "Aaaaw").
Read: This Is How Pakistani Films Performed At The Box Office During The First Quarter Of 2018
So, this month when Parwaaz Hai Junoon's posters started dropping in revealing the star-studded cast, we couldn't help but keep staring at the sight of them.
Here have a look at the first look of the movie!
https://www.facebook.com/ParwaazHaiJunoon/photos/a.1379634918732643.1073741828.1378865768809558/2065692860126842/?type=3
A picture with not one but two Hamza Ali Abbasi on it. Swept us off our feet for all the obvious reasons.
Then came the turn of Pakistan's newest heartthrob, Ahad Raza Mir. Needless to say that Parwaaz Hai Junoon has played it's cards right!
https://www.facebook.com/ParwaazHaiJunoon/photos/a.1379634918732643.1073741828.1378865768809558/2067997409896387/?type=3
Otherwise a cutie, Hania Amir donning PAF's signature coverall looked fierce and made us curious about her role. Expecting great things from the young actress.
https://www.facebook.com/ParwaazHaiJunoon/photos/a.1379634918732643.1073741828.1378865768809558/2070352542994207/?type=3
And then, Shaz Khan's role as Squadron Leader Nadir Kirmani  was disclosed with a caption pouring swag.
https://www.facebook.com/ParwaazHaiJunoon/photos/a.2072593099436818.1073741829.1378865768809558/2072593072770154/?type=3
However, things didn't stop there! Soon after, Ahad Raza Mir appeared on our timelines to announce the release date of Parwaaz Hai Junoon's teaser and the rest is history.
Read: 7 Pakistani Movie Dialogues That Have Become Part Of Our Popular Culture!
The scene open with RT in the background and two F-16s entering the scene and getting lost in the sky, we get a glimpse of a busy control room followed by two pilots grabbing their helmets and fighter jet ready for the flight. Comes Hamza Ali Abbasi wearing aviators and walking like a debonair on the runway.
Jets take off, we see an exchange between ATC and Hamza, the latter successfully carries out the mission, Shaz Khan goes "boom" and both exhibit playful maneuvers on their way to landing with Hamza narrating his love for speed in the background. The jets land, canopy lifts up and Hamza Ali Abbasi alongwith Shaz Khan and other officers break into celebration, chanting, "Pakistan Zindabad!" (long live Pakistan) with Pakistani flag being waved and taking us to Hamza Ali Abbasi again this time signing out with a salute. All of this is encapsulated in 52 seconds, making the teaser crisp and captivating.
Teaser of Parwaaz Hai Junoon does look inspired from Hollywood movies of the same genre but that doesn't take away much from it.
Read: Teaser Alert: Rai – The Living Miracle Promises To Showcase The Resilient Side Of Pakistan
A national obsession has been seen with films honoring armed forces in the country and rightly so. But Parwaaz Hai Junoon being a tribute to Pakistan Airforce does offer something new, especially on the technical and creative end given the fact that we've had our fair share of action movies to learn from.
That being said, for us the teaser looks promising because of this sudden rush of patriotism that takes over and you are reminded of all the times our forces put their lives in danger for the peace and safety of our country.
The only wrong I can see here is that Parwaaz Hai Junoon is slated to be released this Eid-ul-Fitr alongwith 3 other Pakistani movies. Bound to affect the business, such a clash will definitely result into lesser profits than the franchise could have in case of a solo premier.
Read: 3 Pakistani Films Clashing On Eid 2018 Can't Be Good For Business
What future holds for Parwaaz Hai Junoon, only time will tell! Till then, you go and watch the teaser!
Read: 5 Pakistani Classic Films that You MUST Watch