The last few weeks have been a nightmare for Bollywood's sexual predators as more and more women have come out each consequent day with horrifying stories of being sexually harassed by some of the biggest names in India's entertainment industry.
What began with Tanushree Dutta calling out Nana Patekar for sexual misconduct and intimidation on the sets of an unreleased movie ten years ago has quickly snowballed into a mass movement where the who's-who of Bollywood is being named and shamed.
Read: Bollywood's #MeToo Moment: From Nana Patekar To Kailash Kher, All The Big Names That Have Been Called Out Since Tanushree Dutta's Brave Stand!
The latest biggie to fall from grace is director and comedian Sajid Khan. At least four women, including models Saloni Chopra and Mandana Karimi as well as actor Rachel White and  journalist Karishma Upadhyay have come forward with terrifying tales of being physically and mentally traumatized by Khan's predatory behaviour. Each survivor has shared a similar stories in which Khan spoke graphically about his sex life and genitalia, asked them to strip, touched them inappropriately and/or flashed in front of them.
Read: More Women Step Forward To Share How Sanskari Babu Ji Alok Nath
In the wake of these allegation, Sajid Khan's family members have come under fire by netizens.
Farah Khan 
Shortly after testimonies of survivors began pouring in against the Housefull director, choreographer and film director, Farah Khan, who is also Sajid Khan's elder sister posted a tweet expressing solidarity with the survivors.
This is a heartbreaking time for my family.We have to work through some very difficult issues. If my brother has behaved in this manner he has a lot to atone for.I don't in any way endorse this behavior and Stand in solidarity with any woman who has been hurt.

— TheFarahKhan (@TheFarahKhan) October 12, 2018
Farah had earlier faced criticism for posting a gleeful picture with Nana Patekar a couple of days after Tanushree had come forward against the veteran actor.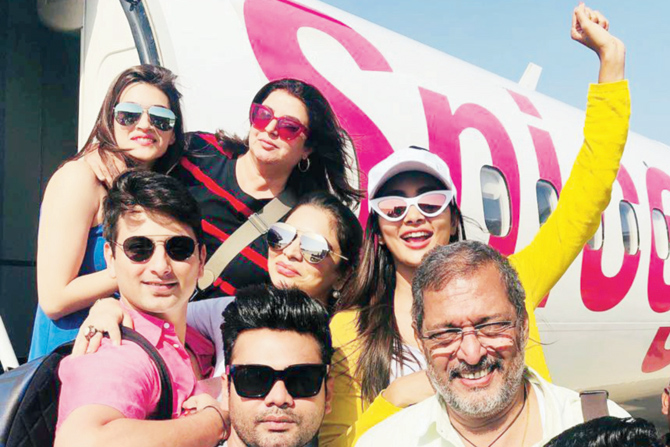 So, when she posted a tweet condemnming her brother's alleged behaviour, Twitterati were in no mood to buy her apology.
https://twitter.com/pallavisomethin/status/1050696787290456064
https://twitter.com/Golu29/status/1050707873922072576
Oh please Farah. Now don't talk like you never knew all these. You are not feeling bad for his behaviour. You are only feeling bad because he got caught and is exposed now. Please don't teach the same to your three kids.

— Ishika (@ishikaiyer) October 12, 2018
Farhan Akhtar
Contrary to Farah's earlier silence in the wake of the #MeToo movement in India, her cousin, film actor, director, writer and musician Farhan Akhtar was among the first Bollywood A-listers to support Tanushree Dutta.
A few hours after the scandal broke out, Farhan took to Twitter to express disappointment at Sajid's alleged behaviour.
I cannot adequately stress how shocked, disappointed and heartbroken I am to read the stories about Sajid's behaviour.
I don't know how but he will have to find a way to atone for his alleged actions.

— Farhan Akhtar (@FarOutAkhtar) October 12, 2018
However, the Dil Chahta Hai director immediately came under fire for tolerating a sexual tormentor in his own family.
https://twitter.com/NP0056/status/1050675090583506944
I cannot adequately stress how shocked, disappointed and heartbroken I am to see these celebs pretending to be so innocent as if they didn't know about their close friend Sajid Khan's behaviour despite knowing him for decades. #SajidKhan #MeToo #MeTooIndiahttps://t.co/u85xtpjaM2

— Sir Jadeja fan (@SirJadeja) October 12, 2018
Can you pls tweet a proper condemnation. This feels like you want to protest yet not too much either. Would your words be the same if it was Zoya not Saloni.?

— Vishal Subba (@vishalsubba) October 12, 2018
Faced with scathing criticism, Akhtar posted another tweet categorically putting his support behind the survivors.
Let there be no confusion about whether I stand in solidarity with the women who have spoken up. I absolutely do. @karishmau @redheadchopra https://t.co/qYmaj2yN4P

— Farhan Akhtar (@FarOutAkhtar) October 12, 2018
As of now, Sajid Khan has been sacked from his position as the director of the fourth installment of the Housefull film franchise. This move was triggered by lead actor, Akshay Kumar's statement that he would not work with any proven sexual offenders.
— Akshay Kumar (@akshaykumar) October 12, 2018
Even close friend and a regular in the Housefull films, Reteish Deshmukh has come forward to express deep distress at the unfolding scandal.
— Riteish Deshmukh (@Riteishd) October 12, 2018
On his part Sajid Khan issued a statement in which he neither denied nor agreed to the allegations urging his friends to wait for the "truth" to come out.
— Sajid Khan (@SimplySajidK) October 12, 2018
After going through the detailed account of each survivor, we too, are positively enraged at how Sajid Khan had not been apprehended earlier.
In the same realm, it is also hard to digest that his family members were completely unaware of his inexcusable predatory behaviour. But at the same time one wonders if it is entirely fair to shame the family members, especially cousin Farhan Akhtar for crimes that they have not committed?
Read: Is Pakistani Youtuber Junaid Akram A Sexual Harasser?
We completely understand the "enabler" rule and stand-by it. However, without knowing the extent of the knowledge that Sajid's sister and cousin had on the issue, it seems a little unfair to make them targets of such unforgiving criticism.
Sajid on the other hand deserves not just verbal spat but also a criminal sentence for sexually traumatizing so many women with impunity for years!