It was not just the livestock farmers who made money this Eid! Cinemas across Pakistan received impressive business, all thanks to the three big productions that hit the screen last week. The question of which one to catch and which one to miss kept the cine-goers confused before the release until the big day arrived when despite being sidelined in terms of screenings, Nabeel Qureshi proved that he has the potential to be Pakistan's Hirani! Load Wedding hits all the right notes with a production that is both commercial and message-driven and we aren't the only ones sharing such opinion.
Read: Film Review: Parwaaz Hai Junoon Falls Short Of Expectations
Not in years had I seen a Pakistani flick. It was both a 'don't have time' thing and a 'don't have time for bad production' thing.

But #LoadWedding this Eid was a game changer. Politically savvy, socially responsible, aesthetically crisp, superb writing, great production design.

— W. S. Khan (@WajSKhan) August 22, 2018
@nabeelqureshi just watched load wedding in Uk leicester!!!! Awesome movie! Really enjoyed it thoroughly!! Kept me gripped throughout, didnt drag!!!! Wow, Pakistani cinema doing really well!!!

— Kanwal Haq (@HaqKanwal) August 26, 2018
Load Wedding best movie in the year #AskLoadwedding

— Amber16 (@sethi_ambreen) August 25, 2018
Load wedding. ,there is pureness,relatibility,reality and ofcourse story which highlighting the common issues of our society with some social awareness at the same time entertaining.👍#loadwedding #EidulAzha#FahadMustafa

— Khurram (@khurram26746) August 26, 2018
I don't get many chances to watch Pakistani movies because there are no shows in/near Amsterdam. But thanks heavens I was visiting London and got a chance to watch #Loadwedding
People please go watch it, it's AMAZING!!!! Haven't enjoyed a movie like this in a long time.

— Annie (@Annie_pannnie) August 26, 2018
Load Wedding review:

Fits and bouts of laughter, relatable story, just the right pun in a very apt script, on point costume/wardrobe styling, fairly good music, excellent acting by almost all the leads. More than paisa wasool.

— Sulmeen Ansari (@Sulmeen) August 27, 2018
#LoadWedding Best depiction of small town https://t.co/19rhp5wa1M direction and attention to detail.Engaging and leaves u with positivity. @nabeelqureshi Bro u have delivered again.I think this is u 5th movie.If this is begining what will be the peak in u carrier.Bravo

— Hammad's Views (@Apne2014) August 26, 2018
#LoadWedding type movies which have strong content, story telling and message doesn't need eid days to release. These type of movies can release on any weekend and that day will become eid 🙂 @nabeelqureshi @fahadmustafa26 @loadwedding26 @MehwishHayat @fizza999

— Syed Noman Nazir (@nomanalam) August 26, 2018
Watched #Loadwedding by @nabeelqureshi . It was awesome, a movie filled with rollercoaster of emotions augmented by a strong social message against dowry. Bravo 👏👏👏

— Abrar Ahsan (@AbrarAhsanK) August 26, 2018
Thank you @nabeelqureshi for making this amazing movie. We really need this type of message orientated movies. #LoadWedding

— hafsa tajwar (@HafsaTajwar) August 26, 2018
The best thing that happened to Pakistani Cinema is @nabeelqureshi ! Absolute genius! Must watch #LoadWedding

— Arslan Naseer – CBA (@ArslanNaseerCBA) August 26, 2018
In a cloak of rom-com, Load Wedding successfully highlights the struggles and hardship one has to face in a Pakistani society for a thing as basic as getting married, especially in the case of women.
Whether it's the taboo attached to the word, "widow", the curse of dowry or the socially imposed shelf age of an unmarried woman, Qureshi has very artfully challenged the norms that still enslave a major chunk of masses in Pakistan.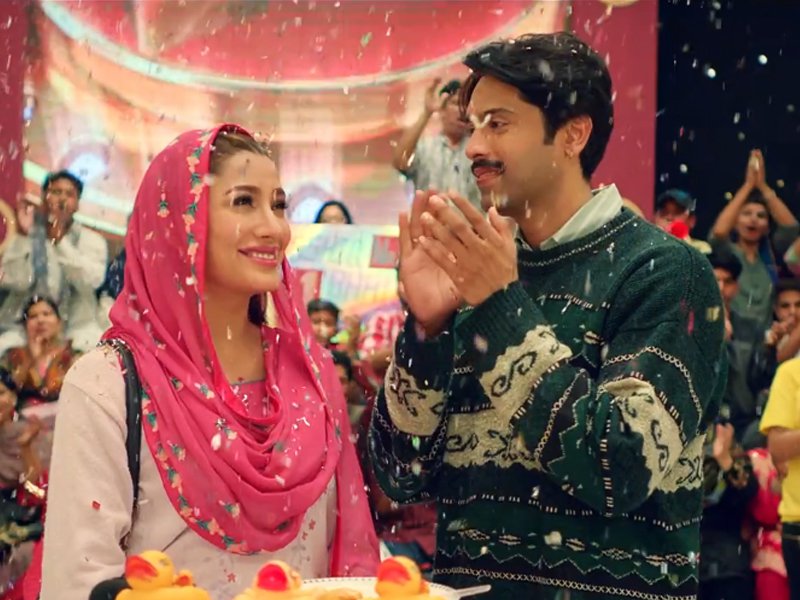 Without giving away too much, the story revolves around Meeru (Mehwish Hayat), a young widow; Raja (Fahad Mustafa), an electrician who is madly in love with Hayat's character and Baby Baji (Faiza Hasan) a middle-aged unmarried sister of Raja who is trying hard to get married. Conflicts arise when Raja fails to collect enough dowry to wed off his elder sister Baby Baji and puts up a fight against his mother and sister to marry Meeru, rejecting the social stigma associated with widows in South Asia.  What follows is a long journey embedded with trials and tribulations at every turn and rightfully depicts how excruciatingly painful the process of a wedding can be in a society like ours.
Read: Review: Cake Is A Slice Of Life Film That Should Not Be Missed!
Now, obviously, a story so important will only bear a positive influence on the viewers if it's told in a light and witty manner without being too preachy and that's exactly where the makers of Load Wedding have hit bull's eye! The idea of infusing humor in the plot as serious as this has played a crucial role in getting the message across successfully.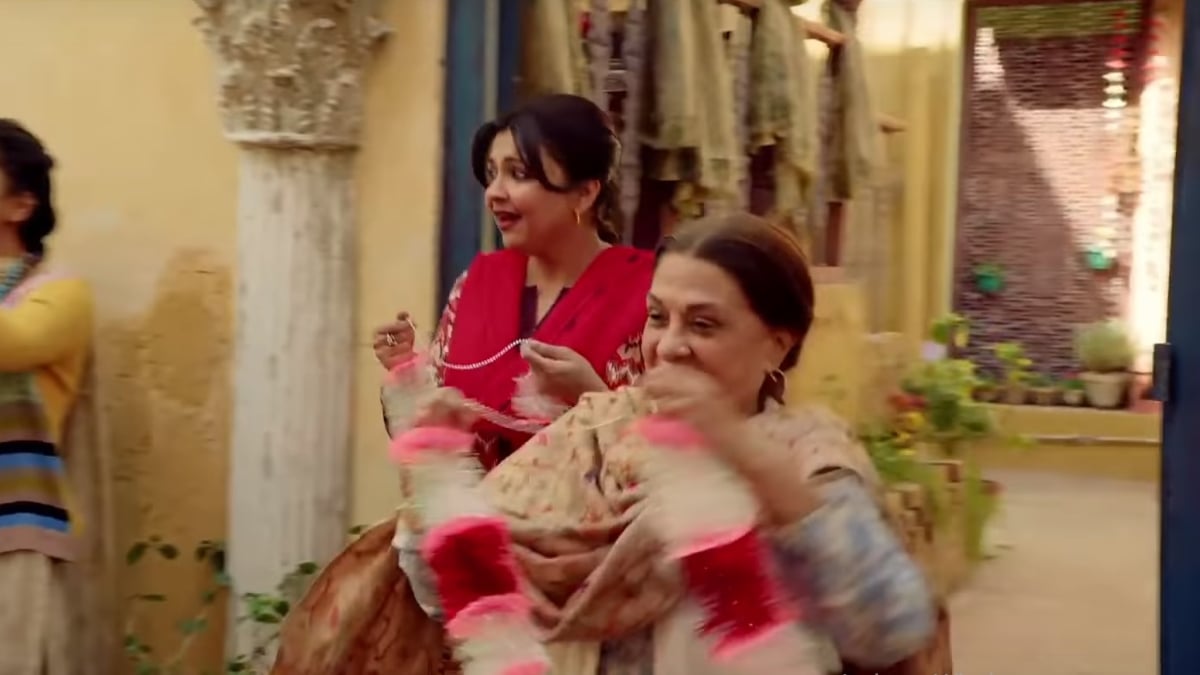 Each character has an empathetic insight to offer and yet, a conscious effort has been made to ensure that the right kind of conversation is triggered. The stellar cast has done complete justice to their roles by striking a balance between the protagonist and antagonist elements of the nature of each character; something we rarely see in Pakistani cinema. This attribute has further added to the factor of relatability in the film!
Read: Late Review Of Teefa In Trouble: All That Glitters Is Not Gold!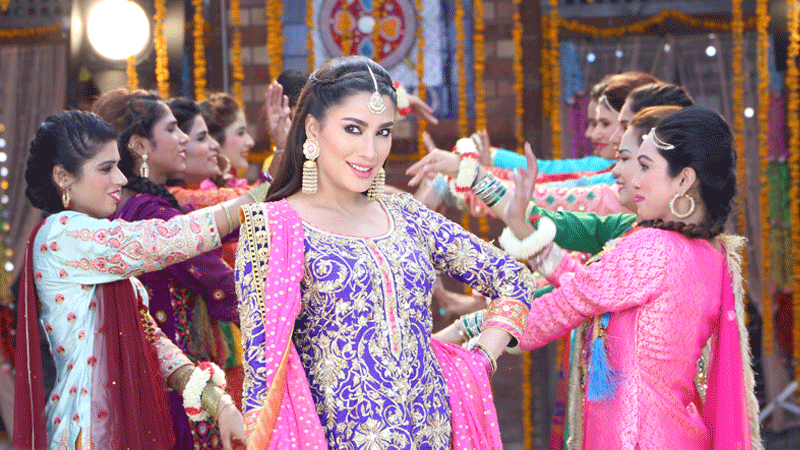 Brownie points to the cinematographer for the bright visual treat and to the brains who ensured cultural relevance through rustic accents, traditional costumes and folksy music!
The inclusion of numerous social issues does fog the plot a bit and we hope that in future Nabeel is able to focus on the causes that fit more smoothly with the script's flow. That being said, it doesn't take away much from Load Wedding.
Read: We Saw 7 Din Mohabbat In & Our Verdict Is Not Pleasant
What's more important is the fact that someone is finally taking the leap of faith and making commercial films which have more than a set of sexist jokes to offer. Whether its the Na-Maloom Afraad series or Actor-in-Law, Nabeel and Fizza's power-packed duo has brought to the mainstream Pakistani cinema the narrative building that had been missing for long! Load Wedding is another feather in this cap and thus, deserves all the love the film is receiving.
Rating: 4/5