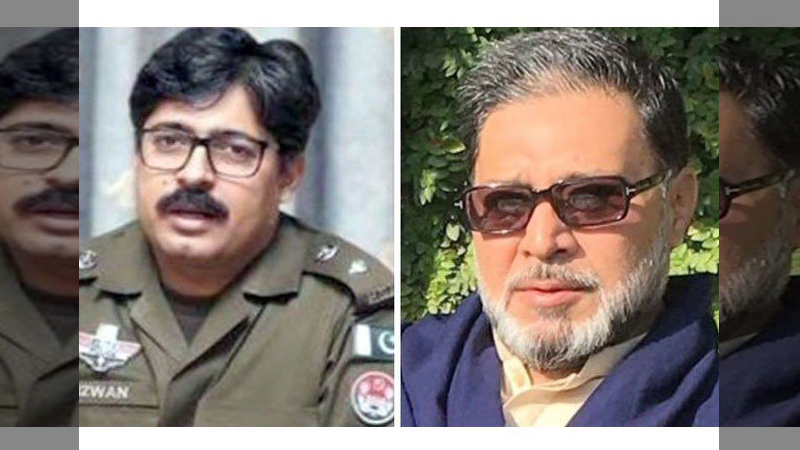 PTI was still recovering from the damage done by Imran Ali Shah and Usman Buzdar when Khawar Maneka pulled the party into another controversy. According to the reports appearing on media, ex-husband of the First Lady, Maneka was stopped by Pakpattan's DPO Rizwan Gondal for overspeeding on the 23rd of August, 2018. The former not only resisted the instruction but allegedly also hurled abuses at the police. Later, CM Punjab Usman Buzdar demanded DPO to tender an apology to Maneka, on the refusal to which the officer was transferred this week.
Read: Twitter Reactions: Prime Minister Imran Khan's Address To The Nation Wins Over Pakistan
When broken, the news stirred anger amongst both the supporters and detractors. Here's how Pakistanis reacted to the Khawar Maneka – Rizwan Gondal fiasco.
-PTI MPA Imran Ali Shah feels the country is his property now, so decides to slap/beat an aged citizen for no good reason.
-DPO Pakpattan transferred for not apologising to PM's wife's first husband #KhawarManeka.. a man who broke the law..

Our journey in Naya Pakistan so far..

— Sohaib Farrukh (@farrukhsohaibpk) August 27, 2018
We didnt vote for Imran Khan to replace Sharif family with #KhawarManeka 's family. Strict action should be taken against Maneka family for trying to be above the law. This should NOT happen in #NayaPakistan.

— HAY (@yasiralihamza) August 28, 2018
Is this the #NayaPakistan Where DPOs will be transferred just because they stopped the car of the former husband of the First Lady

Does this mean #KhawarManeka can violate the law of the land Senior police officer is suspended because he refused to apologize to him pic.twitter.com/nyZtNngCxN

— Sanam Baloch (@SanamNawaaZ) August 27, 2018
#khawarmaneka immediate action is demand of this hour , if this is true than CM and all people involved in humiliating honest policemen for doing their job should publicly apologise,if story is different than how its being presented in this case too @PTIofficial should clear it

— faraz (@faraznaqvi76) August 27, 2018
The Promise of 'Equality for all' by PTI seems to be a joke, starting from MPA Imran Shah to now #KhawarManeka in the very first month of their Govt.

— Alina Ali (@alinaali90) August 27, 2018
#khawarmaneka slow clap.

— Yasser Latif Hamdani (@theRealYLH) August 27, 2018
https://twitter.com/SheerozOnline/status/1034300635842260992
Soon, the other side of the story was revealed!
@DprPolice Finally provides a clarification on #KhawarManeka incident. IG Punjab Dr. Saeed Kaleem Imam had not transferred DPO #Pakpattan Mr. Gondal under any "pressure"; rather, the police officer had been transferred because of repeatedly lying about an altercation.

— Sharjeel (@sharjeelawan_) August 28, 2018
After 5 mins of minimum research, found two different sides of the same story.
DPO Gondal getting transferred for stopping #KhawarManeka vs misbehaving with citizens and later on misreporting it.
Goes on to show how much work needs to go into ensuring ethical reporting.

— Qandeel (@49shadesofcray) August 27, 2018
https://twitter.com/AreejAbbasi14/status/1034302786387828737
Rizwan was also accused of misbehaving in the past!
#RizwanGondal
Wow salute to this police officer he stood against mighty people!!👏🏻
Ohh wait…what I saw he was suspended once before on misbehaving issue but he is still an honest officer Salute!#KhawarManeka pic.twitter.com/2SRxUgAbJz

— J̴a̴w̴a̴h̴i̴r̴⁷🧈💛 (@jwhr0613) August 27, 2018
This guy believed that PML(N) was behind the whole drama.
Punjab Police is deeply loyal to Nawaz and Rana. The DPO incident is a chess game by PMLN similar to Reham book. Overspeeding is a regular crime and unjustified transfers are common in PP so why this one got highlighted…
Politics and Chess is a messy game.
#KhawarManeka

— Umar (@UBK86) August 27, 2018
Hit them where it hurts most is the new Pmln strategy. Punjab police is deeply loyal to Shehbaz & Rana and what could be a better target than Khawar Maneka & troubling Khans life. Lets not forget in past Pmln created problems for Jemima and then Reham book scandal.#KhawarManeka

— Umar (@UBK86) August 27, 2018
And then there were those who could not help but utilize the opportunity to exhibit their witty side!
Q: Calculate the power of "x".#KhawarManeka

— Jibran T. Siddiqui (@jibransiddiqui) August 27, 2018
When you have PM of Pakistan & CM of Punjab dancing to your tunes with IG Punjab covering it all up for you. #KhawarManeka pic.twitter.com/alfh7CywSL

— лучник (@TheLuchnik) August 27, 2018
Main Hun #KhawarManeka pic.twitter.com/VBkHIxqhKg

— SMJ (Saadi) (@Sccadi) August 28, 2018
PM Imran Khan has taken notice of the incident and has ordered an investigation into the matter.
Read: 3 Reasons Why PTI's Naya Pakistan Requires Time & Patience
If we are to believe whatever is making rounds in the media, then the risks of bureaucracy being pitted against government lie ahead of us. In a country where civil-military ties have always been a source of tension, an addition to this complicated equation will only prove to detrimental to the interests of the state. Thus, there's a dire need that both the institutions sit across the table to resolve the difference and chalk out a system which harmonizes the relation.
Moreover, jumping to the conclusions is completely useless in this case as this is a developing story. We don't know yet, which side is telling the truth! So, dear fellow countrymen please hold your horses until the results of the investigation are announced! Till then, practice tolerance and respect difference of opinion rather than turning social media into a battle ground of words!
Read: 3 Things That Should Remain Unchanged In Naya Pakistan