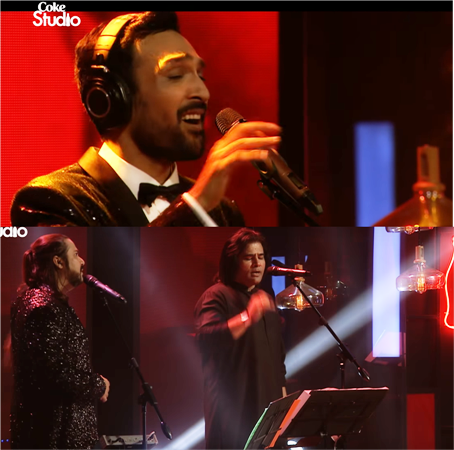 The first episode of the much anticipated Coke Studio Season 10 is out and my first reaction after watching it was: what a start!
To be honest after watching Coke Studio's rendition of the national anthem I was a little disappointed. The music was simply too loud and the vocals had taken a backseat. But with the first episode itself Coke Studio has almost made up for the uneventful cover of an otherwise brilliant national anthem.
Also Read: Top 3 Favorite Bands from the 2nd Episode of Pepsi Battle of the Bands
Let's start with "Allahu Akbar." The moment the camera revealed Shafqat Amanat Ali and Ahmed Jahanzeb behind the mikes, I knew something wonderful was in store. But as the Hamd/prayer progressed, it was evident that as great as the vocals were, it was the lyrics that took center stage. Every word seemed to have been a product of deep reflection, ultimately translating into verses that were honestly profound. The Hamd had so much soul that with eyes shut you could feel it mingling with yours. Beautiful! Bravo!
The intense "Allahu Akbar" was followed by "Chaa Rahi Kaali Ghata," sung by Hina Nasrullah and Amanat Ali. While on the whole this was a modest effort, the fact that Coke Studio is bringing the dying musical tradition of thumri back to life deserves applause. The command of both the singers on their vocal chords was evident in every note but towards the end Hina undoubtedly stole the show. The range and consistency of her voice throughout the song was mesmerizing to say the least. Brilliant!
Also Read: 3 Bands that Swept Us off Our Feet in the 1st Episode of Pepsi Battle of the Bands
Then came Momina Mustehsan and Daniyal Zafar with "Muntazir." This one, I must admit played a bit of a spoiled sport. It wasn't particularly bad but it was most forgettable. There was no oomph and Daniyal's vocals could not keep pace with the instruments. Better luck next time!
Finally, came the only solo performance of the first episode with Ali Sethi's cover of "Ranjish Hi Sahi" originally sung by the revered and mighty, late Mehdi Hassan sahab himself. Ranjish is not just a timeless classic but also among my all time favourites from the black and white era and so I was a tad bit nervous before the performance started. You see, what Coke Studio did with "Hina Ki Khushbu" a couple of seasons ago had shook my confidence in the show's ability to do justice to classic music. However, with Coke Studio 10, Strings have redeemed themselves as Ali Sethi's rendition of Ranjish is by far the best I've heard. Every verse was sung with so much care and love that you felt a sense of respect for Sethi. He knew he wasn't just performing a song but paying an ode to South Asia's most prolific ghazal maestro. If "Allahu Akbar" had a soul, "Ranjish Hi Sahi" was all heart!
Also Read: Four Iconic Pakistani Comedians
On the whole Coke Studio Season 10 has started on the right note and I really hope that it will only become better with the coming episodes.