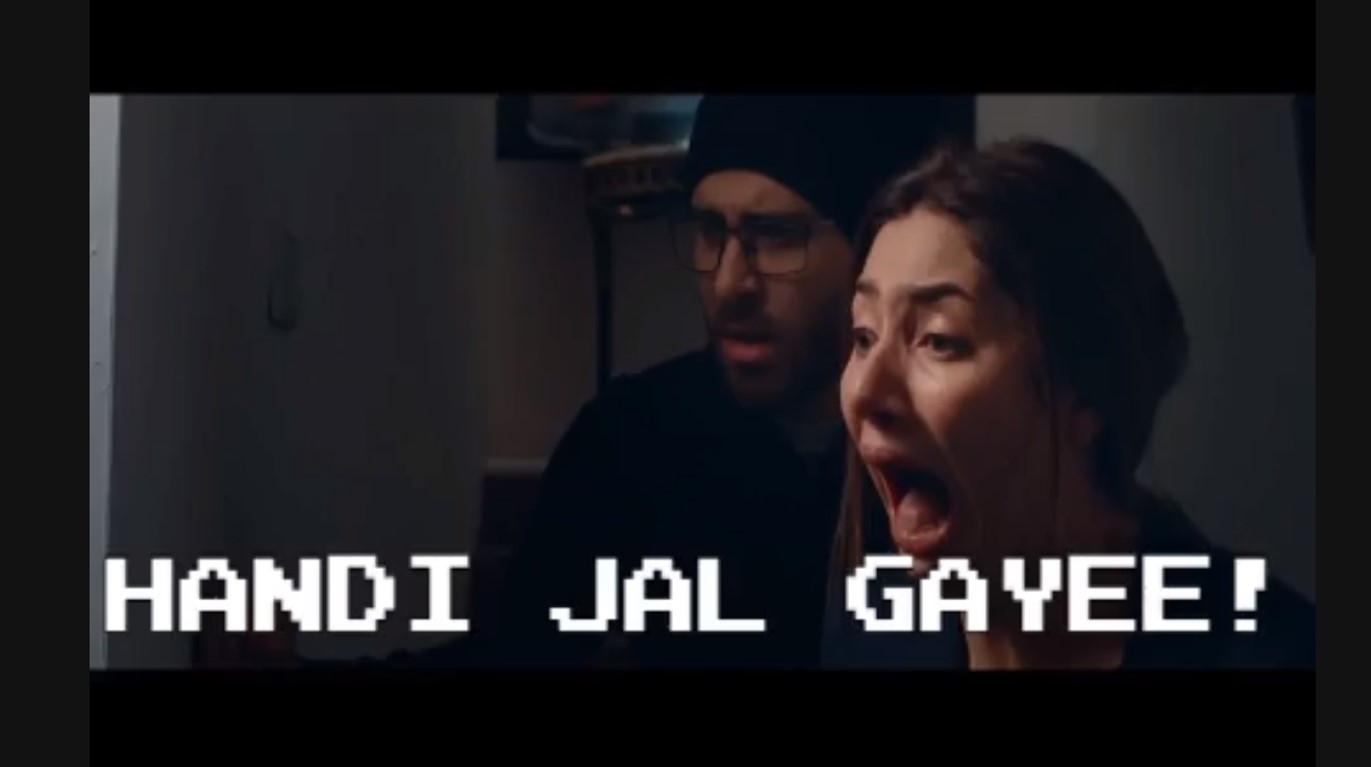 The trailer of Shoaib Mansoor, a.k.a Showman's much anticipated big screen offering, Verna was launched yesterday. In less than 24 hours the trailer has crossed 350,000 views on Youtube and attracted a lot of positive feedback from the fans.
From the looks of it, Verna seems like one intense film with a powerful plot and plenty of hard-hitting one-liners.
Mahira Khan looks on top of her game and it's not just her acting that's caught our attention but also her fierce expressions.
Also Read: 8 Times We Channeled Our Inner Joey Tribbiani
We tried to have some fun with the GIF maker and fit Mahira Khan's intense act into some everyday situations.
When Your Husband Doesn't Want To Eat Aloo Aunday
If you're married and still haven't had a fight over aloo aunday…well you will…eventually. And when you do, remember to use this badass line my mom used on anyone who disapproved the meal she'd cooked.
When You're Harassed By A Perverted Budha
If you're a woman, you know well that harassers come in all shapes, sizes and ages.
Mahira Khan, you nailed the expression of every woman when she's harassed by a perverted old man. Bravo!
An Exhausted Woman's Biggest Nightmare
Are you the mother of a toddler? Have you ever returned to the kitchen after changing your kid's diaper only to find that your handi has burnt? Great! So have I!
This GIF is for us!

That Nightmare Before Result Night
We've all had a crazy nightmare a night before our Matric / O Levels results.
May be you saw yourself back in the exam room with the invigilator snatching the paper before you could finish answering all the questions. Or you saw yourself struggling to make the ballpoint work or your pen was out of ink.
Also Read: 6 Types of (Mostly) Annoying People You Will Find on Ludo Star
Whatever the nightmare, the result was the same: we all woke up perspiring with our heart in our throat. Here's to all those who've been there and to all those who will experience pre-result anxiety one day!
When Your Husband is Exhausted From Taking Care of the Baby for 1 Hour
We women are conditioned to multi-task. A typical day is always a race against time to meet work commitments, finish house chores AND take care of our little ones.
So, we naturally find it hilarious when we return home from a much needed threading and waxing appointment from the parlour to find our husbands exhausted from taking care of the baby on their own for just one hour!
Verna releases nationwide on 17th November 2017. Can't wait!