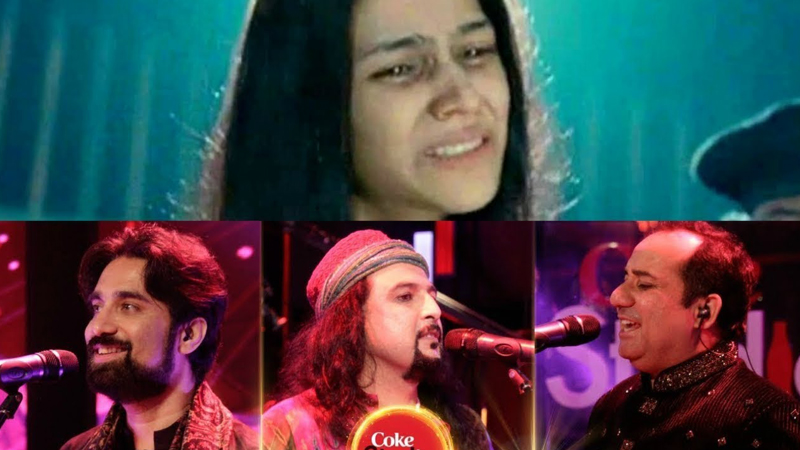 Coke Studio Pakistan is a brand that needs no introduction both nationally and internationally. Regarded as the longest-running annual TV music show in the history of Pakistan, Coke Studio (CS) has been a momentous initiative in preserving country's rich musical heritage along with encouraging new generation of artists to reproduce our traditional melodies with a novel approach.
While the drill has been in the favor of CS most of the times, there were certain renditions that caused an outburst among the audience who went running back to the original songs instinctively in order to clean their aura (F.R.I.E.N.D.S reference).
The ongoing 10th season is no different and has reopened many old wounds with consecutive disappointing covers of our favorite songs. So, from one disappointed CS enthusiast to another, here is a list of all those cover songs with which Coke Studio completely missed the mark and disappointed us big time!
5. Hina Ki Khushboo
One of Malika-e-Tarannum, Noor Jehan's greatest hits, Hina Ki Khushboo was composed by M.Ashraf and written by Taslim Fazli for Shabnam and Shahid starrer, "Mere Huzoor" which was released in 1977. Everything about this song, be it lyrics, music or singing, gives the listener a soulful experience and the melody seeps into one's brain.
Also Read: Coke Studio Season 10 – What a Start!
Now, I do acknowledge the fact that any rendition of this song would have failed to do justice to the original one. However, Coke Studio's take on the song is much worse than expected. Needless to say here that vocalists like Samra Khan and Asim Azhar were clearly a wrong choice for a song that used great singing skills of Noor Jehan to build upon. Change in beats was also a nail in the coffin and killed the whole vibe of the classic. What in the beginning seemed like a well thought out, pedantic number turned out to be nothing but sheer disappointment. See for yourself!
4. National Anthem
Released right before this Independence Day, CS rendition of National Anthem was met with mixed reactions. While some appreciated the efforts, many were seen complaining about the inability of the CS anthem to hit right in the feels which we are habitual of in the case of original National Anthem. Listen to it and pick a side!
3. Bolo Bolo
Bolo Bolo is not only Sajjad Ali's biggest hit but also one of Pakistan's most popular rock songs which was embraced with great acceptance among the masses. This is the reason why the song is still performed in every other acoustic session and why I was so excited for the second episode of Coke Studio's season 3 when EP was to make its comeback with their cover of Bolo Bolo.
However, to my surprise (read shock) this rendition did not live up to the hype and for the first time in my life, EP failed me. But that's not the saddest part. What hurt me the most is the fact that Fawad Khan was the one who screwed up. Why Fawad why?
Note: All said and done if you watch the video on mute, it's a treat for sore eyes!
2. Laal Meri Pat
Last episode of the ongoing Coke Studio's season gave us another heart attack with almost nerve wracking cover of Laal Meri Pat. I wasted 8 and a half minute of my life just to hear "Mast Qalander" once. If I had shown such persistence in other matters of my life, I would have had a Coke Studio of my own by now.
This time I could not even use the excuse of wrong choice of vocalist to calm the beast inside me because we all know that Quratulain Balouch is one of the finest singers of our generation and she did complete justice with her job. It was indeed the music direction which became a metaphor for the iceberg that sank titanic. Strings have always lived up to the expectations. Nonetheless, this time they left their fans heartbroken with this somewhat bothersome rendition of the sacred, "Laal Meri Pat".
1. Sayonee
Leading this list without any competition, Coke Studio's version of Sayonee is so infuriating that I don't even need to explain myself for putting it on number 1 spot. Sayonee has been on the playlist of every household in Pakistan. We cannot even imagine of imagining this song without Ali Azmat's strong vocals and I wonder what Salman Ahmed was thinking while performing this song. For the first time in the history of Coke Studio, it wasn't the presence but the absence of someone which led to the failure of the song. (Man, that was deep)
Also Read: Coke Studio Season 10, Episode 2 – What Happened?
In brief, "Hollow Man" perfectly describes this CS version of Sayonee if it had been a human being. Trust me I am not exaggerating!
Note: Link of the original song is given below so that you can recover from the above rendition!