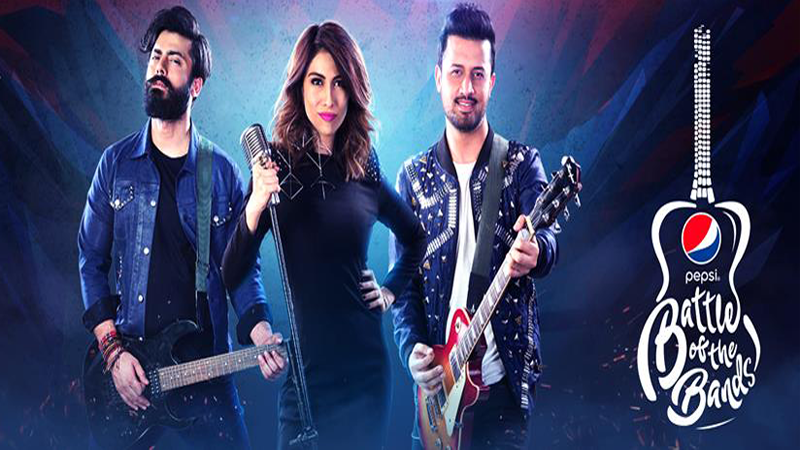 The much anticipated Pepsi Battle of the Bands finally premiered in all its glory on Sunday and left everyone awestruck, giving viewers a reason to come back for more next week. Not uttering a word about the star studded judges panel, the come back of Ayesha Omar as a reality show host after a long time, performances by the auditioning bands and the magical or not-so-magical moments they created (because a lot has already been said and written about these), we dedicate this article to those bands that blew us away with their exceptional gigs and managed to stand out through their unique take on music.
Here is a list of top 3 bands featured in the first episode who completely swept us off our feet and we could not help but search for these bands on social media platforms so that we can listen to more of their music.
3) Jasim Haider & The Pindi Boys
In case you didn't know, the band came together after Jasim Haider's solo song, "Pindi Boys" went viral and is now a household name in the local music scene. No wonder they chose the very same song to perform in front of the judges and boy oh boy did they turn up the temperature. It was the wittiest original number we heard in the episode and reminded us of the famous 90's band called, "Dr Aur Billa" at many points.
Also Read: Coke Studio Enters its Tenth Year and We Can't Stay Calm!
With Jasim's expressive vocals, Adeel and Mohsin's electrifying guitar notes and Hussain totally killing it on the drums, Pindi Boys brought a big smile on the faces of the judges who were seen enjoying themselves thoroughly during the performance and could not stop praising the stage presence, style and sound of the band after it. Cherry on the top was the moment when prior to their performance they all took out their shades to switch to their Pindi boys mode.
To hear more from the quadruplets, you can go to their Facebook page, which to my surprise has quite an impressive number of followers. Really hoping to see them in the final race, till then you can treat yourself to their viral number.
2) Positive The Band
Hailing from Jamshoro and having participated in the previous season of Pepsi Battle of the Bands as well, Positive the Band stole the show with their rendition of Kalab (originally sung by acclaimed Pakistani folk singer, Allan Fakir). While Fawad found himself spellbound by the gimmick free texture of the vocals, Meesha and Farooq used words like "soulful" and "sublime" to describe the gig.
Also Read: Upcoming Pakistani Releases That We Can't Wait to Watch
The only group to have played tabla instead of drums, this Sufi rock band stood out owing to the dreamlike aura they created with their breath taking performance. Their song was one of those kinds which get stuck in one's head. You don't believe us? Then take a look for yourself and decide! Also, "Like" their page if you wish to catch more from them.
1) OB Positive
Topping off our list (and probably the next big thing in the Pakistani music scene), is the trio called, OB Positive. They made it clear with their cover of "Aitebar" (originally produced by Vital Signs) that one does not need to complicate their sound with a thousand instruments, heavily simulated vocals or fusion of different genres in order to prove their mettle as a band. They kept it simple with just a guitar and drum playing in the background and concentrated more on harmonizing each other's voices in order to deliver a special feel through their performance, which they dub as their x factor and rightly so.
Judges were so indulged in their performance that at one point we saw Fawad Khan humming along. At the end of the act, judges were literally swooning over the band and their clarity of mind in discovering their essence and the simplified interpretation of it. What sets OB Positive apart from everyone else was the effortlessness with which they produced such a great harmony and how they let their work do all the talking.
Will they be competing in the final showdown, only time will tell! Until then here is a video of the audition in which we can see Nehad (vocalist), Royal (vocalist/guitarist) and Terrance (drummer/percussionist) create magic with their flair for music. Also, don't forget to "Like" their Facebook page to hear more of their sound!