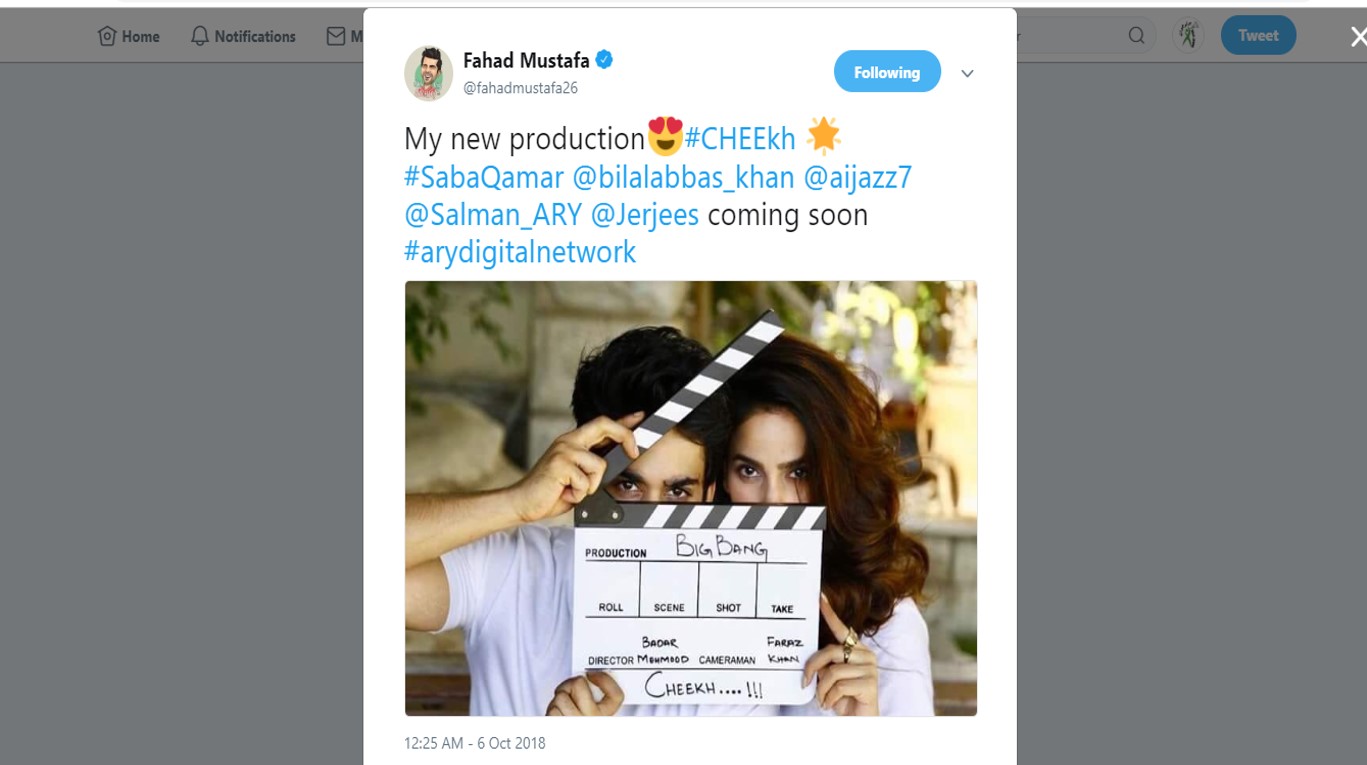 Fakhr-e-Alam will attempt to fly around the globe and we are rooting the loudest!
Dear all I am happy to report to you all today that after 3 years of a lot of hard work & persistence #MissionParwaaz my attempt to circumnavigate the globe is finally happening. If I succeed I will become the 1st Pakistani in the history of the world to do so. pic.twitter.com/En2NWUX0FH

— Fakhr-e-Alam (@falamb3) September 30, 2018
Maya Ali posted her contribution in Shaukat Khanum's breast cancer awareness campaign and we're so proud of her!
شوکت خانم بریسٹ کینسر آگہی مہم
چلوآج سے ارادہ کریں، 5 منٹ اپنے نام کریں!
بریسٹ کینسر کا ہو جاناہمارے ہاتھ میں نہیں، مگر بروقت تشخیص ممکن ہے۔
مزید معلومات کیلئے کلک کریں https://t.co/EJqzajMcEe#5minforme #SKMCHBCACampaign@TheMahiraKhan @mayaali07 @sanammodysaeed https://t.co/4TGBzii0Tw

— Maya Ali (@mayaali07) October 1, 2018
Strings announced their upcoming single, Hum Dono and going by the teaser it looks EPIC!
Hum Dono – 12.10.18#HumDono #StringsPakistan #30YearsOfStrings #NewSong #BilalMaqsood #FaisalKapadia #AdeelAli #HaiderAli #AahadNayani #BradleyDSouza #MIshaqNazir pic.twitter.com/LQTiZCFlOK

— Strings (@stringsonline) October 5, 2018
Read: "The Handwritten Notes Circulated On Twitter Were Actually By My Brother" – And Not Imran Khan – Says Osama Khalid Butt
Fahad Mustafa announced his next production Cheekh starring Saba Qamar and Bilal Abbas!
My new production😍#CHEEkh 🌟 #SabaQamar @bilalabbas_khan @aijazz7 @Salman_ARY @Jerjees coming soon #arydigitalnetwork pic.twitter.com/cGLI8WjvTr

— Fahad Mustafa (@fahadmustafa26) October 5, 2018
Mawra Hocane graduated as a lawyer and she couldn't stop gushing about it!
Advocate/Actor 🎓📷❤️🙏🏻🙏🏻 #Alhumdulillah pic.twitter.com/xu5MiNpKCz

— MAWRA HOCANE (Hussain) (@MawraHocane) October 4, 2018
Shaan Shahid wants non-taxpayers to be barred from voting and we understand the sentiment but can't rally behind it.
Only the tax payers should be allowed to vote
🇵🇰

— Shaan Shahid (@mshaanshahid) October 5, 2018
Mehwish Hayat walked the ramp with this adorable kid and we're all "Awwwwwww!"
Meet my adorable Filhal Dulha, lol (Flower boy)who walked the ramp with me lastnite at Deepak Perwani's solo show.He absolutely stole the show & with it everybody's heart.A young man on a mission,very strong and protective of me. No 1 was going to mess with us lastnite!♥️😄✋🏻 pic.twitter.com/8v02VWe0am

— Mehwish Hayat TI (@MehwishHayat) October 1, 2018
Read: Twitter Reactions: Prime Minister Imran Khan's Address To The Nation Wins Over Pakistan
Comedian Shafaat Ali is a Sohail Warraich fan – we did not know that!
وڑائچ صاحب جب لکھتے ہیں ۔۔۔ کمال لکھتے ہی https://t.co/3kwSm69PdS

— Shafaat Ali (@iamshafaatali) October 7, 2018
Shehzad Roy and Madeeha Syed bonded over legal action against Coca Cola.
I took @CocaCola to court and still fighting this legal battle so it won't happen again and again with others. Everyone told me that "Artists Kay Dil mein in ka Dar baitha huwa hai. Since they rule the industry, don't take them on" Inshallah hum dara Kar Nahi, hara Kar jeetein ge https://t.co/XNukG0r3cB

— Shehzad Roy (@ShehzadRoy) September 30, 2018
Mahira Khan made our day with this lost-looking selfie.
Hi 🙂 pic.twitter.com/LpP3izNCya

— Mahira Khan (@TheMahiraKhan) October 7, 2018
Did we miss any celebrity tweets that should have been included in this list? Let us know in your comments below!
Read: Twitter Reacts As Shehbaz Sharif Is Arrested By NAB In Lahore