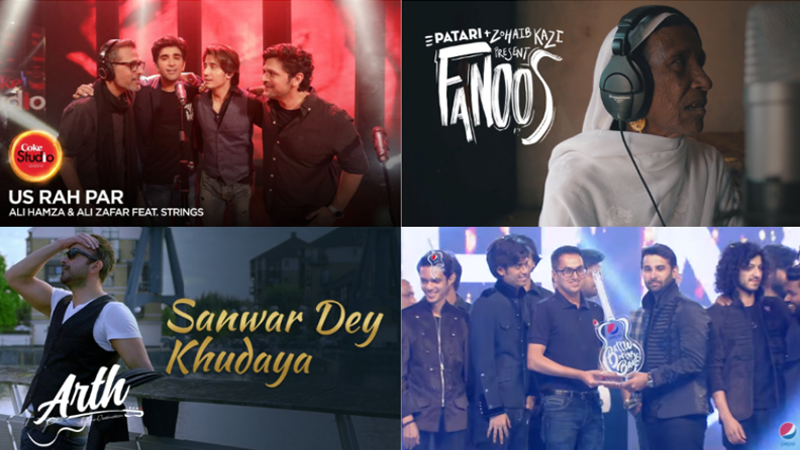 From Coke Studio completing a decade to the revival of Pepsi Battle of the Bands and from alternate media outlets such as Patari giving abundant space to new artists to memorable melodies produced by Lollywood, Pakistani music had a good run this year. Not only has this given confidence to new musicians to try their luck but has also encouraged veterans to return to the recording studio.
10 Years of Coke Studio
Around 2006 music production in Pakistan experienced a sharp decline. Widespread piracy had already taken away the benefits of cassette / CD sales and with the security situation taking a toll on every walk of life, concerts, that are a musician's bread and butter became a rarity.
Had it not been for the launch of Coke Studio in 2007, Pakistani music would have all but vanished.
Also Read: Coke Studio Season 10 – What a Start!
This year Coke Studio completed a decade of its run. While reviews from critics and fans were mixed, no one can deny the influence of the iconic show on keeping music alive in Pakistan.
Ode to the Musical Gharanas
Some quarters criticized Coke Studio Season 10 for promoting nepotism by giving space to the younger family members of already established musicians. While to an extent one could understand the resentment, however as a music lover I felt this was an important step to preserve the neglected tradition of revering our musical gharanas.
In so doing, Strings pulled a musical coup of sorts when they paired the legendary Attaullah Esakhailvi with his son Sanwal Esakhailvi and the beloved Sajjad Ali with his daughter, Zaw Ali.
Also Read: 10 All Time Favorite Coke Studio Songs On A Millennial's Playlist
The young ones held their own in front of their stalwart fathers, proving that music runs in their blood.
A Farewell to Junaid Jamshed
This was the first Coke Studio season to have come out after the heartbreaking demise of Junaid Jamshed in a plane crash last year. It was only natural for Strings to bring together a piece that would pay homage to Pakistani pop music's original poster boy.
The last song of Coke Studio Season 10, featured Ali Zafar, Ali Hamza and the Strings crooning to Junaid Jamshed's, Us Rah Par. An emotional farewell to a pop icon bigger than any other in Pakistan, Us Rah Par was certainly befitting finale.
The Resurrection of Ali Hamza 
Coke Studio Season 10 saw Ali Hamza debut as a guest producer. From the toe-tapping Tinak Dhin to the powerhouse cover that was, Kaatay na Katay, Ali Hamza was this season's undisputed star.
Also Read: Season 10 of Coke Studio Has Ended But We're Still in Awe of Ali Hamza for His Musical Prowess
With Strings' contract as the show's producers having concluded with Season 10, Ali Hamza might just be the right candidate to fill the vacant spot.
Also Read: Coke Studio: 6 Potential Contenders Who Can Replace Strings
Pepsi Battle of the Bands
Another music show that attracted a huge fan following was Pepsi Battle of the Bands. The first Season of BoB had debuted way back in 2002. Despite giving Pakistan great bands such as Aaroh, EP and Mikaal Hasan Band, the show's corporate sponsors had backed out in anticipation of the impending decline of the music industry.
But you see, you can take Pakistan out of music, but you can't take music out of Pakistan. So more than a decade later, 2017 witnessed the return of Pepsi Battle of the Bands and boy are we glad that it came back!
The revival of the show not only introduced us to great new talent but also made way for emotionally charged performances by veteran bands and artists.
The Return of Aaroh, EP and Call
Aaroh, EP and Call had shot to fame in the early 2000's, making rock music more mainstream than ever before. However, we hadn't seen the bands in their element in a long, long time!
https://www.youtube.com/watch?v=7QVd1m3S2YQ
Thanks to Pepsi Battle of the Bands, we once again had the chance to enjoy their high octane live performances. For the 90's kid these were moments of pure, undiluted nostalgia!
Also Read: Have You Seen Fawad Khan, Aaroh and Mekaal Hasan Band from the First Season of Pepsi Battle of the Bands
Meesha Shafi Like Never Before
That Meesha Shafi is the quintessential rocker chick is no secret. We've seen her walk away single-handedly with insanely powerful performances in the past and it's always with great anticipation that we await her acts.
Also Watch: Jasim Haider and the Pindi Boys Were at Bolo Jawan Studios – Part I
However, Shafi's Speaker Phaar performance during the finale of Pepsi Battle of the Bands was nothing like we've seen from her in the past. P.O.W.E.R.F.U.L!!!
https://www.youtube.com/watch?v=CFmN1OBTPyY
The Crowning Moment
The most anticipated moment of BoB was of course the announcement of the winning band. Kashmir, with its consistently soulful performances went home with the trophy.
Also Watch: Candidly Yours – Episode 1 – Darvesh The Band
However, truth be told, Kashmir was not the only winner that evening. Badnaam that came in second as well as other bands like Jasim and the Pindi Boys, Madlock, Roots and Darvesh were all revelations and deserve a huge round of applause for entertaining us with their great music. Rock on guys!
Also Watch: Candidly Yours – Episode 2 – Featuring Badnaam
https://www.youtube.com/watch?v=pxlCIDtYGfA
Patari
They call themselves, "…internet's greatest platform for Pakistani music and audio," and we have no reason to disagree.
Also Read: 71-Year-Old And Still Rocking: Renowned Pashto Folk Singer Zarsanga Marks The End Of Patari's Fanoos Series On A High Note!
From providing patronage to new – and even veteran artists – to making the most traditional strains of folk music mainstream, Patari is fast becoming synonymous with Pakistani music.
If we had to pick a personal favourite from this year's offerings, it would have to be Fanoos; a web-series that introduced the world to 6 diverse indigenous folk sounds from across the country.
Lollywood
The world might look down upon the song and dance routine in our films, but as Rihanna herself would say, "DON'T STOP THE MUSIC!"
Also Read: Wrap-up 2017: Top Grossing Pakistani Films
With the Pakistan film industry experiencing a revival of its own, we're glad that some great – and much needed – film music is consistently coming our way.
https://www.youtube.com/watch?v=xpOTLv1A5yI
The Lollywood soundtracks that stood out this year included Balu Mahi, Punjab Nahi Jaungi, Verna, Raasta and of course, Arth.
The title track of Balu Mahi, Dil Faqeer from Raasta, Tere Naal Naal from Punjab Nahi Jaungi, Power Di Game from Verna and the most recent, Sanwar De Khudaya from Arth – The Destination especially received a lot of love.
Also Read: 5 Scenes From The Trailer Of Verna That Make For Hilarious GIFs Every Woman Can Relate To
2017 has built great expectations from 2018 – at least as far as Pakistani music is concerned.
Whether it's solo artists, big corporate sponsors, digital media companies or Lollywood, PUH-LEEZ keep the melodies coming!