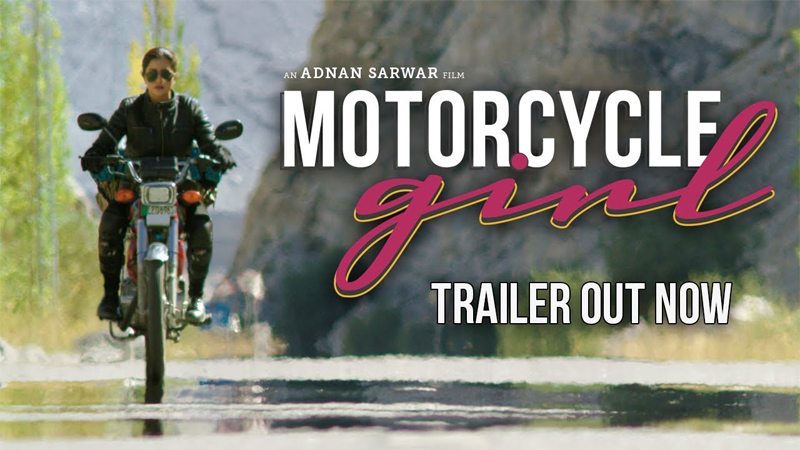 Trailer of the much awaited Motorcycle Girl was released day before yesterday and we're wonderstruck. The film is a biopic of Zenith Irfan, first female motorcyclist to travel across Pakistan solo. An Adnan Sarwar directorial, the film has a stellar cast featuring Sohai Ali Abro (as lead), Ali Kazmi, Samina Peerzada, Sarmad Khoosat and others. Bringing Zenith's inspirational journey to big screen, the trailer of Motorcycle Girl has us all excited and here's why!
Read: Teaser Alert: Rai – The Living Miracle Promises To Showcase The Resilient Side Of Pakistan
1. Breaking Stereotypes
The whole life of Zenith Irfan is an emblem of breaking stereotypes and the trailer of Motorcycle Girl reflects the same. Films revolving around strong female protagonists not only set a precedent for the nascent industry but also send out a message of women empowerment nationwide.
National celebration of the lives of passionate and determined Pakistani women who remained persistent in the face of adversity and achieved their goals is imperative to break all those stereotypes which confine female population of the society to certain roles and stop them from pursuing their dreams. From riding bikes and driving trucks to winning Nobel Prize, our women have done it all. Thus, a biopic of Zenith Irfan featuring an acting powerhouse Sohai Ali Abro is all we need to let the world and society know what Pakistani women are capable of.
Read: 3 Pakistani Films Clashing On Eid 2018 Can't Be Good For Business
2. Beautiful Landscape of North Pakistan
The trailer also gave us a glimpse into the lead character's journey to Khunjerab and covers awe-inspiring and overwhelmingly beautiful Northern landscape of the country. You get a sudden urge to travel across Pakistan and explore the surreal sceneries after watching the trailer of Motorcycle Girl which is the reason why we can't wait for the film to release.
Read: 5 Pakistani Classic Films that You MUST Watch
3. A Complete Package
A social message wrapped in humor, drama, badas*-ery, hair raising performances and ear-worming music , Motorcycle Girl seems like a complete family entertainer you can take your whole clan to watch. It's not that often that we get films to bond over as a family and the trailer of Motorcycle Girl looks like there is something for everyone in it.
How true is this only time will tell! Till then you can watch the trailer of Motorcycle Girl and decide for yourself.
Read: These Pakistani Films Will Hit The Screen In 2018!
Read: Wrap-up 2017: Top Grossing Pakistani Films