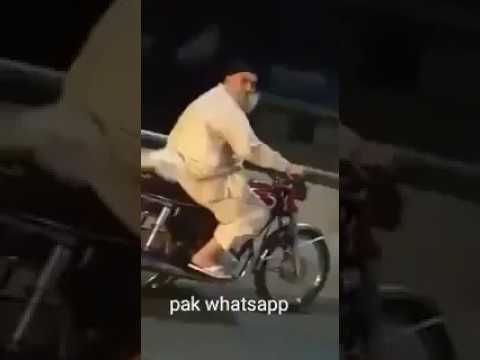 Who says shalwar kameez clad, bearded middle-aged men don't know how to have fun? And who thinks they don't secretly wish to go viral with their daredevil stunts on a bike?
Well…actually a lot  people believe that.
You see most of us think that biker dudes look like this!
But this super uncle is out to break all stereotypes.
Also Read: This Guy Had A Problem With Faisal Mosque Turning Pink For Breast Cancer Awareness And Pakistanis Gave Him A Befitting Reply
Just when the whole country was bickering over the Faizabad sit-in at Islamabad Highway, this cool video surfaced on Facebook and made us all go, "Awwww!"
So what was the video about?
Also Read: 3 Things That Cross Indo-Pak Border Unchecked
You see, this adorable middle-aged uncle with killer motorbike skills decided to takeover the internet with his video that features some "Wow!" stunts. Add "Tu Cheez Bari Hai Mast Mast" in the background and the video becomes 41 seconds of sheer entertainment!
It's one of those experiences you really can't explain in words. But we're sure you'll LOVE this viral video as much as we enjoyed super uncle's cool biker dude moves!
Also Read: If You Think Islamabad Is A Dead City, Think Again!
Happy watching!