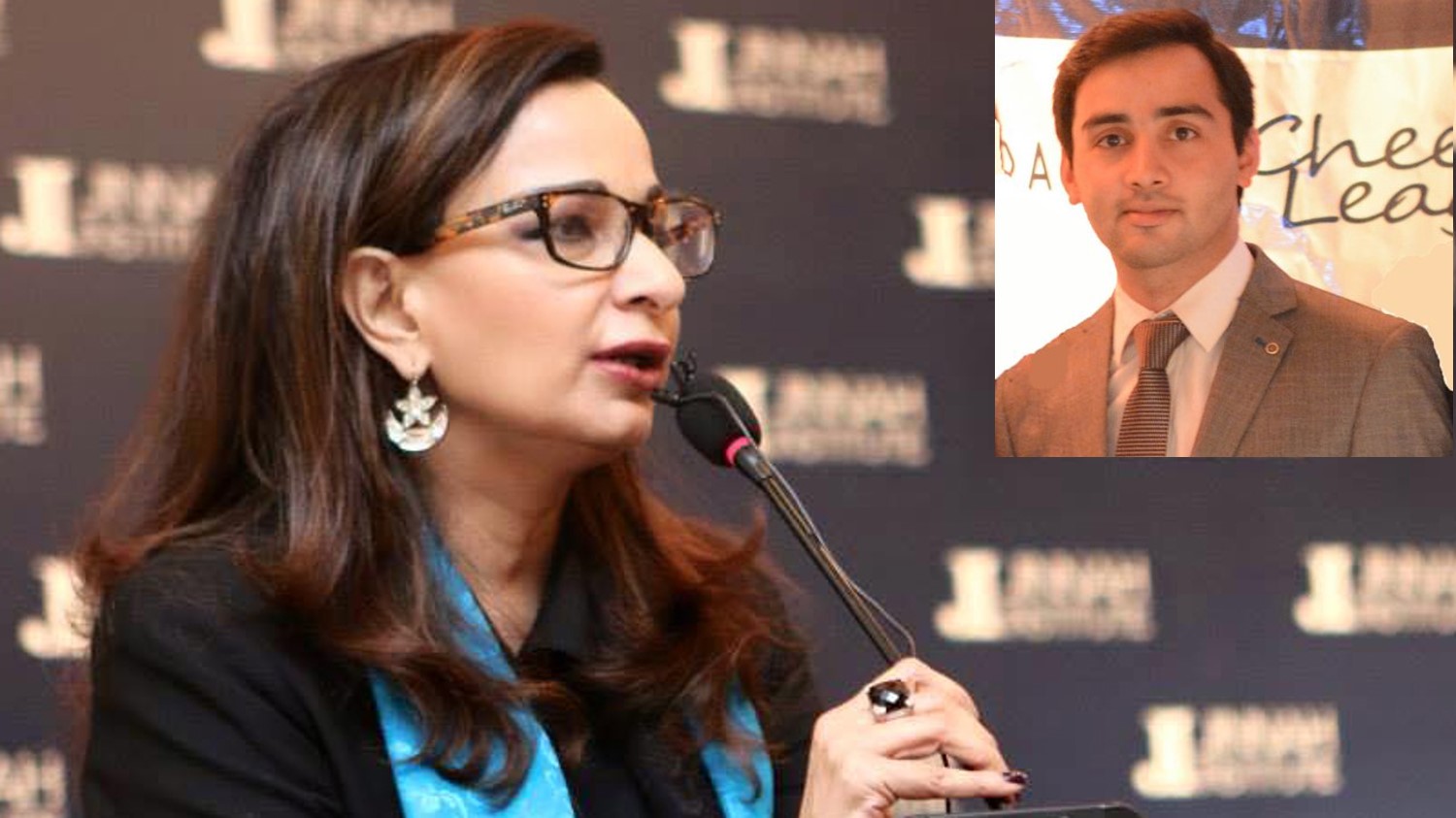 It has been two days since Pakistan woke up to the news of the abduction and later release of journalist and prominent Twitterati, Gul Bukhari.
As the news of Bukhari's abduction broke in the wee hours of the night between June 5th and 6th, the initial reactions were understandably that of disbelief and concern.
Read: High Court Acquitted Khadija Siddiqui's Stabber & Pakistanis Want Justice!
Pakistanis finally took a sigh of relief as her family confirmed her safe return home, 5 hours after her driver had been beaten and she had been forced into another vehicle by unidentified men.
However, not everyone in Pakistan was concerned about her disappearance or happy about her return. In fact, a few people even went as far off the line as to incite sexual violence against the missing journalist. The tweet of one, Mursaleen from NUST particularly caught the attention of enraged Twitterati.
From his Twitter handle (which was later locked), this young man sent out a rather disturbing tweet that read, "Sexual torture would be perfect for this shit. #GulBukhari."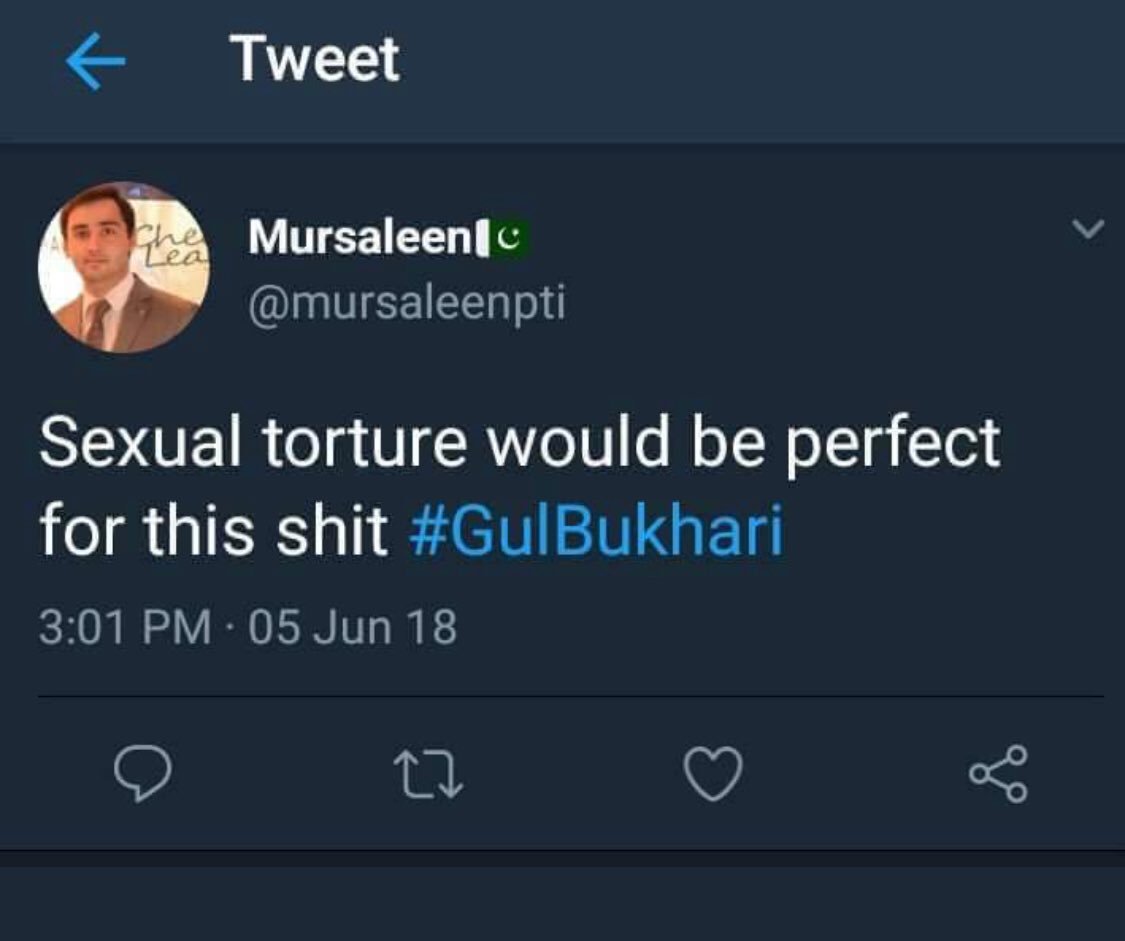 Very soon the tweet was picked by activists Jalila Haider and Nighat Dad.
These are the troll armies from political parties and other actors who attack people when they call them out. This guy @mursaleenpti (his account is locked now) has been inciting violence against several people critical to his party. @MarrySubhi posted his rape threats first pic.twitter.com/noEQAz9x5Y

— Nighat Dad (@nighatdad) June 7, 2018
It goes without saying that Mursaleen's crass tweet normalizing sexual violence as a justified tool against dissidents of the state  was not taken lightly by many Pakistanis.
I knew your family Mursaleen. They are not like that. pic.twitter.com/PDDRm6c9gr

— Humayun 🇵🇰 💚 🇵🇸 (@Farooqhumayun) June 6, 2018
Wonder which degree NUST is awarding to Mursaleen PTI? BDSM Sciences? https://t.co/ynbeamwk5J

— Ali Khayam (@alikhayam_) June 6, 2018
Rapist you should be behind the bars why would anybody photoshop your tweet are you @LeoDiCaprio stupid mursaleen https://t.co/cJMtRpuOBF

— No Fear (@AB14995552) June 7, 2018
Does he even know what mursaleen means?

— Abu EM (@bilal79) June 6, 2018
On the flip side many also tried to defend Mursaleen's inexcusable tweet and even tried to discredit those who had shared it stating the image doing rounds was a doctored.
After much ado, a Twitetrati by the name of @MarySubhi silenced those defending Mursaleen with this tweet.
https://twitter.com/MarrySubhi/status/1004577684049891329
Senator Sherry Rehman, taking notice of the issue demanded that National University of Science and technology (NUST) withdraw Mursaleen's degree that had been awarded to him a day before.
Irrespective of whom he is targeting I assume @OfficialNUST will revoke degree and @PTI (which is part of his twitter Identity)will move against such an open call to bloodlust and torture. There must be no impunity, or social or professional tolerance for such heinous hate speech https://t.co/O4bwiXbpDp

— SenatorSherryRehman (@sherryrehman) June 6, 2018
Since Senator Sherry Rehman took notice, Mursaleen has deactivitaed his Twitter handle.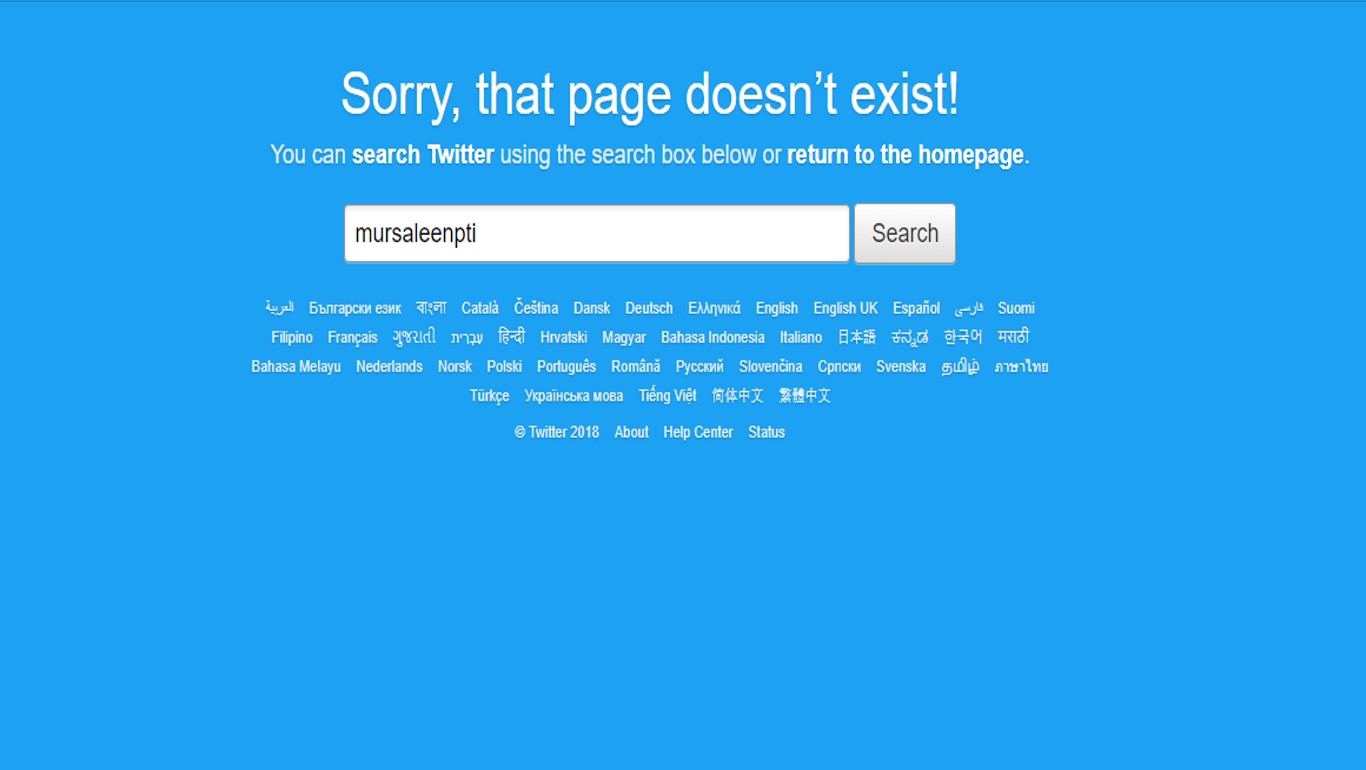 It was also shared by a Twitter user that the NUSTian had not deactivated his account but had rather changed its entire outlook including the title and the handle.
https://twitter.com/KhuramAbblas/status/1004855101130006529
My 2 paisas on the matter…
Torture of any sort, including of course, sexual violence is prohibited under the Constitution of Pakistan, under International Law and of course as per the teachings of Islam.
In the same realm, if someone is in fact suspected of carrying out anti-state activities, the constitutional way to address them is by taking them to the court of law.
Read: And The Award For The Worst Chapter Names Goes To…REHAM KHAN!
Abducting citizens and inciting hate and violence against them is by no stretch of legal boundaries an acceptable practice by individuals or the state itself.
As a concerned citizen of Pakistan I do hope that what happened with Gul Bukhari will not be repeated with another Pakistani and that those who are inciting hate will be brought to justice.
May Pakistan prevail!