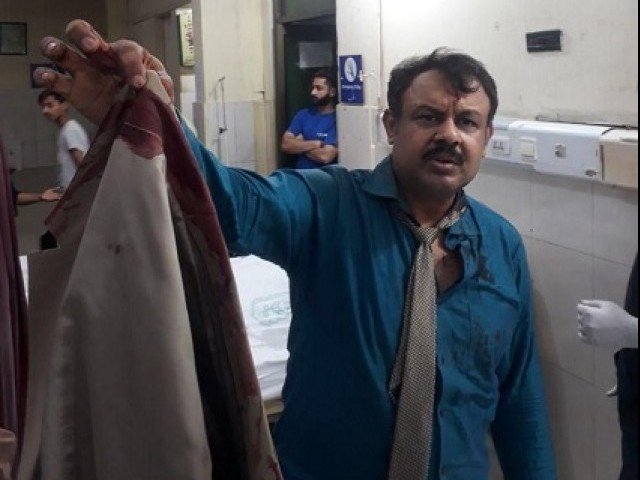 On the same day as Gul Bukhari's abduction, another prominent journalist, Asad Kharal was also subjected to a traumatic episode.
Kharal's car had been intercepted in Lahore by masked gunmen, who took him out of the vehicle and manhandled him.
Read: Senator Sherry Rehman Wants NUST To Revoke The Degree Of Mursaleen For Inciting Sexual Violence Against Gul Bukhari
The Bol TV anchorperson was later rushed to Services Hospital where his injuries were immediately treated.
Once pictures of Asad Kharal's blood stained clothes and open wounds began doing rounds on social media, senior journalists from across the spectrum expressed shock and concern.
You can differ with the views of a journalist you can even criticise him but no one has the right to attack any journalist or peaceful citizen this attack on @AsadKharal is condemnable the injuries on the body of Kharal are reflecting the injuries of media freedom in Pakistan pic.twitter.com/dKiVEOhPpt

— Hamid Mir (@HamidMirPAK) June 5, 2018
.@AsadKharal beaten up in Lahore by unknown men. His car was stopped near airport. Was transferred to services hospital. pic.twitter.com/qadFLB8eH6

— Shahbaz Zahid (@shahbazzahid) June 5, 2018
The Chairperson of the Senate Committee on Human Rights, Mustafa Nawaz Khokar took notice of the assault on Kharal and Bukhari's abduction. He has instructed Inspector General, Punjab to submit a report by 8 June. Khokar has also promised that this issue will be taken up in the Senate Committee's next meeting on 11th June.
As chair of Senate com on Human Rights have taken notice of assault& abduction of @AsadKharal #GulBukhari IG Punjab has been instructed to furnish report within 48 hrs.Matter to b taken up in next Sen com meeting on 11th of June in Quetta & then in a special meeting in Lhr #PPP

— Mustafa Nawaz Khokhar (@Mustafa_PPP) June 6, 2018
The Chief Justice of Pakistan, Mian Saqib Nisar has also taken suo motu notice of the incident. He has also instructed IG Punjab to submit a detailed report on the matter.
Read: High Court Acquitted Khadija Siddiqui's Stabber & Pakistanis Want Justice!
Gul Bukhari's abduction and the assault on Asad Kharal has left many feeling extremely uneasy and concerned. It won't be wrong to say that Nadia Mirza spoke for all of us when she sent out a tweet stating, "Gull Bukhari picked up and Asad Kharal beaten up badly, now hospitalized. Whats going on??"