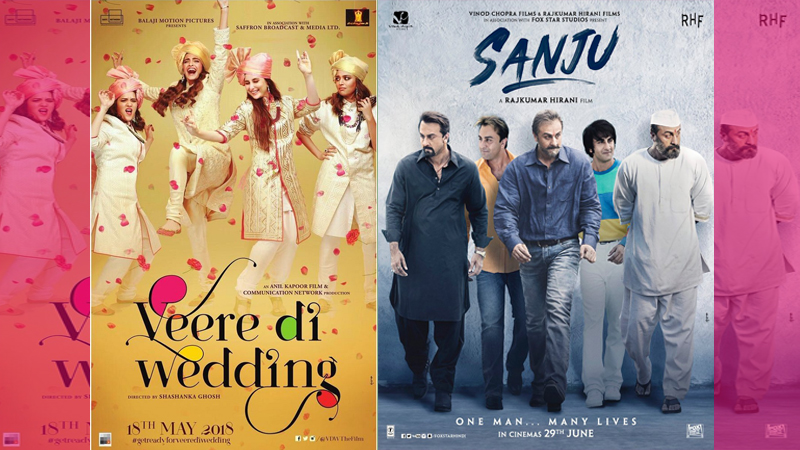 Summer is breezing its way into South Asia and with it so are the much anticipated potential blockbusters. This week alone saw the teaser/trailer release of two films that audiences are most eager to watch: Sanju and Veere Di Wedding.
Sanju
The much, much awaited teaser of the Sanjay Dutt biopic, Sanju came out a couple of days ago. Within 48 hours the teaser has already been viewed close to 30 million times! This just goes to prove how impatiently has South Asia been waiting for this film to come out.
Read: 3 Reasons Why Missing Out On Junoonistan Is A Bad, Bad Idea!
From the word go there were a whole host of reasons to feel excited about Sanju. For starters a film on the troubled life of the beloved actor, Sanjay Dutt was in itself reason enough to spike our curiosity. Add in the fact that the movie is being directed by none other than the master craftsman himself, Raju Hirani and has Ranbir Kapoor essaying Dutt's role make us all the more impatient to see the final product on the big screen!
While only the teaser has so far come out, Hirani's attention to detail and Kapoor's command on a very tricky role are obvious in virtually every frame.
Read: Remembering Sridevi Through Her Lasts
Goes without saying that we're definitely rooting for this one!
Veere Di Wedding
Ever since the film was announced almost two years ago, audiences, especially young women have been impatiently waiting to see Kareena and Sonam Kapoor share screen space on 70 mm.
Read: This Is How Pakistani Films Performed At The Box Office During The First Quarter Of 2018
Well, the trailer came out yesterday and South Asian women finally have a comedy that they can call their own!
Read: Teaser Of Parwaaz Hai Junoon Is Out & Damn, It's Good!
Following the uncertain adventures of four girlfriends, the trailer is filled with one hilarious quip after another.
Admittedly the language is rather strong but that shouldn't be a problem with an adult audience.
Can't wait to catch these films in the theater!