With each new episode, Mere Paas Tum Ho is achieving new heights of success. The overwhelming praise coming the serial and its cast's way is certainly well-deserved. Where on one hand the story offers a deep insight into human psychology at play in marital relationships, on the other hand the cast members have each ventured beyond their comfort zones to make Danish, Shehwar and Mehwish come to life for the audiences.
In a recent interview, playwright, Khalil-ur-Rehman Qamar had hinted at Mere Paas Tum Ho being based on a true story. Ever since, the audiences had been wanting to know the person from whose life the serial drew its inspiration.
It seems the character of Danish played by Humayun Saeed is based on the life of restaurateur, Rasikh Ismail.
A day after the twelfth episode of Mere Paas Tum Ho went on air, Rasikh Ismail put out an Instagram story saying, "Jee woh mein hee hoon jis ney 2 takay ki larki lay liyae 50 million + choray hain! #MaafKarDo"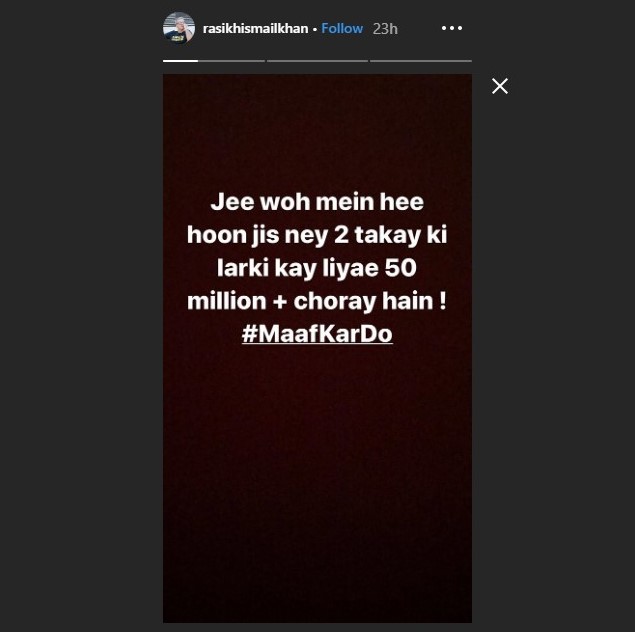 Read: Humayun Saeed & Adnan Siddiqui Watched Episode 12 Of Mere Paas Tum Ho Together & We Have A Picture To Prove It!
As per Ismail's Instagram post, he is the guy who had once given-up an offer of more than 50 million for a girl who did no reciprocate his affection or loyalty.
The producers of the play are yet to verify if Rasikh Ismail is in fact the guy on whose life Mere Paas Tum Ho is based but given the restaurateur's frequent outings with famous celebrities – including Humayun Saeed and Adnan Siddiqui – his claim seems most plausible.
Read: This Is My Take On The First Episode Of Geo TV Drama Alif