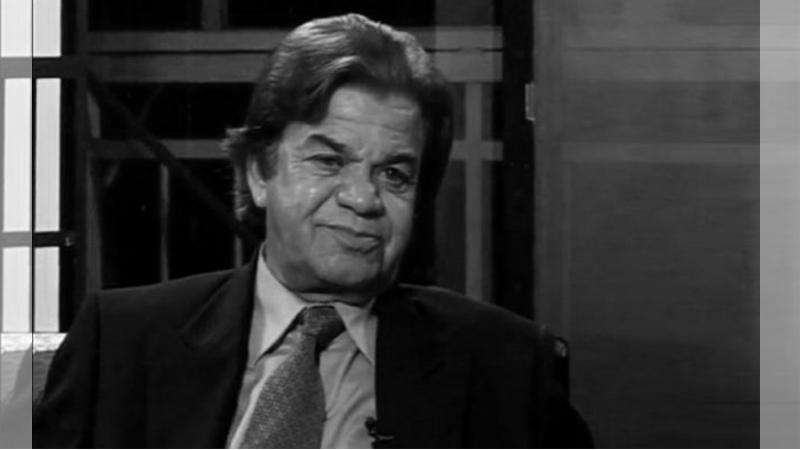 Born in 1930 and a household name in the entertainment world, Qazi Wajid passed away in Karachi yesterday after a brief illness.
Read: In Pictures: Asma Jahangir And Her Phenomenal Struggle For Human Rights
One of the pioneers of radio industry in Pakistan and revered across the country for his unforgettable performances in classic dramas like Ankahi, Dhoop Kinare, Tanhaiyaan, Marvi, Khuda ki basti & Mehndi Khala Khairan, Qazi entertained not one but many generations of Pakistan. Reason why following the sad news of Qazi Wajid's demise, many heartbroken fans and friends took to Twitter to express their grief.
Inna Lillahi Wa Inna Elyhi Rajioon
Legendary actor Qazi Wajid, passed away at the age of 87 in Karachi after brief illness. May Allah forgive him and grant him highest place in jannah Ameen Indeed great loss of our Television industry we lost an assets today. #QaziWajid pic.twitter.com/OxJTy807lJ

— Hamid Says (@hamid3996) February 11, 2018
https://twitter.com/OfficialHanzala/status/962611204555526144
So many fond memories of Qazi Sahib, His command on language and his dialogue delivery was second to none. We lost a star today.
Inna lila hey wa inna elehye rajeoon#QaziWajid @Pakistan pic.twitter.com/GeCpduCTbp

— Naveed (@cre8ivegraphix) February 12, 2018
Rest in peace Sir #QaziWajid. You are a legend of the golden era of Pakistan Television. Thank you for entertaining us and putting a smile on our faces.
Inna lillahi wa inna ilayhi raji'un. pic.twitter.com/wsT5wYzDCo

— ƒв. (@MutePaper) February 11, 2018
Read: Dr. Ruth Pfau's Inspirational Journey in Pictures
A big name in the drama industry of Pakistan. His legendary acting and dramas made our childhood memorable. No doubt its a big loss in drama industry. May Allah grant #QaziWajid with higher ranks in Jannah

— AYESHA AHAD MALIK (@IamAyeshaAhad) February 11, 2018
https://twitter.com/MahamK97/status/962716218137436160
Inna Lillahi Wa Inna Ilaihi Rajioon… #QaziWajid you will always be fondly remembered for the characters you played. Be it a suddenly elderly love stricken businessman in Tanhaiyaan or the humble and distressed paying guest in Angaan Terha

— 2 Bacho Ki Amma (@migrant_native) February 11, 2018
Many noted figures from politics, sports and entertainment also paid tribute to the legendary actor on the microblogging website.
Read: In Pictures: Dina Jinnah, The Daughter We Never Knew
Sad sad day for Pakistan.. we say goodbye to a great great artist and a fearless activist. They shall live on through their work, always. #QaziWajid #AsmaJahangir pic.twitter.com/RLWZzR7aK2

— Mahira Khan (@TheMahiraKhan) February 11, 2018
Sad day for Pakistan loosing two icons of our time. Both Qazi Wajid and Asma Jahangir you will be missed. May you rest in peace .

— Wasim Akram (@wasimakramlive) February 11, 2018
One of my fav personalities #QaziWajid sahib has passed away today. He played my grandfather in my first ever play for ARY. He was supportive, encouraging through all our scenes together. May you get the highest ranks Sir. You were a gem. R.I.P 🙁 pic.twitter.com/L13P3tTjKU

— Armeena ✨ (@ArmeenaRK) February 11, 2018
A very Sad Day for Pakistan. #QaziWajid and #AsmaJahangir is no more with us. May Allah rest their souls in peace. Ameen…. Sad Sunday 😢 pic.twitter.com/lrTIQopdrk

— VEENA MALIK (@iVeenaKhan) February 11, 2018
Watch: Rai Azhar Hussain – The Resilient Face of Pakistan
Inna lillahi wa inna ilayhi raji'un
إِنَّا لِلّهِ وَإِنَّـا إِلَيْهِ رَاجِعونَ

Dr #IshratUlEbad has expressed profound giref over the sad demise of veteran actor #QaziWajid

He prayed for eternal peace of departed soul & grant of courage to bereaved family to bear this loss. pic.twitter.com/pZnr7z4ugW

— Dr Ishrat Ul Ebad (@drishratulebad) February 11, 2018
What a sad day! Qazi Uncle you'll be missed! #RIP #QaziWajid 🖤 pic.twitter.com/gAVChecETw

— Muniba Mazari (@muniba_mazari) February 11, 2018
A huge loss to art & to all of us !!! #QaziWajid May you rest in peace Qazi sahab & smile at us from above the skies as you always did in your life!!! #RIPQaziWajid

— MAWRA HOCANE (Hussain) (@MawraHocane) February 11, 2018
I tweeted Qazi Wajid's outstanding skit from Taleem-e-Balighan only two days ago (below). Who knew we would lose him in a few days. He was an outstanding radio & TV artist. May his soul rest in peace https://t.co/V0uNS2JiQE

— Dr. Arif Alvi (@ArifAlvi) February 11, 2018
Our industry lost a gem today. Inna lillahi wa inna ilayhi raji'un. 💔#QaziWajid pic.twitter.com/fIGHHfZUYv

— Momal Sheikh (@momalsheikh) February 11, 2018
Sad and tragic loss of legends #QaziWajid & #AsmaJehangir today. Condolences to families and loved ones.

— Raza Haroon رضا ہارون (@mrazaharoon) February 11, 2018
إِنَّا لِلّهِ وَإِنَّـا إِلَيْهِ رَاجِعون
Saddened by the demise of the Legendary Qazi Wajid sahab. A priceless gem that we lost today. May Allah bless his soul and give patience to his family. Aameen.#QaziWajid #RIP pic.twitter.com/b22foXLWRH

— Fariha Pervez (@FarihaPervez) February 11, 2018
#QaziWajid will be remembered and missed
Full of life, energy and talent.
Saddened truly by his demise.
May Allah grant him the highest stage in Jannah and patience to the family.

— Dr. Yasmin Rashid (@Dr_YasminRashid) February 11, 2018
https://twitter.com/ExMayorMK/status/962616137812004864
Am saddened by the demise of 2 important Pakistani icons , #AsmaJahangir and #QaziWajid.May their souls rest in peace!

— Shoaib Akhtar (@shoaib100mph) February 11, 2018
The likes of #QaziWajid were a reflection of simpler times, when entertainment came packaged in responsibly produced & presented content.

My dadi in her later yrs avidly watched (& made me watch) Old PTV dramas with such meaningful messages, most of them featuring Qazi Sb. RIP! pic.twitter.com/7mYaXSe9y7

— Nabeel Qadeer (@nabeelaq) February 11, 2018
A huge loss to Pakistan's entertainment industry. What an innings! #QaziWajid pic.twitter.com/Lz51OhLldz

— Fifi Haroon (@fifiharoon) February 11, 2018
Then, there were those who remembered the actor par excellence through his work!
Great #QaziWajid describing #Democracy in the context of #Pakistan@PTVNewsOfficial @WorldPTV pic.twitter.com/H6I4jZBlJ1

— Naveed Nasim (@navid_nasim) February 11, 2018
We lost #QaziWajid sb today.

I watched "تنہائیاں " as a kid &fell in love with the characters .
They etched serious impressions on the mind.
And if you fell in love with them once, it was a lifetime 'love affair'….

Qazi sb, you made us laugh&think. We'll miss u 🙁 pic.twitter.com/QkCRfZ2XRh

— Faeza Dawood (@FaezaDawood) February 11, 2018
https://twitter.com/Ali_answers/status/962675248272420865
The fact that Pakistanis from every generation feel bereaved following Qazi Wajid's demise speaks volumes about the number of lives he touched with his unmatched talent during his lifetime.
With Qazi Wajid no more with us, a glorious era of Pakistani television has come to an end. While the nation remains indebted to the great actor for his remarkable contributions, we all know that Qazi Sahab shall live through his work and continue to spread smiles even beyond his existence.
REST IN PEACE SIR!
Read: Pakistani And Indian Stars Mourn Shashi Kapoor