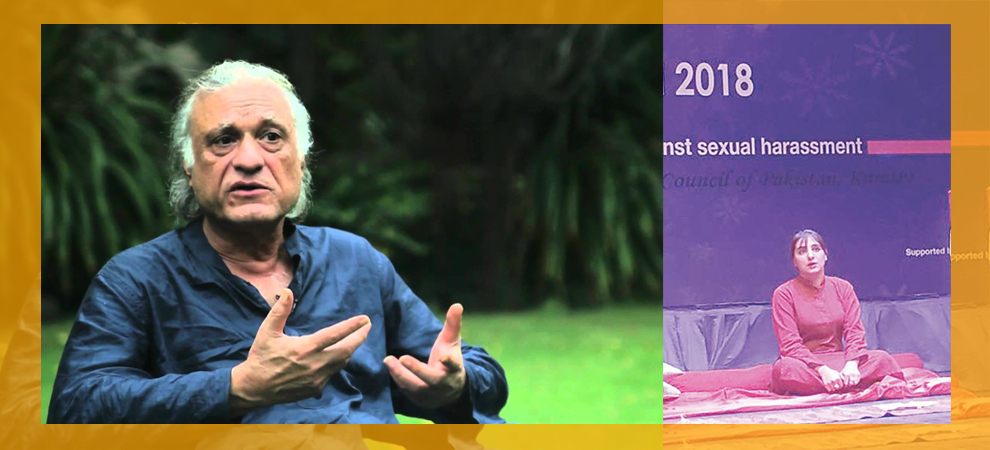 A few weeks ago the Women's Peace Table Conference highlighted the prevalence of sexual harassment in the work place within Pakistan. A number of panel discussions focused on highlighting how sexual misconduct was rampant across all sectors and those who chose to step forward with their #MeToo stories deserved attention and respect.
Read: 10 Nasty Comments Women Have To Hear When They Share Their #MeToo Story!
One of the panel discussions focused on the prevalence of sexual harassment in the entertainment industry. Veteran actresses Samina Ahmed, Saba Hamid, director Angeline Malik and theater actress Tubbo Khan participated in the panel.
The discussion largely revolved around creating support structures and trusting the stories of the survivors rather than questing their credibility. The discussion also led to the conclusion that sexual harassment might experience a sharp decline if more women were facilitated to assume powerful, decision-making roles.
Read: #MeToo: Dawn Newspaper's Veteran Cartoonist Feica Has Been Accused Of Child Molestation
The discussion was all extremely pertinent, scoring home important points that should not be allowed to fizzle out beyond the scope of such events. It is precisely for this reason that the contribution of actress Tubbo Khan to the panel demands much greater attention than it has received.
The most significant revelation to have come out of this panel was the allegation by theater artist Tubbo Khan that she had been sexually harassed by veteran producer, filmmaker and theater pro, Sarmad Sehbai.
The actress took Sarmad Sehbai's name after the moderator, Mohsin Sayeed asked her to name the individual who had sexually harassed her. A number of conference participants had found the question intrusive and insensitive as they believed that the actress had been put in a spot to name the harasser rather than being given an opportunity to decide if she wanted to go down that lane.
Today at the women's peace conf actor Tubbo Khan was asked by moderator Mohsin Sayeed to name her harassers.
She named Sarmad Sehbai. But many found the question intrusive, inappropriate and a violation of boundaries.
Here lawyer Sana Farrukh calls Mohsin out for it. 👏🏼 pic.twitter.com/Z7bzg1yMIz

— Hamna Zubair (@hamnazubair) October 27, 2018
The circumstances in which Tubbo revealed the identity of her harasser are certainly debatable. At the same time the fact that she bravely named the person who had harassed her and yet received a complete snub from mainstream media is most perplexing.
The only newspaper that had covered Khan's ordeal was Express Tribune and even ET refrained from naming Sarmad Sehbai in its story.
While narrating her #MeToo story, Tubbo had shared that 12 years ago, when she was finding foot in the entertainment industry as a struggling artist, she had been approached by a senior producer of PTV at Pakistan National Council of Arts (PNCA) during an audition for a workshop. The producer asked her for "inappropriate" favours persistently until she decided to quit PNCA altogether for fear of her safety.
Read: #MeToo: New Screenshots Of Junaid Akram's Inappropriate Chat With A Fan Surface!
Tubbo had initially refrained from naming the producer but upon a direct question from the moderator had called out Sarmad Sehbai.
This case alone manifests how many within mainstream media are actively resisting the #MeToo movement and are unwilling to give space to those who share their ordeal.
Over two weeks having passed since Tubbo publicly made the allegation, no major news network or paper has covered her story. Neither has Sarmad Sehbai been forced to make a statement. As far as the world is concerned, Tubbo Khan never named anyone and Sarmad Sehbai continues to be a well respected veteran in Pakistan's entertainment industry.
The silence of mainstream media in the Sarmad Sehbai and Tubbo Khan case needs to be questioned so that those responsible for highlighting important social issues are forced to do their job right!