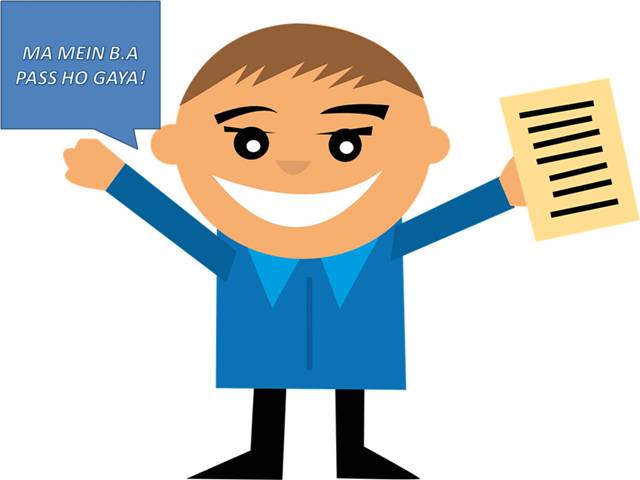 "Find yourself a job. Save a little and then complete your Masters," said the boy's father.
"Start waking up early. You are done with your B.A. You are no more a boy and need to behave like a man. Find yourself a job so that I'm in a position to talk to Baby Khala (Aunt). I really like her daughter. I am sure she will make a good house wife," said the boy's mother.
"Find yourself a job before my parents force me to marry someone else," said the boy's girlfriend.
"We are neither rich enough to bribe nor are we well connected. I don't think we will ever find a job…I think we should seriously consider building our bodies. You remember Asad? He was well built and was able to marry this girl in the college who came from a rich family… I think it was Einstein who had said that if your father is poor it is not your fault but if your father in law is poor it is your fault!.…He was a great scientist but you see even he had similar problems!" said the boy's friend.
"Looks don't matter. Girls these days prefer boys who are rich so you guys need to be rich," said the Dukan Wala (Shopkeeper).
"I feel depressed. Give me a couple of cigarettes," said the boy.
"Don't feel depressed. Look at him (the Dukan Wala). He is neither rich nor good looking but even he got married. We will manage better. Don't Worry!" said the boy's friend again.
"Look at you! You don't even pay for the cigarettes…Shut up and go away!" said the Dukan Wala again.
As a child he believed that he was going to sort things out and make this world a better place for everyone. However, for this average Pakistani middle class boy the moment he was a "Graduate" (a B.A pass!), life began to change. Everyone had an advise to give and the expectations were sky high.
He succumbed under pressure and chose to compromise but how and why?  Let's just see!
To start with it didn't take long for him to understand that his parents had grown old and couldn't really manage to meet both ends. Therefore, to him it sounded practical to leave the world the way it was and settle down for a low paid job in a call center that at least allowed for one to be self-sufficient.
As he started his new job he began to lose confidence as exposure to practical life allowed him to realize that he was naive. He was able to understand within a few weeks that he would not be going up the food chain any time soon and that the struggle had just begun. Subsequently, he began to lose hope and gave up on his dreams.
The boy, though still young, had a fair idea of where his heart was and what he wanted out of life but the stress that came with making dreams come true was something he had not been prepared for. After all he had competition to keep the new job and then his mother really wanted him to marry Baby Khala's daughter. Also, his girlfriend kept complaining because he hadn't delivered as he had promised.
He was desperate for help and urgently needed to reduce pressure to whatever extent possible. Thus, towards the end of the day he decided to let go of the relationship and began avoiding his mother too (his way of escaping a conversation on Baby Khala and her daughter). Hence, before he knew he had isolated himself from the two women he truly loved!
A few months later as he began to move up the ladder there was this hurdle that he needed to clear. To go up further he had to complete a Master's degree somehow. Therefore, he decided to save money so that he was in a position to enroll himself in a discipline that his father had suggested and which was popular in the job market thus, he gave up the idea of becoming what he really wanted to become as a child. In fact, only after a few more months he didn't even remember what he really wanted from life. In short, he let go of the happiness until the point he was able to posses a decent bank balance.
A year later though he began to think differently. He had managed to save a little; an amount good enough for the admission but he was still not happy. For the first time in his life he was able to do as he had planned but something just didn't seem right.
Following a few days of soul searching he finally stumbled upon a simple fact i.e. he was only human and that happiness was a need and not a luxury.
So what did he do to change things and how did he find happiness?
Well! To know how things unfold watch out for my next article titled, "From a Graduate to a Master" on www.bolojawan.com.