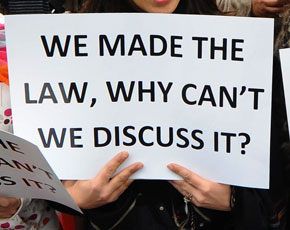 Pakistan's Blasphemy Law has been the subject of intense debates ever since the assassination of Governor Punjab Salman Taseer who supported the release of Asia Bibi, a Christian woman accused of blasphemy. The origin of blasphemy laws can be traced back to the 1860 British Penal Code, which contained clauses that protected the interests of diverse religious groups in India. From 1984 to 2004, over 5,000 cases of blasphemy were registered in Pakistan and 962 people were charged and accused that included 479 Muslims, 340 Ahmadis, 119 Christians, 14 Hindus and 10 others.
A closer introspection unveils the fact that most of the cases were registered with malicious intent and were often used as a tool to settle disputes pertaining to property or even for personal vendetta. For instance, in 2012 Rimsha Masih, a 14 year old Christian girl with Down Syndrome was accused of desecrating pages of the Holy Quran.  Subsequent trail of the case proved that Rimsha was framed by a local cleric Hafiz Khalid Chisti and hence, she was later acquitted by the Islamabad High Court.
However, due to the threats from different quarters, Rimsha and her family were first provided protection by the Pakistani government and then relocated to Canada.
In the series of unfortunate events that have marred Pakistan's reputation owing to the Blasphemy Law, Rimsha's case, though still disturbing, nevertheless, reflects a rare positive precedent. Most once accused under the Blasphemy Law were not as "lucky" as Rimsha's family. Many of the accused were murdered even before a verdict was passed. Statistics indicate that since 1990 over 62 of the accused were killed while being under trail either by fellow inmates or through public vigilantes.
Recently, Nabeel Masih a 16 year old teenager from District Kasur was arrested and charged under sections 295/295A of the Pakistan Penal Code. His crime was apparently liking a picture of the Holy Kaaba on Facebook which offended the sentiments of the complainant. In line with details, Nabeel Masih was arrested and is currently under police custody, while Christians in the area are fearful of the customary reprisal that Nabeel's family will have to face.
While human rights activists have started a campaign to ensure that Nabeel is given a fair trial, it is high time that nefarious elements that bring a bad name to both Muslims and Pakistanis by falsely accusing the innocent are brought to justice.
In this regard the clerics and elected representatives should play a proactive role for the maintenance of peace and engage local communities in a dialogue where we can learn to respect the rights of people from different faiths.
Such cases continue to cause damage to Pakistan's image as a country where intolerance and radicalization is rampant. The state bears the responsibility to protect its citizens regardless of their faith, color, gender and social status.
Nabeel Masih is a Pakistani and nefarious elements will have to be stopped from spreading hate and hurting our citizens!