Trolling and Twitter have almost become synonymous to each other and here we are yet again bringing to you the most savage parody account.
The parody account, "Islamabad Safe City", has the most hilarious comebacks for all the Islooites (and their burger problems) out there!
Let's have a look at all the Tweets from Islamabad Safe City parody account that will make your day instantly better!
Read: Parody Account, Pyare Khalil Is Flooding The Internet With Khalil-Ur-Rehman Qamar Memes & You've Got To See Them!
All the fun started when the parody account titled, "City Police" began looking for new year parties in the city!
… and Twitterati had the most amusing responses!
Seemingly, the "police" finally found a party at Chikachino to crash into.
Read: 19 "We're Not The Same" Jokes On Twitter That Will Make You Giggle
Lol.. nobody saw that coming. But Chikachino lovers.. Be careful!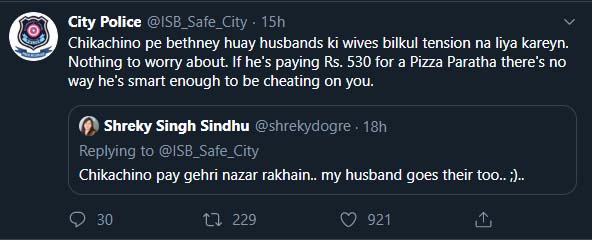 Read: We All Have Experienced These Funny Embarrassing Moments Once In Our Lives!
Umm dear Lahoris, don't take it too personal!
Well, they weren't just being funny but were also preaching stuff!
Hear, Hear!
Cherry on top..? People actually thought that it was an official account.
Read: Mufti Kifayatullah Known For Claiming 'Wiki' From WikiLeaks & Jemima Are Cousins Is Trending & It's hilarious!
Well the official account came forward and warned people of the "fake account".
Read: Many Pakistanis Made Hilarious Memes After Imran Khan's "Small Men" Tweet & We're ROFLing!
But the parody account ain't coming slow either..