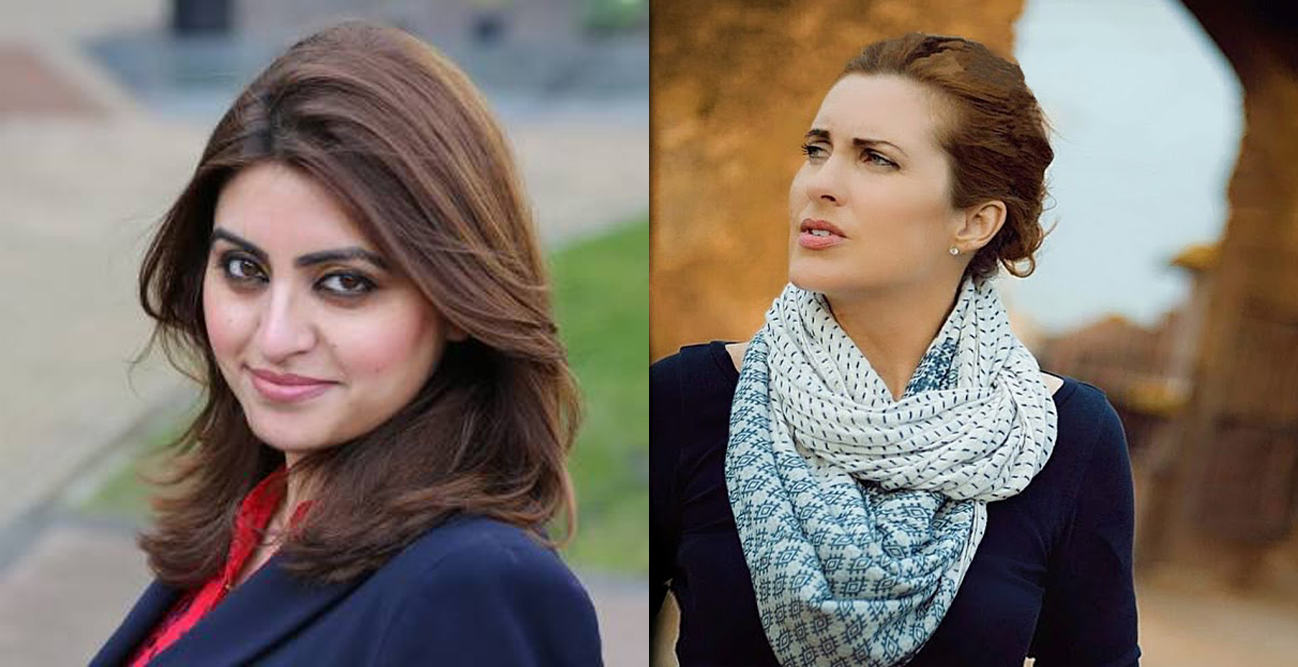 Both Cynthia Ritchie and Gulalai Ismail have a huge fan following in Pakistan but at the same time have thousands of critics who send hate their way everyday.
Cynthia D. Ritchie
Cynthia D. Ritchie is a US blogger who has frequently been traveling to Pakistan since 2009. She tries to highlight a positive image of Pakistan through her blogs.
Cynthia first came to attention after an image of her cycling in the streets of Peshawar went viral. Ever since, her Twitter handle has become one of the most followed accounts in Pakistan.
Thanks to the many online spats she's had with other famous twitterati – mostly from the left wing – it has been alleged that she is a hired hand, working to push the narrative propagated by intelligence agencies.
Gulalai Ismail
Gulali is a noted human rights activist from Swabi, who rose to fame owing to the the multiple international awards that she received for her work on women's empowerment and peace-building.
Her active participation in the quasi-separatist, Pushtun Tahafuz Movement (PTM) and a series of anti-army speeches led to her rapid fall from favour within Pakistan.
Following her anti-army speech in a gathering to protest the rape and murder of a 10-year-old girl-child in Islamabad, she was booked under sections 500 (punishment for defamation), 153-A (promoting enmity between different groups, etc) and 124-A (sedition) of the Pakistan Penal Code, as well as sections 6/7 of the Anti-terrorism Act, 1997.
Not just conservatives, but even a section of liberal Pakistanis were offended with her above speech as they felt that the focus of the gathering – that was child sexual abuse – should not have been diluted and politicized.
This has led to allegations that label her as an "asset" working for foreign intelligence agencies to defame Pakistan.
After months of going missing, Gulalai emerged on the scene once again informing her followers that she had secretly traveled to the United States to seek protection from state persecution.
A pointless face-off on Twitter
In a recent tweet around the royal visit, Gulalai Ismail questioned why only women were expected to abide by cultural norms? "Why Prince William is not expected to dress in our cultural dress throughout the visit?" she had asked.
Cynthia Ritchie then took a dig at Gulalai Ismail terming her tweet as anti-Pakistan.
Gulalai then clapped back asking Cynthia to consult her to better understand the situation of women in Pakistan.
She further went on to say that Cynthia's bicycle ride was "photoshooted" as Pashtun women were not even given the permit for cycle marathon at that time.
Cynthia once said that people like Gulalai would do anything to bring Pakistan down but she would not let her.
Ladies, next time find a better reason to bicker…please?
As much as we were entertained by this nonsensical back and forth between Gulalai and Cynthia, truth be told, both lacked merit.
The problem with Gulalai's tweet
Gulali's tweet – though seemed relevant at the time – was short-sighted. During the royal couple's visit to Chitral on Wednesday, the Duchess did not wear Pakistani attire, debunking Gulalai's claim that Kate was expected to wear shalwar kameez throughout her stay in Pakistan.
At the same time, it would be grossly wrong to assume that the royal family would take dictation from the Pakistani government on what to wear. Donning on a shalwar kameez was a decision that was made at the level of the royal family and the British government – most likely to win the goodwill of Pakistanis at a time when the UK is struggling to garner support as it nears Brexit – and not the Pakistani government.
Read: Amir Liaquat & Gul Bukhari Had A Fight Over Maulana Fazlur Rehman & It's Totally Absurd
The problem with Cynthia's tweet
What Gulalai said in that tweet specifically could have been short-sighted but it wasn't really anti-Pakistan. She did not say anything, at least as far as the tweet in question is concerned, that defamed the country. It was a critique on patriarchal values that she assumed were a result of Kate's attire and should have been treated as such.
At the same time, it made no sense at all for Cynthia – who has hardly lived in Pakistan for a year – to school Gulalai or any other local woman for that matter on the state of women in the country.
Better luck next time, ladies!
We have no personal opinion on the alleged "propagandist" claims against either Gulalai or Cynthia. However, if these speculated claims have even a grain of reality, their respective handlers need to do a better job of prepping them next time so they can at least find a reason good enough to start a public war of words.