I had been waiting to visit the place since long all because of the good reviews almost spamming my news feed but could not due to exams. However, like a typical student, my habit of putting more time and efforts into planning after exams party than studying finally got us where we wanted to, Chikachino.
Also Read: Hangout Reopens In Islamabad And Their New Menu Deserves A Huge Shout Out
Now I was well aware of the fact that the restaurant has outdoor sitting only, thanks to the homework I had done, but what surprised me was the huge turnout of people despite it being a weekday and a chilly evening. It was crowded to the extent that we were put on waiting list which was quite long, no wonder even the waiting area seemed cramped.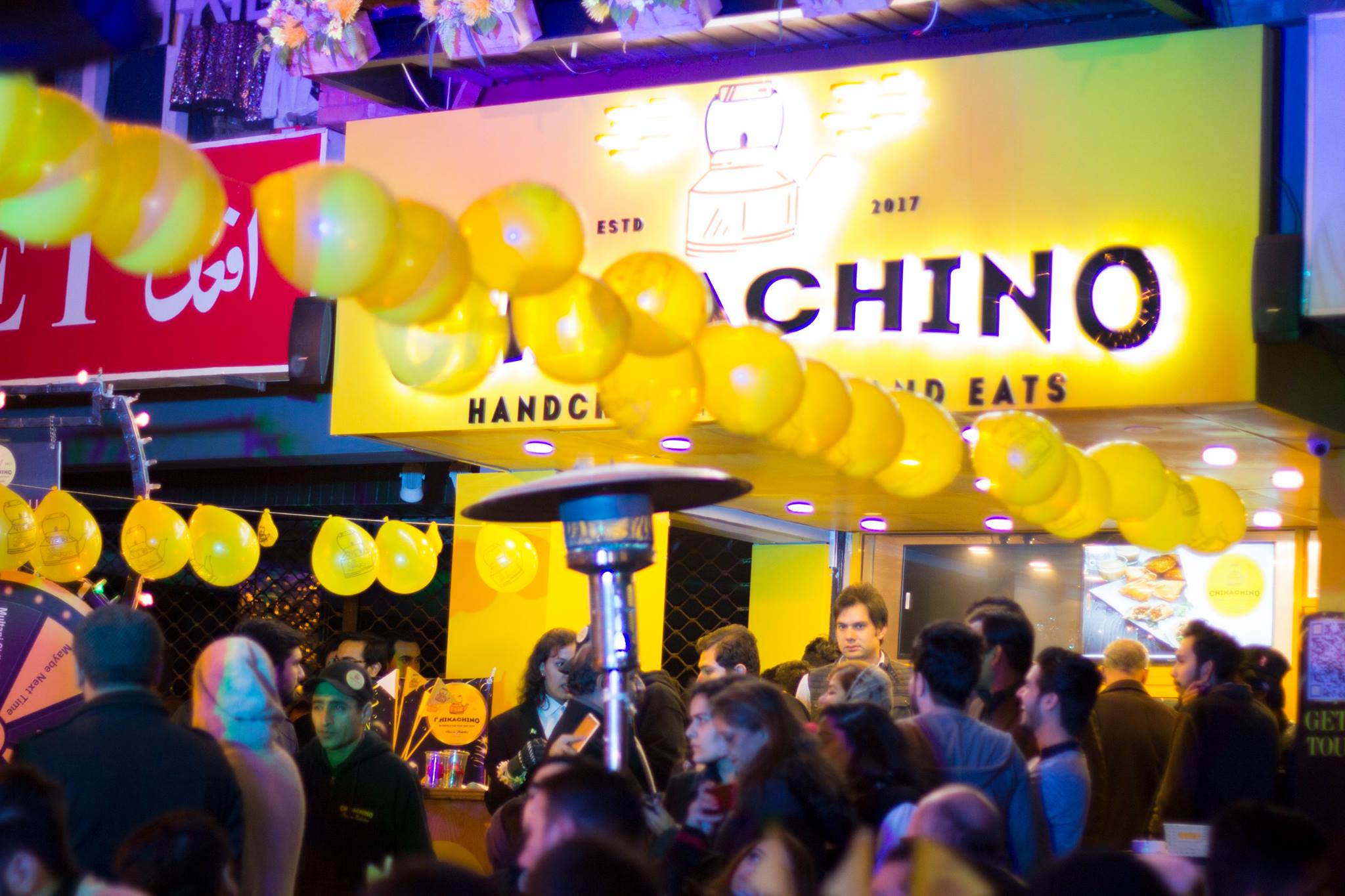 On being asked to wait for 25 to 30 minutes for a table, the impatient person in me tried taking over, persuading us to leave and explore other options but the foodie in me eventually won the battle and thus we decided to stay.
Also Read: Restaurant Review: Feel Royal At Rahdaari
Seeing piping hot food being served on a cold winter evening, it became difficult to just stand there and watch people eat while we wait. So, we decided to utilize the time in deciding what we should order when and if we get a table. Do you see how determined we were? But as the old saying goes, "where there's a will, there's a way!" (Manipulating quotes since 1993), 20 minutes into it and the receptionist came to us with the good news.
Also Read: An Honest Review: What Went Down At Coke Fest Islamabad
After settling in our seats which took us sometime because in case I haven't mentioned enough it was cold and it took us a while to implement our get-closer-to-the-heater-as-much-as-we-can strategy, we fired away our order to the waiter which should have impressed him (although it didn't!) as decisive customers are a rarity in restaurants.
Also Read: Paramount Restaurant – A Heaven of Middle Eastern Cuisine
Soon our table was filled with Pakora Mela, Chikachino Special Papri Chaat, Charsadda Paratha, Shikari Bun, Walnut Halwa and 3 beautiful cups of tea. Now, all those who have been here must be thinking why we didn't order Chikachino Special Palak Chaat and Samosas. Ladies & gentlemen we had had enough adventure in the exam earlier that day and were in no mood to experiment more with our lives. It's on our list next time we come to Chikachino.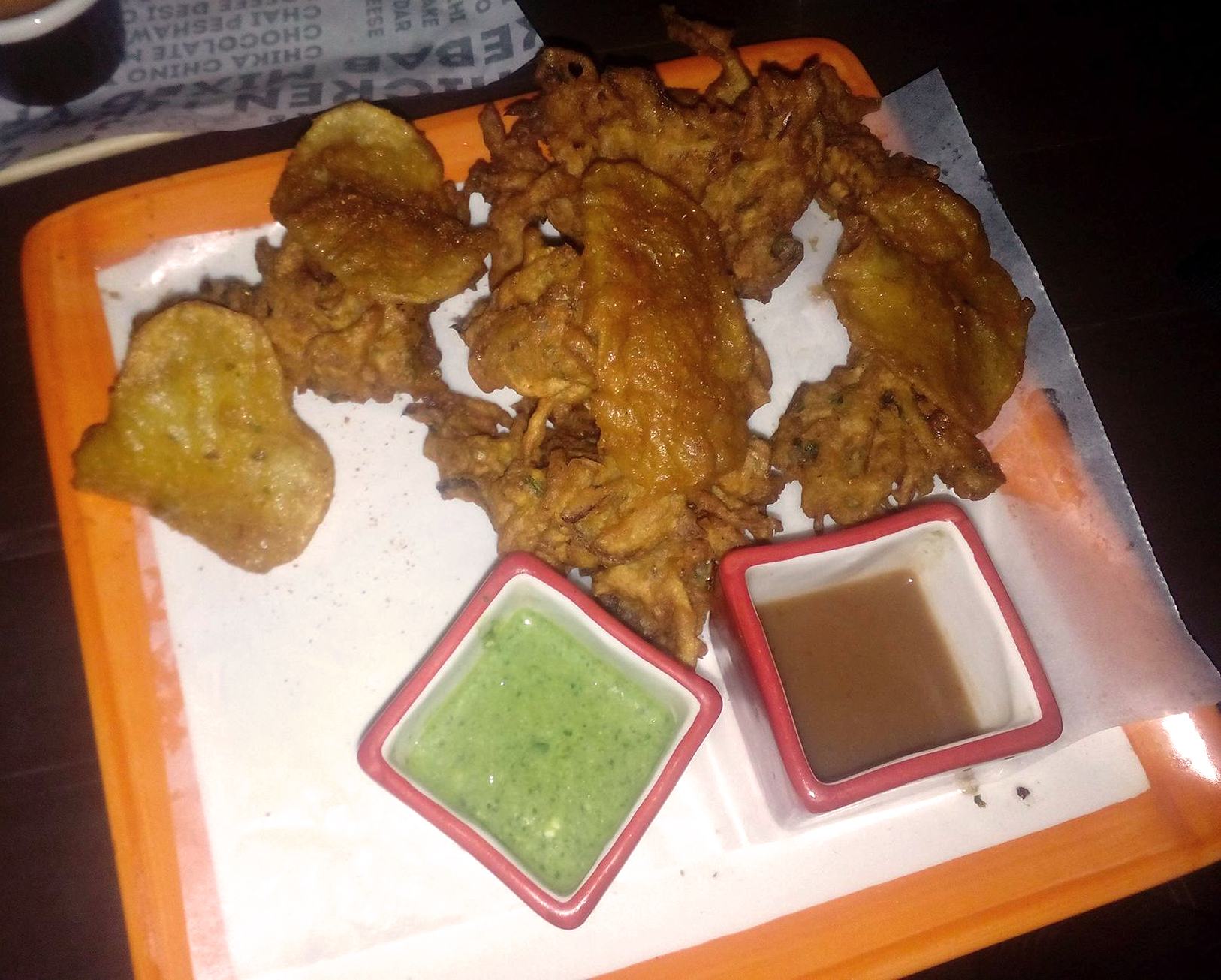 Pakora were crispy, not too oily and just the right amount of spicy with green and tamarind chutneys to go on the side. Tamarind chutney stood out here as a total winner!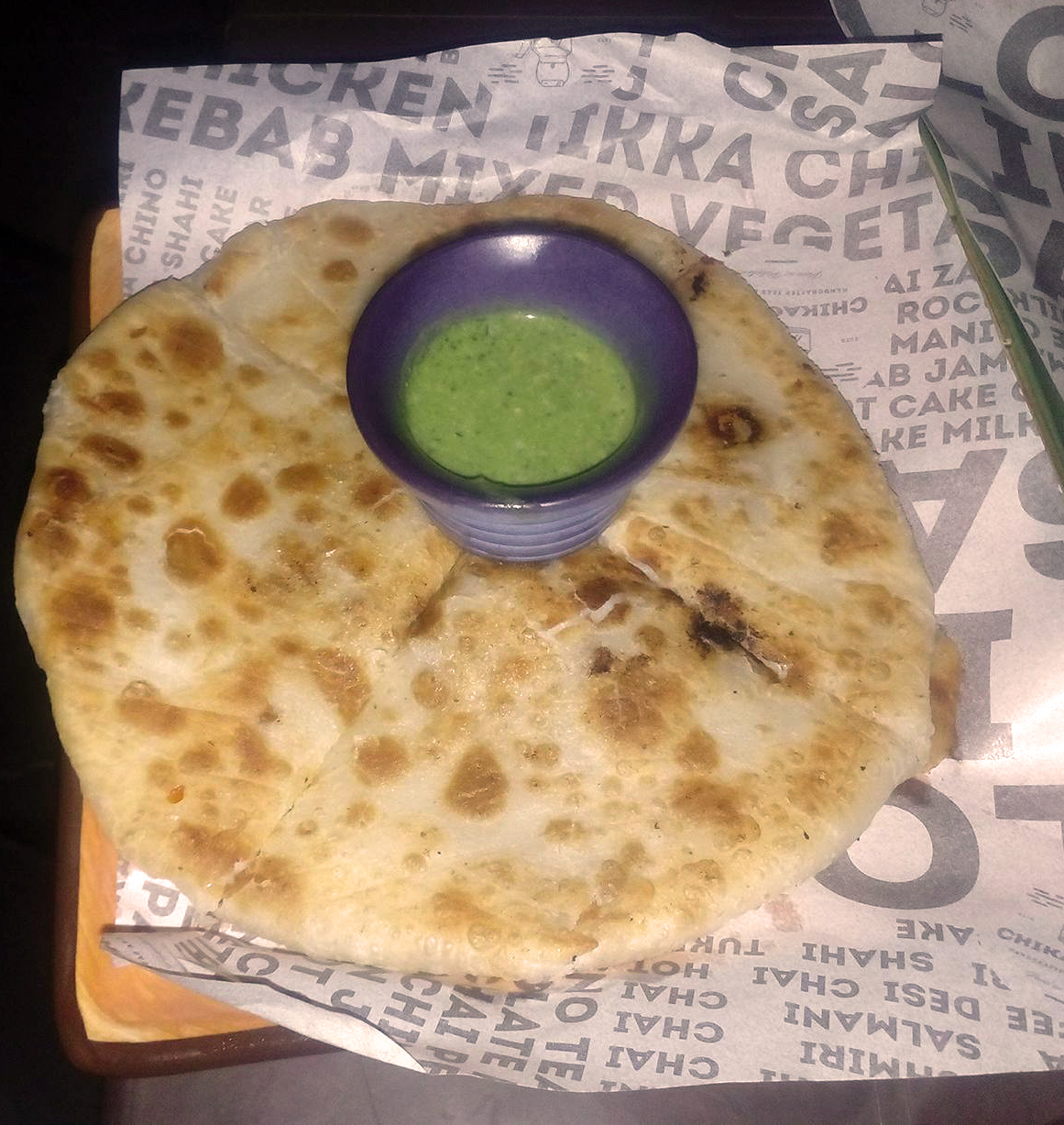 I had heard a lot of good things about Charsadda Paratha and folks, it lived up to the expectations without a doubt. The filling had chicken chunks in a generous amount and a smoky sauce which might as well be called the show stopper of the dish.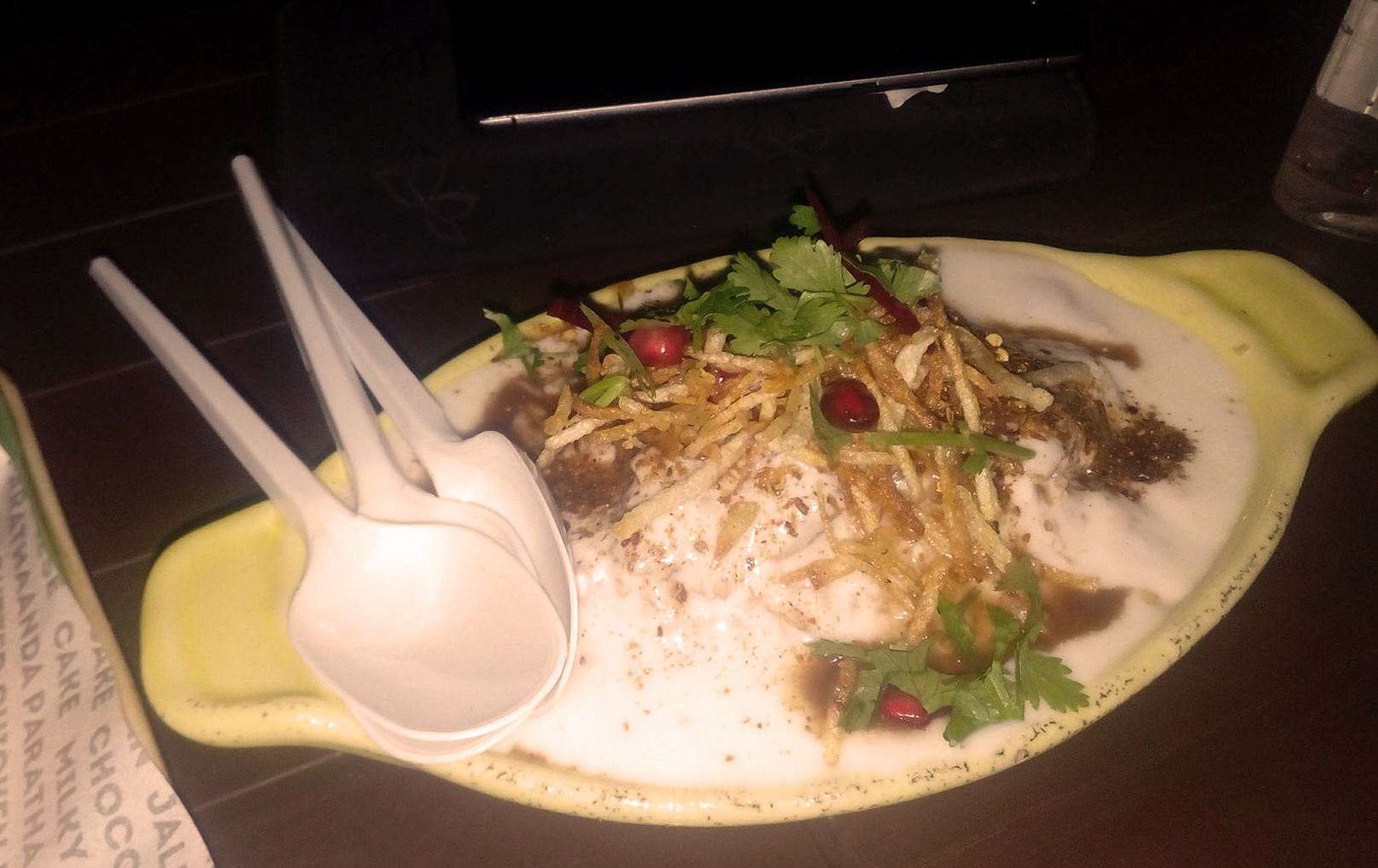 Charsadda Paratha was then followed by Chikachino Special Papri Chaat and it was special for all the right reasons. Fresh vegetables, perfectly cooked chickpeas, right amount and variety of chutney, spices and crisps dressing and pomegranate sprinkled as cherry on the top, Papri Chaat turned out to be a scrumptious stunner.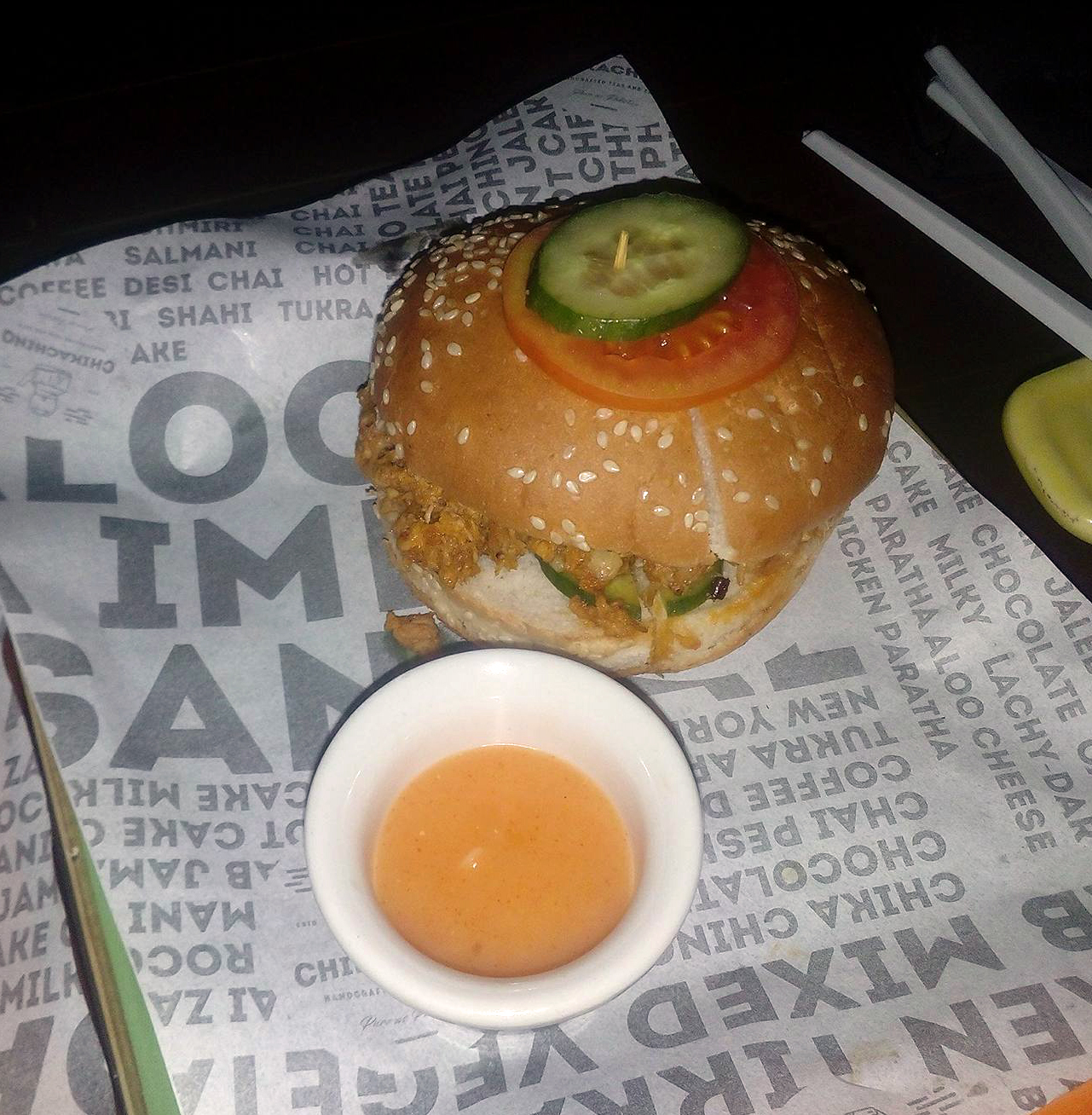 Then came the star of the evening and perhaps the most under-rated, Shikari Bun which had pulled Chicken (they had it in beef as well) and some special sauce as filler. The spicy mustard sauce on the side further amplified the taste of the burger. The fact that my non-foodie friend and perhaps the most disinterested person in the world when it comes to food went total berserk right on the first bite of Shikari bun, making sounds like, "Aey Haaye Haaye!" and almost commanding us to order one more ASAP speaks volumes about the indulging taste that Chikachino has to offer.
Also Read: Restaurant Review: Cannoli Opens a New Branch in Islamabad
Since none of us had had Walnut Halwa before so we could not really compare and tell but on its own the dessert was quite toothsome. Every warm bite down our throat was yum-yum and brought relief to our sore throats; reason why we forgot to take a snap.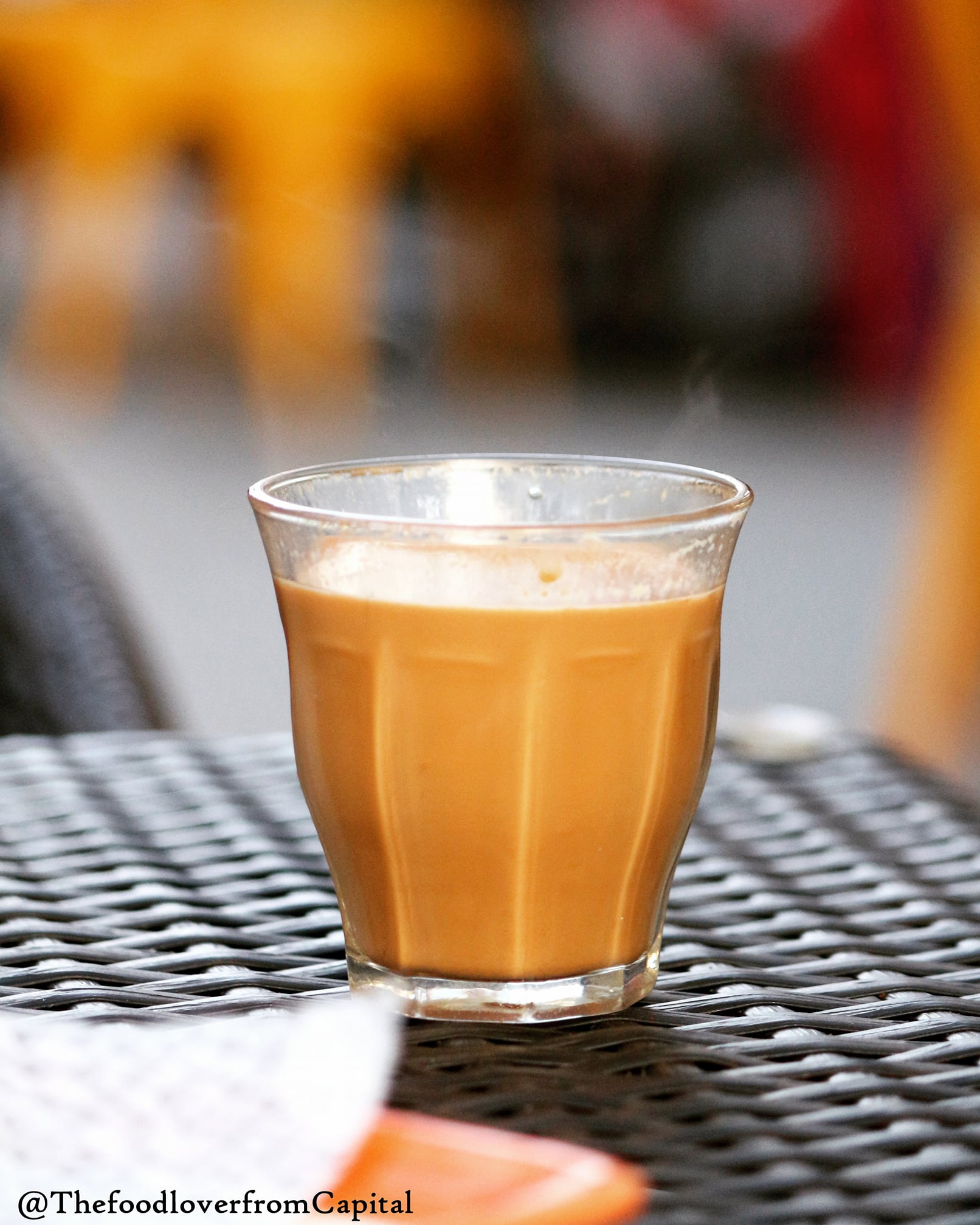 Moment of truth came when we were served with Chikachino tea, something over which people have been going gaga! For a person who drinks tea more than water, Chikachino easily qualifies for offering the best tea in town with a balanced amount of spices, sugar and milk. Chikachino's Tea epitomizes what we Pakistanis call Karak!
The best thing about Chikachino's menu is you get to have all Pakistani snacks at one place; food is delicious without being too spicy and the food start up offers good quality and quantity of food at a fair price.
Service was prompt and polite. Also, never have I ever seen so many waiters in such small space. It's like they had one for each table which made it convenient for the customers to order.
Overall the ambience had a festive touch to it. The decor and selection of songs that were Pakistani only went great with the themed menu offering Pakistani snacks only. If you are a fan of open air restaurants then Chikachino is the place to be. However, one thing that concerned me was the usage of gas cylinders to fuel the heaters which frankly is a dangerous idea. I hope they find out a better way to keep the customer warm like installing electric heaters.
Also Read: In Pictures: Karachiite's Review Of Islamabad Eat 2017
All in all, Chikachino is yet another brilliant addition to the food-scape of Islamabad which has the potential to amass a large fanbase in a city where we rarely get to see samosas, pakoras and all other local food assortments on the menu and that too worth the taste and money.