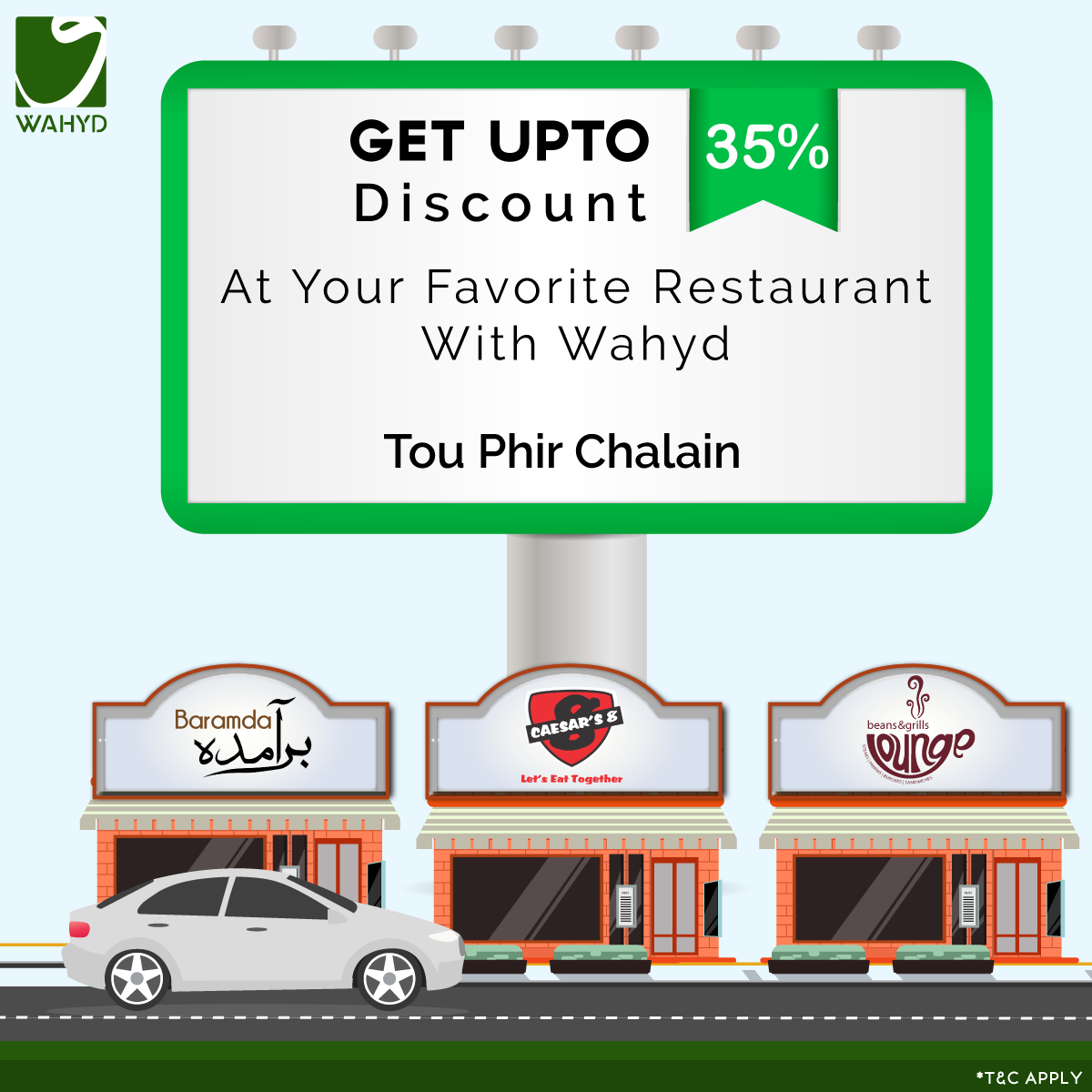 Hello Islamabad foodies! Here's a pleasant surprise. Recently Wahyd announced special Azadi Bundle offer in collaboration with three prominent restaurants in Islamabad i.e. Caesar's 8, Baramda and Beans & Grills Lounge. You can enjoy up to 35% discount on your favorite eatery till 13th of August, 2017.
Just ride with Wahyd and every customer will receive a discount right away to savor their taste buds – more than just a ride, right?
And that's not all, ride more to win more! Three lucky winners with maximum number of rides will win absolutely FREE meal at one of these restaurants – So why not take a delicious ride today?
Read more: – How to Win Free Meal With Wahyd Bundle Azadi Offer?
35% OFF AT CAESAR'S 8 – "LET'S EAT TOGETHER"
Formal dinner or a casual hangout, dining experience at Caesar's 8 can be as fine or as fun as you want. Dishes that have been a hit are Tarragon Steak and Mint Margarita – a must try. And you can enjoy the scrumptious food with 35% discount on whole menu once you present them Wahyd e-receipt or last trip history.
25% OFF AT BARAMDA – "YOUR SUNNY SIDE WILL ALWAYS BE UP AT BARAMDA"
Giving out 20% discount you'll be sure to discover that the menu is as fresh as the ingredients and the cuisine looks too good to eat. Medallion beef steak is Baramda's champion offering, so be sure to devour it at all!
20% OFF AT BEANS & GRILLS LOUNGE – "VARIETY OF TASTE FOR EVERY PALATE"
Quality food, great service, impressive ambiance – all at one place, Beans & Grills Lounge. Their main attractions are Chilli Tarragon Fish, Moroccan Chicken, and Beef Chilli with Rice. If you want to get a quick bite while you are out and about you can't miss it…with 20% off it won't be heavy on your pocket.
HOW TO AVAIL THE OFFER?
You're craving to benefit from the promotion, but worried that the process might prove difficult? Well, let us tell you how it's actually super simple.
Open Wahyd app on your smartphone
Book a ride
Show e-receipt or ride history to the staff of Wahyd's partner restaurant and get discount!
It seems Wahyd is committed to delighting us this independence day! If you are tired of being stuck in traffic jams, finding parking space gets frustrating or you don't have a decent conveyance to commute around Islamabad, count on Wahyd. Few taps on your phone will get you a Wahyd ride at your doorstep.
So gear up foodies, join Wahyd family now and avail great discounts today.
Tou Phir Chalain!
You can Download Wahyd car booking app from Play store as well as iTunes.