The popularity of the Turkish serial Ertugrul Ghazi has been exceptional with now the local fans dying to meet their favorite characters in Pakistan.
Cavit Çetin Güner who plays the role of Dogan Alp, one of the three companions of Ertugrul, was also planning a trip to Pakistan.
Also Read: Haleema Sultan & Dogan Bey Of Dirilis: Ertugrul Express Their Wish To Visit Pakistan
In an interview, the Ertugrul star while expressing is gratitude for all the love had shared the news calling Pakistan his "second home."
But recently, the 34-years-old actor took to Instagram and told his fans that he had to cancel his trip to Pakistan.
Cavit Çetin Güner revealed that he was scammed by a Pakistani lawyer and apologized to his fans who had been eagerly waiting to meet him in Pakistan.
He wrote, "I apologize from the Pakistanis. In Turkey, I met a man named Musawir Abbasi who was a lawyer and we talked and agreed on a business plan. However, later I found out that the business plan was fake and Musawir Abbasi lied."
Turkish actor further added that "We have a mutual love for Pakistani people but due to current circumstances, I won't be able to visit Pakistan. I hope that I will meet trustworthy people and will meet you soon."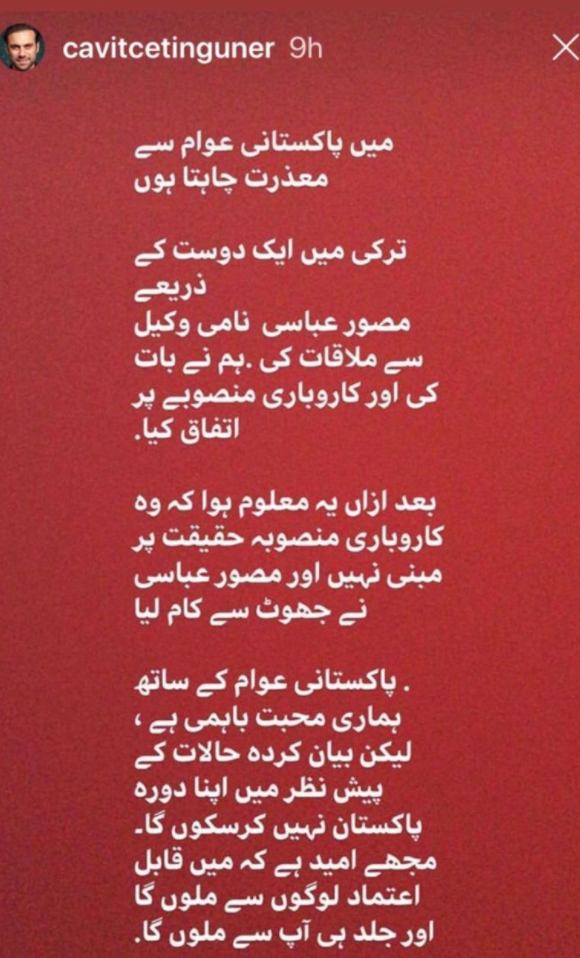 What are your thoughts on this issue? Share in the comments below!