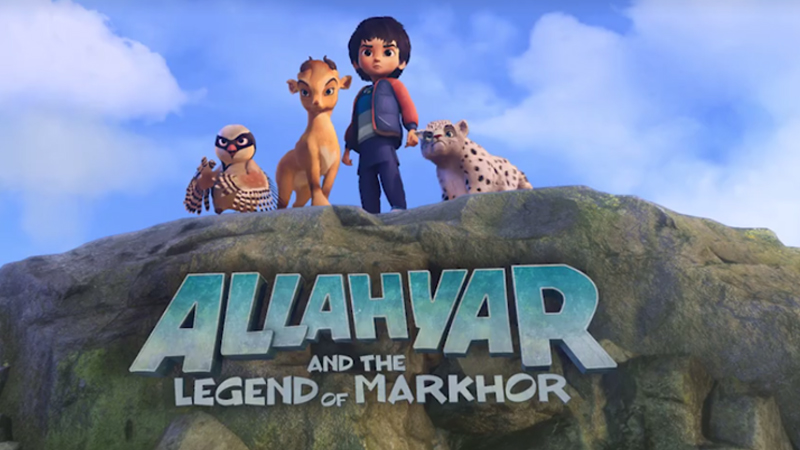 Animation industry in Pakistan was not much of a game until recently when series like Commander Safeguard, Burka Avenger and Teen Bahadur were produced. However, they still lacked the kind of VFX quality masses are used to watching in Disney and Pixar movies. But the teaser of an upcoming Pakistani animated feature film, Allahyar and The Legend of Markhor, looks promising enough to change all of that. Being produced by a Pakistani film animation studio, 3rd World Studios, the feature film has become the talk of the town already.
Also Read: Trailer Out: The Glassworker – Pakistan's First Hand Drawn Anime Movie
Unfortunately I came across this brilliant piece of art almost a month later but now that I have seen it I cannot stop praising it for the visual flair the teaser of Allahyar and The Legend of Markhor offers.
Based on a sequence shot type of an arrangement, the scene opens with clouds and swiftly moves to an aerial view of a river, mountains and a valley. As we continue to focus on where our screen might lead us, we soon find ourselves following a bird which flies through the forest, glides down splashing water in the lake with its claws and takes the viewer to a mountain's peek. There, we see a boy, presumably Allahyar, along with animals like Markhor (national animal of Pakistan), Chakor (national bird of Pakistan) and a snow leopard appearing from behind the mountain. Here, have a look!
What I loved the most about it is the attention to details like the sound of clouds passing, swishing and flapping of wings when the bird flies, Allahyar donning jacket and sweater over a blue Shalwar Kameez like a quintessential Pakistani kid (Admit it! All Pakistani kids have been through those days!), reaction of Markhor to Chakor's action and most importantly the scenery which very much seemed like northern areas of Pakistan. The artwork has totally won us over! Special mention to the brilliant background score which added to the breathtaking experience!
Also Read: Hareem Farooq Sports a Gangster Look for Parchi and We Can't Stay Calm!
Not much has been revealed about the movie though except for the fact that Natasha Humera Ejaz and Ali Noor have been roped in as voice actors to play the lead role and villain. Both are also expected to record a title track for the film.
While we wait eagerly for the release date to be announced, we request the producers to take as much time as they need to set a bench mark for the Pakistani animation industry with "Allahyar and The Legend of Markhor". Hoping to see a masterpiece! Best of Luck to the 3rd World Studios!