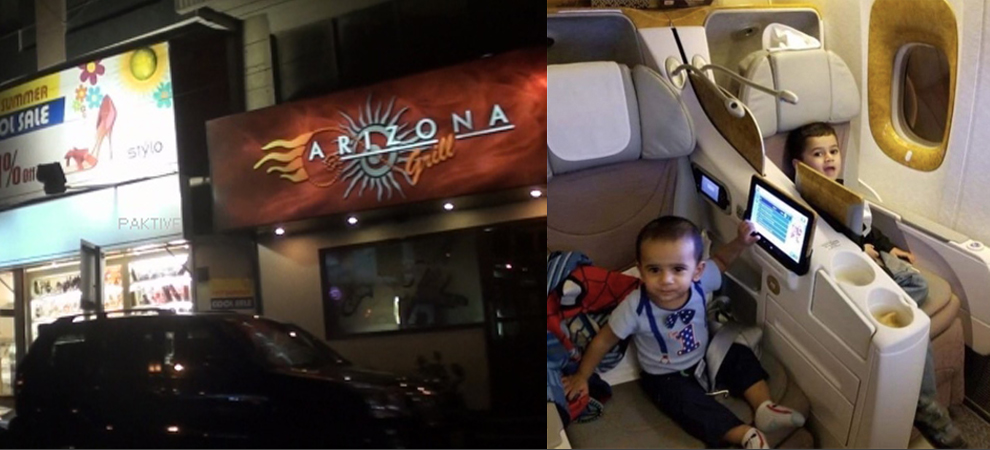 Arizona Grill was finally raided last night after the outrage that jolted social media following the death of two siblings in Karachi because of food poisoning. This past weekend, the family had dinner at Arizona Grill and Chunky Munky, after which they were hospitalized and while the parents made it, the little children didn't!
When the news was broken, Pakistanis were left infuriated and rightly so!
https://twitter.com/ibbaaadddd/status/1061627707744772097
1 Child & his infant brother died because of food poisoning, their mother is also admitted in South City Hospital.
They reportedly had dinner in Arizona Grill at Zamzama and sweets from Chunky Monkey last night. Both places sealed and Investigation underway.@OfficialHanzala pic.twitter.com/NQyKXdrUQI

— 𝒮𝓎𝓂𝒶 𝒮𝒽𝑒𝒾𝓀𝒽 (@syma_sheikh) November 11, 2018
These two innocent kids have died because of food poisoning after having food at Arizona grill eatery.
We expect strong measures to be taken by Sindh food authority.
RIP pic.twitter.com/kE5JD7fXDe

— میمونہ شیرازی🇵🇰 (@MaimoonaSherazi) November 12, 2018
The public outrage raised by the tragic news moved Sindh government into action and at last, both the eateries were closed down!
Ahmed of 1.5 years and Muhammad of 5 years died yesterday coz of food poisoning after having dinner at Arizona grill at ZamZama Karachi and also having ice-cream from chunky monkey both concessions were sealed off by Sind govt pic.twitter.com/3yNFQ9EE2r

— Shaista Gomal (@Paklesbian) November 12, 2018
However, it still took the Sindh Food Authority two days to raid Arizona Grill and on doing so, what was found in the storage was beyond disgusting: meat that had expired 3 years ago in 2015!
For a restaurant as high-end and popular as Arizona Grill, the expose came off as immensely shocking and Pakistanis couldn't help but explode the internet with a mix of anger, disappointment and grief. 
Arizona Grill should be shut down for good and it's owner sent to jail. This was criminal negligence. My heart bleeds for the 2 innocent lives lost.

— Nusrat Hussain (@NusratHussain02) November 13, 2018
Authorities raided Arizona Grill godown/warehouse in Khi,recovered (smelly) meat which was imported from UAE
This meat expired 3 years ago, back in year 2015!!
This is the Most shocking& disgusting news one can READ!!
Ppl responsible should be locked up in the country Jail ASAP

— نسرین (@Nas_k27) November 13, 2018
No words only gut wrenching emotions. Criminal negligence on the part of Arizona Grill that cost 2 babies their lives. Only have prayers for their parents it's unimaginable what they're going through. Worst part is that it was such an easily avoidable tragedy. God have mercy https://t.co/VXhvciK6OS

— Sehr Pirzada (@SehrPirzada) November 13, 2018
Someone pointed at the hypocritical approach of mainstream media with which they covered the story.
Channels r running breaking of infants DYING due to SHIT being served at high end restaurants In Khi. Sadly none hav the guts to say it's Arizona Grill / Chunky Monkey at Sea View Amusement Park. Calling them "Niji Restaurant" is as shady as the food being served there #shame

— Sikandar Bakht (@ImSikandarB) November 12, 2018
Osama took it to the micro-blogging website to warn people against another restaurant that is owned by the same administration.
Arizona Grill & roasters have same owners, their menu is similar with different names, in all likelihood they have same vendors & even warehouse, if you're avoiding Arizona avoid Roasters as well. https://t.co/bXeRV8ELly

— Osama. (@ashaqeens) November 13, 2018
Then, there was one who asked if Pakistanis feel discouraged to eat out after the incident. 
So how many have stopped eating out?

— norbert almeida (@norbalm) November 13, 2018
However, the one big question that echoed after the whole episode was this! 👇🏼
So the question now arises that why did it take the deaths of 2 children for the Sindh Food Authority to check Arizona Grill's godown and find rotting expired meat? Surely the meat which expired in 2015 would have been there had food inspectors been regularly doing their job

— omar r quraishi (@omar_quraishi) November 13, 2018
Arizona Grill was cooking with sub standard meat that had expired 4 years ago. This was stored in 9 deep freezers. Clearly criminal negligence but ofcourse they were able to get away with it because they would have paid the inspectors to pass all quality assurance tests.

— Riya (@Tweets_By_Riya) November 13, 2018
Arizona Grill should cut their losses and shut down all their restaurants. Give it a month or two and then rebrand and open again under another name. Call it California Roast. Or New Mexico Sear. Or something. Happily keep selling expired meat. Sindh food authority won't mind.

— Red Wish (Ahmer) 👓 😷 💉 (@RedWishDotCom) November 13, 2018
Why not ask the food inspector of that area, why did he miss the expired meat and other stuff? Check his assets, I am sure he was letting Arizona Grill carry on for a price. Sometimes I wonder why did we get to be so corrupt in the first place?

— Nusrat Hussain (@NusratHussain02) November 13, 2018
It is beyond comprehension and acceptance that an eatery as big as Arizona Grill has been selling expired meat since 2015 without getting caught. Did the Sindh Food Authority never inspect the site for the last three years? If no, then why the eatery was not shut down and if yes, then why did they wait till the gut-wrenching death of 2 innocent children to fulfill the responsibility towards the citizens of Pakistan?
Sindh government, without a doubt, owes an explanation to the parents who have been tormented by the loss of their children whom they brought to the world with unconditional love and care!
All these questions must be answered!