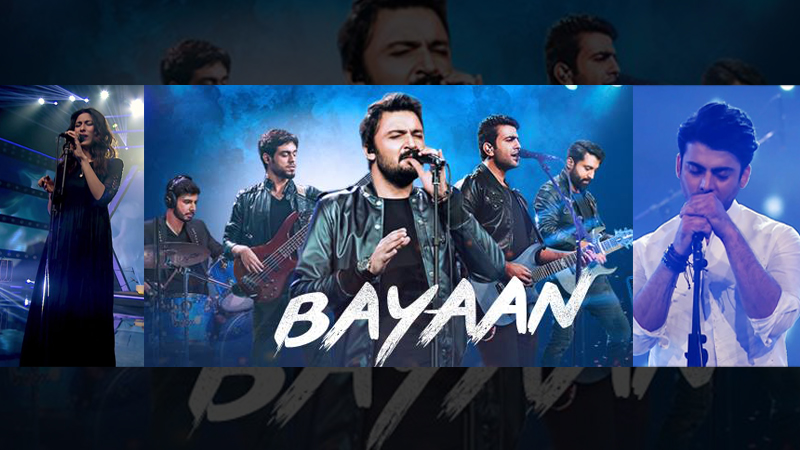 The much-awaited grand finale of Pepsi Battle of the Bands Season 3 was aired last night and my oh my, what a treat it was! As Bayaan and Xarb locked their horns to clinch the most coveted trophy amongst bands in Pakistan, the 1.5-hour episode kept Pakistanis hooked throughout. Here are 5 overwhelming moments from the show that took the revival of band culture in Pakistan a step further.
Read: The Classic Lollywood Themed Pepsi Battle Of The Bands Episode Was Gold!
1. Strings Gave Us Nostalgia With The Most Rocking Rendition Of Zinda!
Zinda has to be Strings' most intense composition to date! Originally produced for a Sanjay Dutt starrer Bollywood film, the song was received really well on both sides of the border. Since then, the band has performed many renditions of the number. That being said, the percussion soaked edition of Zinda that Strings performed last night was beyond intoxicating.
While, as always, Faisal Kapadia and Bilal Maqsood nailed their roles, it was Aahad Nayani who blew us away with his brilliance on drums and broke us into feet tapping which ended up at headbanging! Now that's an achievement only legends can manage!
Read: Pepsi's Latest TVC Is Insanely Nostalgic And We're All Hearts!
https://www.youtube.com/watch?v=sTyi06oorFE
2. Meesha Shafi's Trailblazing Performance of Mein
A talent powerhouse, Meesha Shafi stunned us with Speaker Phaar last season and just when we thought it could not get any better, she gave Pakistani music industry the gift of Mein! 
An avid follower of Pakistani pop music, I don't remember listening to a sound as unique and emotionally-rich as Meesha and her dream team produced in the finale last night! How she effortlessly played with her vocals to resonate her take on Sufism is something that will remain engraved in the heart of every Pakistani who experienced the magic of Mein! 
No wonder, Twitter kept buzzing with praises and love for the melodious queen following the overwhelming act!
Watch: Candidly Yours | Episode 8 | Dhool the Band
3. Shahi Hasan Brought Back Vital Signs' Maula!
Shahi Hasan's performance in the finale of season 2 had something missing and while the void left by Junaid Jamshaid can never be filled, it was the absence of Rohail Hyatt that reflected on Hasan's performance. However, in the grand finale of season 3, Shahi put up a good show and made us croon Vital Signs' famous Maula once again! Although Hyatt is still missing from the mix, Shahi tried to compensate for it through his vocals and succeeded! We had no complaints this time!
Read: Pareshaniyan By Kashmir The Band Is Our New Jam 
4. Fawad Khan And His First Solo Act!!!
Fawad composed Satrangi in 2008 for a drama OST but it was his first time performing this song on stage and we can't stop asking why we were kept away from this jewel. Highlighting the unity in diversity, Satrangi is a textured groundbreaking composition that oozes passion!
If you are a fan of Fawad the actor, after watching this extraordinary act, you will definitely fall in love with Fawad, the singer!
Read: Coke Studio 11 Promises To Be The Most Phenomenal Season In The Show's Decade-Long History
5. Bayaan Were Crowned The Winners!
The most anticipated moment came when the name of winners of Pepsi Battle of the Bands Season 3 was revealed and that night all the Bayaan supporters slept with a big smile on their faces!
You have chosen the next big band of Pakistan! @Bayaanofficial is the ultimate champion of #PepsiBattleoftheBands season 3. Congratulations to the extremely talented Bayaan boys. pic.twitter.com/286jXx60Aa

— pepsipakistan (@pepsipakistan) September 2, 2018
Read: EP Performed in Pepsi Battle of the Bands' Grand Finale and We Can't Get Over It