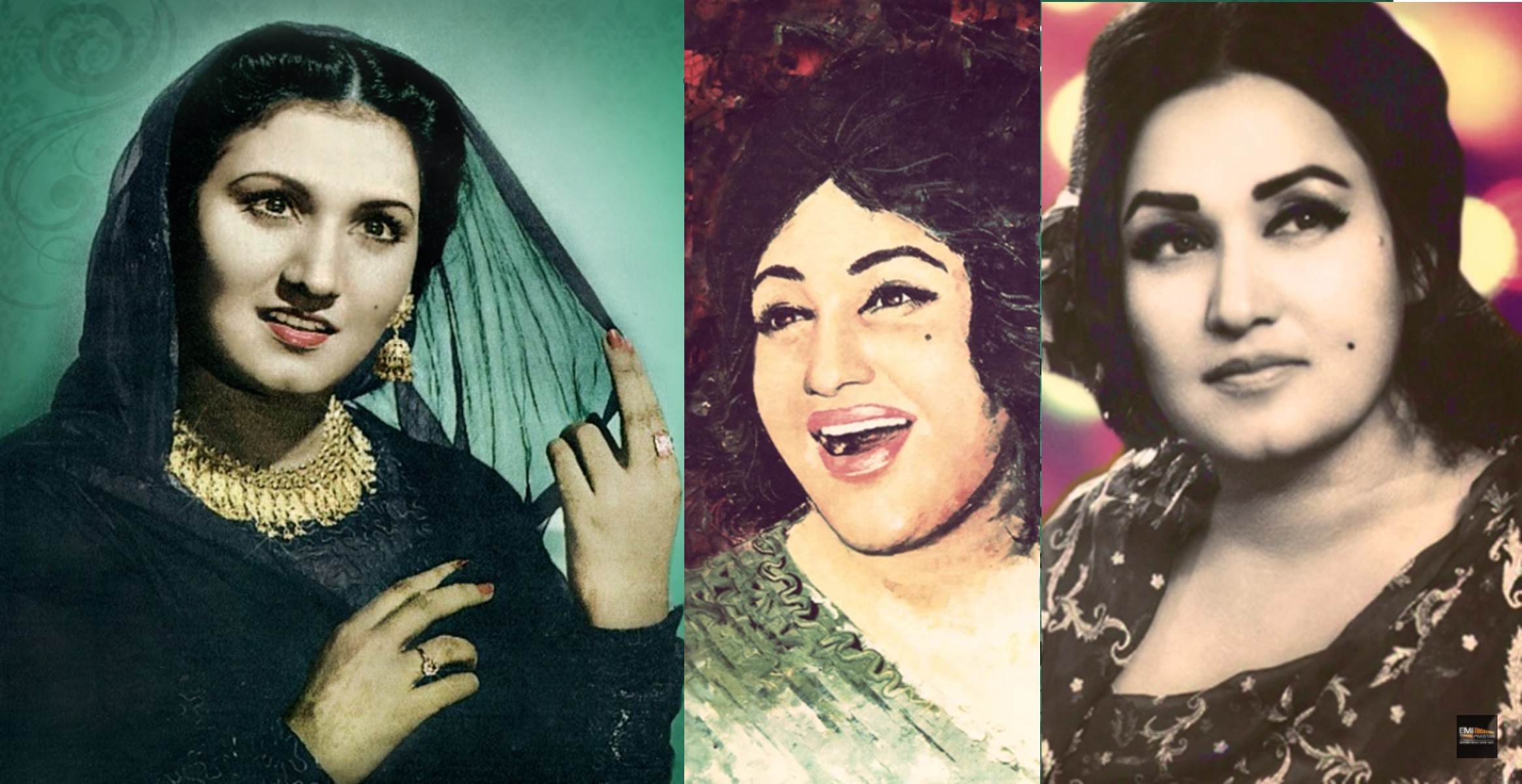 Malaika-e-Tarannum (Queen of Melody), Madam Noor Jehan is considered among the most prolific singers of the 20th century. With a glamorous career that spanned six decades, Madam left behind a tall legacy when she departed the mortal world in December 2000.
I recall admiring Madam Noor Jehan's craft for the first time as a child in the 90's. NTM was playing her beloved black and white film, Koel (literally meaning, "Nightingale") on Eid day and the little girl in me was mesmerized by her effortless allure.
Also Read: 5 Pakistani Classic Films that You MUST Watch
Ever since, not only have I seen the film at least 10 times over the years but have also memorized most of its songs.
And it is from Keol that I will begin the list of songs of Madam Noor Jehan that I often find myself humming to.
RimJhim Rim Jhim Pare Phuwar
This beautiful song is rich in both melody and poetry.
The heartbreak in Madam's voice can make anyone yearn to be reunited with a long lost childhood friend.
https://www.youtube.com/watch?v=ACwrmP61w-E
Chandni Raatein
Many renditions of this age old classic have been sung over the decades but none live up to the magic weaved by Madam Noor Jehan.
Also Read: Four Iconic Pakistani Comedians
Very often, in the dead of night, I feel drawn to this beautiful melody; humming along with Madam as her voice breaks the lull of a still night.
 Jadon Holi Jai Lenda Mera Naam
This endearing song was originally picturized on Habib and Naghma for the 1960's film, Att Khuda da Vair.
If you ask me, "Why it's on my playlist?" I'll reply with, "Why Not?!"
This song has the most charming lyrics that speak of romance in its purest, most adorable form. The melody is infutious and of course Madam's voice is brilliant.
Meri Zindagi Hai Naghma
This was the first song that instantly came to my mind when I heard that Shamim Ara had passed away a couple of years ago.
Meri Zindagi Hai Nagma is a befitting tribute to both Madam Noor Jehan (who lent the song her wondrous voice) and Madam Shamim Ara, (on whom the song was picturized for the film, Saalgirah).
I especially love this song for its intense poetry. When Madam sings, "Mein Sadaaye zindagi hoon, Mujhe dhoond ley zamana," I sing along each time without fail.
https://www.youtube.com/watch?v=Ew2yQr7if44
Le Ayee Phir Kahan Par
Given that the 1969 film, Saalgirah was based on the life of a singer, it only made sense for the film to have some excellent music. So, another one of my favoutire, Noor Jehan songs is again from the same movie.
Le Ayee Phir Kahan Par, is a wonderful song to listen to in the background when the heart needs to do some soul searching. This is not just a song, it's a philosophy – and a very deep one at that!
https://www.youtube.com/watch?v=NexHXEUtKbA
Jo Bacha Tha Woh Lutane Ke Liye Aaye Hain
Towards the climax of Umrao Jan Adda, when a defeated Rani dances to Jo Bacha Tha Wo Lutane Ke Liye Aaye Hain, one can't help but feel her pain.
While Rani certainly put her best foot forward to make this song a cinematic classic, it could not have been as heart-wrenching without Madam Noor Jehan's powerful vocals.
For me this song speaks directly to the soul; making it yearn and feel emancipated, all at once.
It makes me wonder about the lives of the two wonderful women who made this song immortal with their contribution even though they themselves are no longer with us.
Hamari Sansoon Mein Aaj Tak Woh
Most millennials would remember this song from its not-so-flattering cover on Coke Studio Season 8. However, my first memory of this song dates back to 1994 when I heard it on television.
It's one of those songs that has a melody so haunting that it instantly captivates the attention of the listener.
An all time favourite!
Mein Tere Sang Kaise
As much as I take pride in my knowledge of Pakistani cinema, I must admit I'm not sure if this song was part of a film or a stand alone single sung by Madam Noor Jehan for PTV. If anyone reading this knows better, please do let me know!
Nevertheless, it's a beautiful, easy-going song that I enjoy listening to when nothing else on my playlist interests me.
Mundeya Dupatta Chad Mera
This is one fun song! Nadeem and Babra Sharif make it all the more enjoyable with their antics.
Unlike most other songs on the list, this one is loud and fun – in short it's everything Punjabi!
https://www.youtube.com/watch?v=KIJ6v2jktJg
Mujhse Pehli Si Muhabbat
I'll end this list with a song that has been sung numerous times and is among, Faiz Ahmed Faiz's most sung poems.
For me Mujhse Pehli Si Mohabbat is as much about Madam Noor Jehan's incredible singing prowess as it is about the stature of Faiz's kalam.
A powerhouse combination of poetry, music and singing, no list about Madam can be complete without the inclusion of Mujhse Pehli Si Mohabbat.
https://www.youtube.com/watch?v=iaVI4U1Trtw
Happy birthday Madam Noor Jehan and thank you for leaving behind these gems to remember you by.