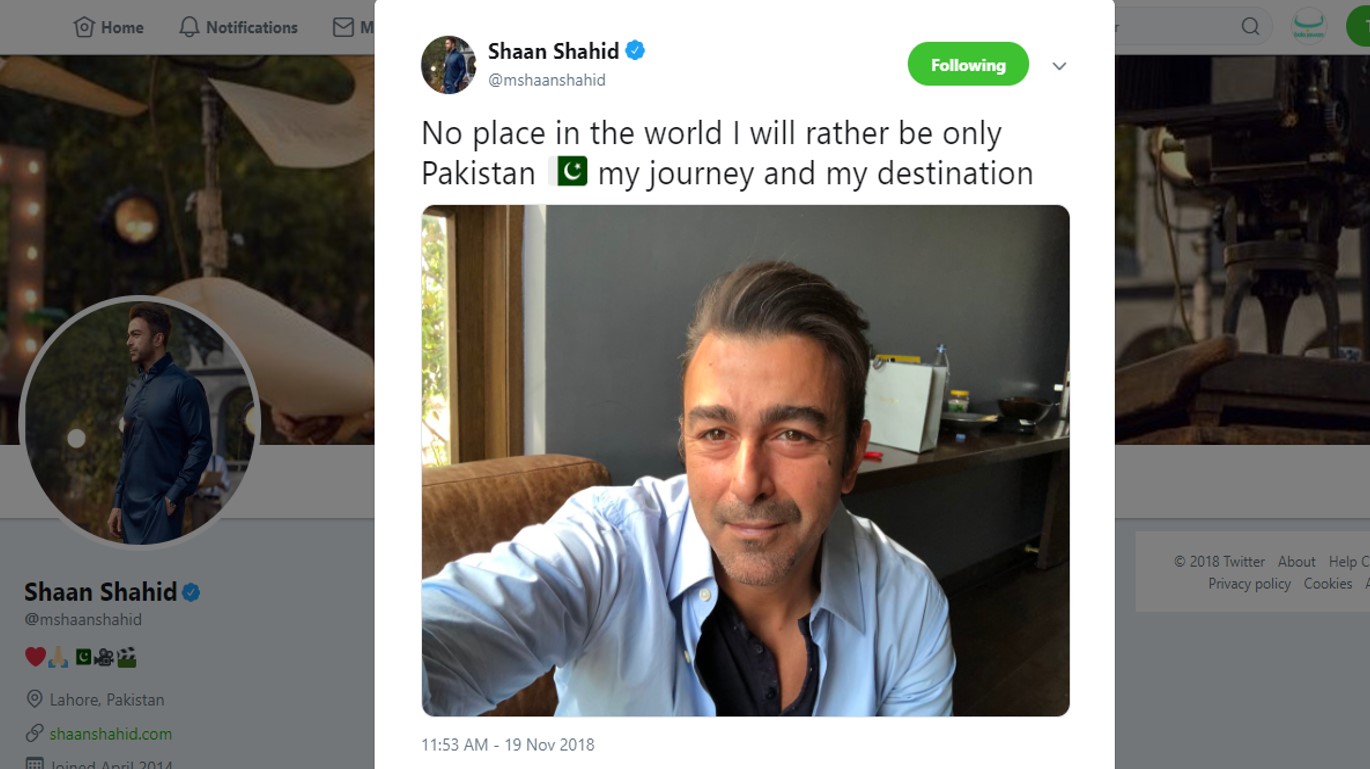 Ali Rehman's tweet on Eid Milad-un-Nabi (S.A.W) was everything Pakistan needs to embrace!
Let's follow the teachings of our beloved Prophet Muhammad (SAWS) in spreading love, peace and hope. Let's not spread fear and hate, but live together as one by being tolerant with one another In sha Allah! Ameen #EidMiladunNabiMubarak

— Ali Rehman Khan (@alirehmankhan) November 21, 2018
Shaan's out-of-the-blue love-you-Pakistan tweet won our hearts!
No place in the world I will rather be only Pakistan 🇵🇰 my journey and my destination pic.twitter.com/3lNgCemasT

— Shaan Shahid (@mshaanshahid) November 19, 2018
Shafaat Ali made us crack-up with his "keela" reference after Khadim Rizvi's arrest!
وہ تمام افراد جو کیلے کے کاروبار سے منسلک ہیں وہ کل باہر نہ نکلیں

— Shafaat Ali (@iamshafaatali) November 23, 2018
DG ISPR's encrypted tweet that was followed by Khadim Rizvi's arrest!
وَإِذَا قِيلَ لَهُمْ لَا تُفْسِدُوا فِي الْأَرْضِ قَالُوا إِنَّمَا نَحْنُ مُصْلِحُونَ۔
اور جب ان سے کہا جاتا ہے کہ زمین میں فساد نہ کرو تو جواب دیتے ہیں کہ ہم تو صرف اصلاح کرنے والے ہیں۔

— Asif Ghafoor (@peaceforchange) November 23, 2018
Tuba posted Aamir Liaquat Hussain's video defending their marriage but the critics didn't seem very convinced…
Rumors & Gossip is Temporary,
Our Marriage is Permanent ❤️#Alhamdullilah

Full video on youtube:https://t.co/xsnYRTGjPS pic.twitter.com/x6TZH4I5w7

— Syeda Tuba Anwar (@TubaAtweets) November 22, 2018
Armeena Khan sent out a simple, three-word tweet praying for the safety of Pakistanis after the news of Rizvi's arrest became public and we think it was the sweetest message all week!
https://twitter.com/ArmeenaRK/status/1066056550970785793
Ayesha Omar announced changing her Twitter handle and we're still trying to figure out why?!
All of you following me here, please switch to @ayesha_m_omar as I will not be active anymore on @Theayeshaomar ❤️💋

— Ayesha Omar (@TheAyeshaOmar) April 22, 2018
Sanam Saeed was among the first celebrities to appreciate ASP Suhai Aziz Talpur for bravely leading the operation against the terrorists who attacked the Chinese Consulate.
We salute your efforts and bravery #suhaiaziztalpur may you continue to rise and shine. Allah aap ko khush rahay aur sahi salamat rakhay. And may those who lost their lives in the line of… https://t.co/P0mW5xDZH0

— Sanam Saeed (@sanammodysaeed) November 23, 2018
Faakhir was touched by the news of Pakistan opening the border at Kartarpur and so were we!
This is super stuff. It's all about winning hearts. May peace prevail in our region and friendship forge between our two countries. 🇵🇰🇵🇰🇵🇰🇵🇰 https://t.co/lKWJZgNxwJ

— Faakhir Mehmood (@Faakhir_Mehmood) November 22, 2018
Jibran Nasir put his critic's hat away to appreciate Prime Minister Imran Khan for setting-up temporary panah gahs (shelters) for the homeless and we're applauding both the politicians!
Bravo. This is what a State is supposed to do. Stand with its weakest. Ensure their right to life and dignity. https://t.co/2Ydq1wOLBi

— M. Jibran Nasir 🇵🇸 (@MJibranNasir) November 24, 2018
Want to add to our list of celebrity tweets? Share your picks in the comments!