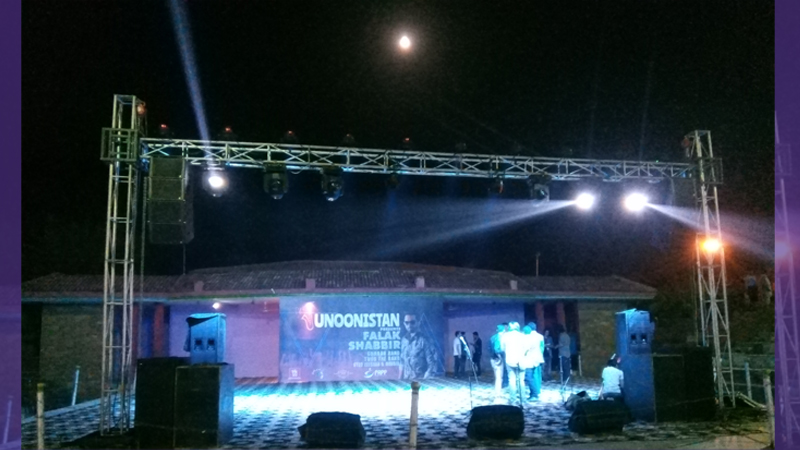 Last night was a lit affair as Falak and many other artists came together to entertain the residents of Islamabad and Rawalpindi at Junoonistan, a concert organized by PAPP Initiative. As Open Air Theatre of Shakarparian echoed with the sound of cultural diversity, many students and families showed up to appreciate the young talent. But just in case you missed out on the event, here is an account of what went down at Junoonistan 2018!
Read: 3 Reasons Why Missing Out On Junoonistan Is A Bad, Bad Idea!
Although a short line-up, emerging bands and artists completely stole the show, keeping people hooked since the beginning till the end. Each performance had something different to offer; from the cover of famous Bollywood songs to a medley of hit Sufi numbers, the show was sprinkled with all the rich flavors of music.
The concert was opened by Syed Zeeshan and Syed Zia who welcomed the crazy crowd with the cover of classic Bollywood numbers. Needless to say that Zeeshan stunned the listeners with his beautiful voice complimented by Zia's strings.
https://www.facebook.com/pappinitiative/posts/207465960032145
The duo's performance was followed by Gumaan, a band of 5 young boys who believe that instruments alone can create enough magic. These lads set the stage on fire with their cover of GOT's signature soundtrack, that too with a unique combination of Rabab, Congo and guitars. Creating a trance like environment, Gumaan literally made the audience speechless, as I saw a big crowd swaying to the beats in complete awe. Goosebumps were a part of the package which also included a desire on listeners' part that Gumaan's performance must go on and on. Still in their nascent years, the quintet indeed gave a glimpse into the wonders they are capable of in those 15 minutes of sheer glory. They did stole many hearts and earned many fans last night!
Next up was Twos the band, a famous name among the circle of local artists. Usually featuring twin brothers, last night a percussionist also joined them in creating sound bigger than expected to come out of three piece ensemble. Performing a medley of Sufi rock, the trio broke the spectators in a session of crooning as they hummed along Sayonee, Zamanay Ke Andaaz and many others. Embodying passion, Twos the band owned the show with their power packed act and set the mood just right for the headliner of Junoonistan, Falak Shabir.
Read: Guess Who Is Coming To Islamabad For A Concert!
https://www.facebook.com/pappinitiative/videos/207625676682840/
The most awaited gig of the night, Falak Shabir was received by a huge roaring audience who couldn't help but get off their back and break into bhangra. As Falak sang his hits one after the another, the concert grew to its peak and I could see even bouncers and organizers shaking a leg. Oh, what a view it was when hundred of people took out their flashlights and waved them in the air, as Falak reached the conclusion of his performance with fireworks marking an end to one of the most lit nights Islamabad has ever seen!
That being said, the feature that made Junoonistan stand out the most was PAPP Initiative's effort to use their platform for a greater cause of creating awareness regarding the dismal condition of girls' education in Pakistan. Urging people to demand at least 12 years of education for their girls in return of a vote this election, the slogan," Kam Se Kam 12 Jamatein (at least 12 grades)" remained a highlight of the evening.
Read: Highlights From The First Day Of FACE Music Mela 2018 That You Should Know!
All in all, Junoonistan by PAPP Initiative turned out to be a success owing to the dedication, hard-work, professionalism and hospitality of the team at the heart of which lies the resolution of bringing people together and celebrating diversity through music – a language of soul.
 Read: Music Mela 2018 Ended In Islamabad Last Night And What A Show!