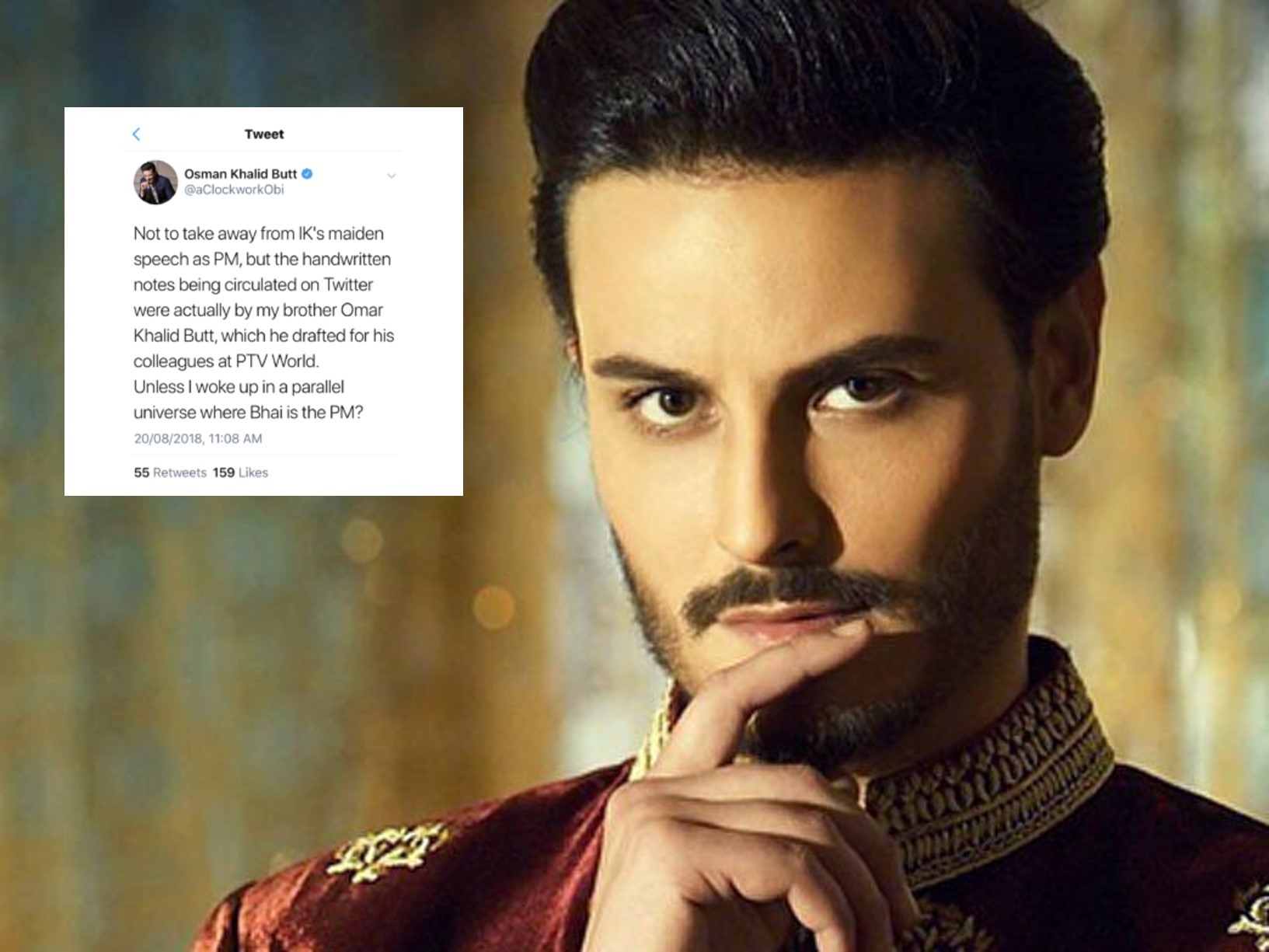 Osama Khalid Butt is known for calling a spade a spade. Whether it's coming out in support of Meesha Shafi following her sexual harassment allegations against Ali Zafar or calling out Khadim Rizvi for bigotry, Osama Khalid Butt is one celebrity that does not shy away from speaking his mind.
Read: 3 Talking Points Following Najam Sethi's Resignation As Chairman PCB
Staying true to this attribute, Butt sent out a tweet yesterday that read, "Not to take away from IK's maiden speech as PM, but the handwritten notes being circulated on Twitter were actually by my brother Omar Khalid Butt, which he drafted for his colleagues at PTV World unless I woke up in a parallel universe where Bhai is the PM?"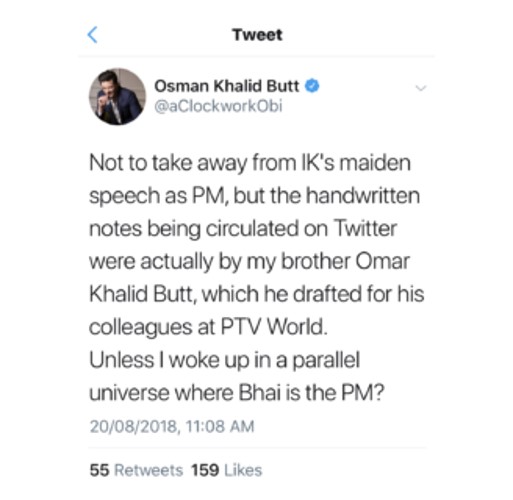 In case you were wondering, these are the handwritten notes that Osama Khalid Butt was talking about:
Prime Minister's handwritten notes for his Maiden address to the Nation, the honesty and clarity of thought that cannot be put into words by any speechwriter #PMIKAddress pic.twitter.com/oVcGfUHM3U

— PTI Khyber Pakhtunkhwa (@PTIKPOfficial) August 19, 2018
Needless to say, the tweet received a lot of attention, fetching both love and hate for the celebrity. However, it is not the tweet itself that caught our attention but the fact that Butt soon deleted it and posted another message stating, "Behold, the power of censorship."
Behold, the power of censorship.

— Osman Khalid Butt (@aClockworkObi) August 20, 2018
Butt did not mention the sources that had forced him to self-censor, Osama Khalid Butt has come under a lot of criticism by PTI voters who have been trolling the star incessantly ever since.
The cyber-bullying – although wrong in every instance – is entirely uncalled for in this case since Butt has always been a staunch PTI supporter and we feel his tweet could have been a lot of things but it was not an attempt to seek attention at the expense of Imran Khan's credibility.