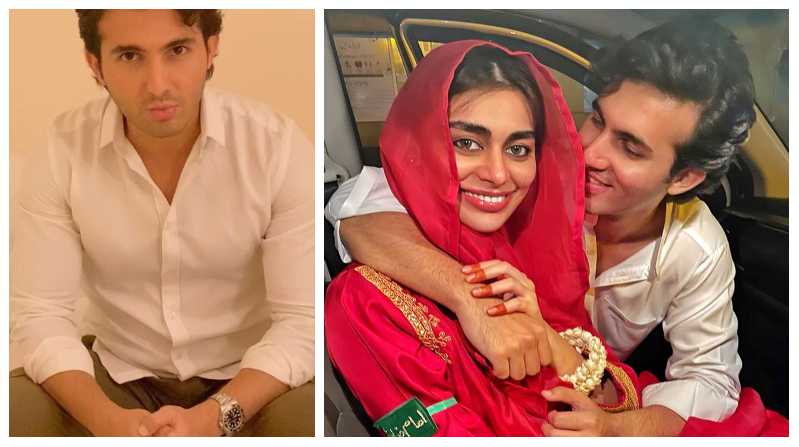 For the past couple of days, Pakistani social media has little to do apart from bashing the newlyweds, Shahroz Sabzwari and Sadaf Kanwal.
Rumors of a brewing romance between the two celebs had first surfaced last year when the news of Syra and Shahroz's separation became public.
At the time Shahroz had uploaded a video rebuking the conjecture and insisting that his separation with Syra Yusuf had nothing to do with Sadaf Kanwal who was "just a colleague."
And now that the two have officially tied the knot, people have been re-posting the video, calling Shahroz a liar.
Here's the video:
After silently observing the malicious attacks fro about 48 hours, it seems Sabzwari has finally had enough. The actor uploaded a fresh video last evening defending his marriage
The 34 years old asserted that he was forced to make this video to protect the reputation of his family and his wife.
"I am recording this video to defend the integrity of my family, who Are being maligned in the course of the matter, something which I deserve to do rightfully."
Addressing the allegations, Shahroz maintained that he had not left Syra because of any other woman.
"Syra and I decided to part ways in August, 2019. The reason behind our separation was not Sadaf, or any other woman. I can safely challenge any person to provide evidence to prove otherwise."
He cleared that he tried his best to work things out with Syra but they couldn't resolve the disagreement they had.
"I met Sadaf through work, three to four months after separation with Syra and she was a colleague back then. Syra and I tried to work on our marriage. However, there was a disagreement between us over a very personal matter, which then led to divorce."
Also Read: Zara Noor Abbas Defends Sadaf Kanwal For Calling Shahroz Sabzwari's Mom, "Mama" On Instagram
Defending Sadaf he said that:
"At that time, I was not involved with Sadaf in any way."
Shahroz concluded by stating that he had made the video so that he could stand proud in front of his daughter in the future.
"I am making this video for my daughter who I love very much. When she grows up and asks about the things being said, I will have this video to show her in my defence."
Have something to say about Shahroz Sabzwari defending his marriage to Sadaf Kanwal? Share your views in the comments below!