A rickshaw driver from the Saddar area of Peshawar endangered his life to save two female passengers from being harassed by a couple of men.
The rickshaw driver, Zafar, lost both his eyes to an acid attack while trying to protect his passengers from a couple of men who were following and teasing the girls.
He was quickly rushed to a local hospital for treatment. Despite losing both his eyes and not being able to pay for his treatment, Zafar did not lose his positive attitude. A Twitter user, Amir Hamza Khan shared his story on social media in hopes to raise the money required for Zafar's surgery.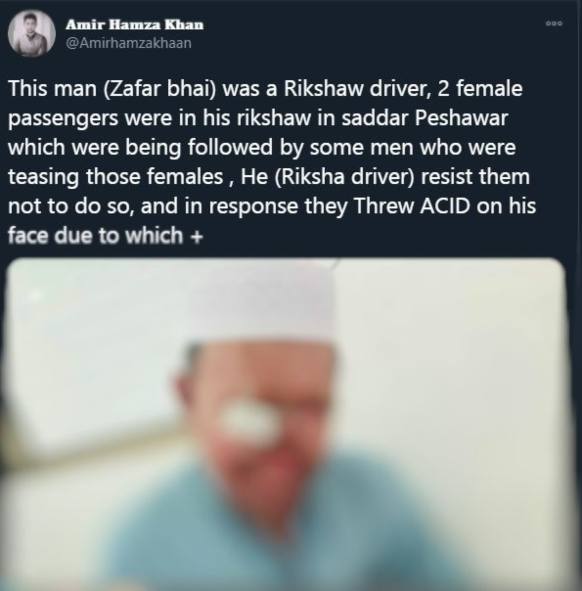 Also Read: This Handyman Muhammad Zarnosh Continuing His Work Even After Losing Sight Is Inspirational
In a series of tweets, Amir shared the details of Zafar who is the sole breadwinner and caretaker of his family that includes his two daughters, aged 8 and 12.
One person came forward to take responsibility for his financial assistance on monthly basis, while the hospital he is being treated at decided to cover his surgery expenses from their welfare funds.
Also Read: A Man Harassed A Burka Clad Woman On The Road & Then THIS Happened!
*Trigger Warning*
*Video contains graphic content*
Also Read: This Girl In Karachi Was Denied A Bike License Because Of Her Gender
Chief Minister Punjab Usman Buzdar took notice of acid attack on the rickshaw driver in Peshawar and offered him free treatment in Punjab under Nai Zindagi program.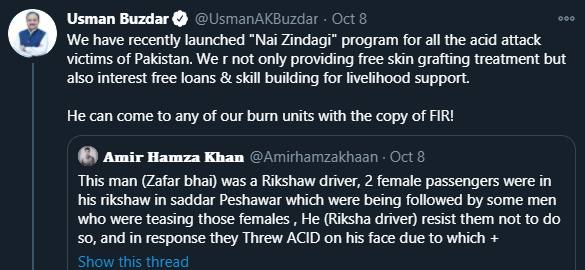 He further wrote, "Acid attack is a heinous crime and we are taking strict actions against such crimes.Victims of such attacks need physical and mental help to get full rehabilitation. In this regard Nai Zindagi program will ensure full care of the victims, from all over Pakistan."
Have something else to add to this story? Share in the comments below!